The newest reality TV stars aren't college kids thrown together in a group house, or a couple who race around the world to win a million dollars. They are the men, and occasionally the women, who do the jobs that many of us didn't even know existed: the axmen from the Pacific Northwest, the ice-road truckers in the Arctic, the reptile dealers from Florida. This type of reality series follows people as they do their daily jobs, documenting their successes and failures, their high points and heartbreaks.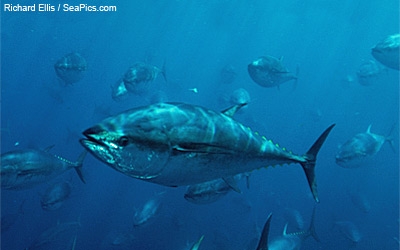 Last night, seven years after audiences met a fleet of Alaskan crab fishermen via "Deadliest Catch," National Geographic Channel premiered a show profiling the men and women who make their living on the ocean. "Wicked Tuna" follows five boats and their crews as they pursue bluefin tuna more than 100 miles from their home port of Gloucester, MA. Using only rods and reels, these fishermen set out in search of tuna that weigh hundreds of pounds. As you would expect, they meet their share of triumphs and disappointments: A few large bluefin are caught, but much of the time is spent waiting for a bite.
Promoting selective fishing that wastes little ocean wildlife is one key to the bluefin's recovery.

-Lee Crockett, director of U.S. Ocean Conservation
When ads for the show began appearing, it was not surprising that "Wicked Tuna" attracted a lot of attention, both positive and negative. Some say National Geographic is glorifying the killing of a threatened species and the program will increase the demand for bluefin, further jeopardizing its survival. Others responded that the series simply portrays a group of hard-working fishermen going about their lives, following in the footsteps of generations of New Englanders who came before them.
As is often the case, the truth may fall between these two positions. I have written before that the Atlantic bluefin population has fallen dramatically in the past 50 years because of decades of unsustainable fishing. Although some people would like all fishing for the species stopped, the International Commission for the Conservation of Atlantic Tunas (ICCAT), which manages this species and operates by consensus, is not likely to shut down the fishery. Given that reality, how can we improve the chances of bluefin recovery? One way supported by the Pew Environment Group is to improve compliance with the annual quotas set by ICCAT through reductions in the significant amount of illegal and unreported fishing in the Mediterranean and unintentional catch in the United States.
Much of that incidental catch occurs south of New England along the Atlantic seaboard and in the Gulf of Mexico. Each spring, longline boats fishing for yellowfin tuna and swordfish in the Gulf, using 30-mile lines baited with hundreds of hooks, unintentionally haul in bluefin tuna at the height of their spawning season. Most of these fish are thrown back dead. The damage does not stop there, because this indiscriminate fishing method also captures and kills other nontarget species, including blue marlin, sailfish, and endangered sea turtles. Fortunately, more selective types of gear are available as alternatives to surface longlines, two of which are being tested now in the Gulf. Buoy gear and green sticks primarily hook the fish they target (yellowfin tuna and swordfish) while greatly reducing the number of bluefin and other ocean wildlife that are caught and killed.
Promoting selective fishing that wastes little ocean wildlife is one key to the bluefin's recovery. Fishermen who use rods and reels, such as those profiled in "Wicked Tuna," can specifically target the species and release undersized fish alive. This is important, because fishermen using non-selective gear such as surface longlines are not regulated by the number of bluefin that are killed, but rather by the number that are kept. So, although quotas are needed for bluefin populations to recover, curbing total mortality by reducing incidental catch is also essential.
The rod-and-reel fishermen who catch bluefin tuna deserve to have their stories told. "Wicked Tuna" has the opportunity to introduce TV audiences to this magnificent fish, the men and women who pursue them, and the types of fishing gear they use. National Geographic is working hard to present a balanced view, highlighting both the fishermen and conservation concerns.
Click here to learn more about the show.

This article originally ran at newswatch.nationalgeographic.com.