Vote-by-Mail: A Moneymaker for the Postal Service?
A national election conducted solely by mail would not significantly increase revenue for the U.S. Postal Service, according to a recent
study from the U.S. Government Accountability Office (GAO) that was requested by the U.S. Senate subcommittee that oversees the postal service.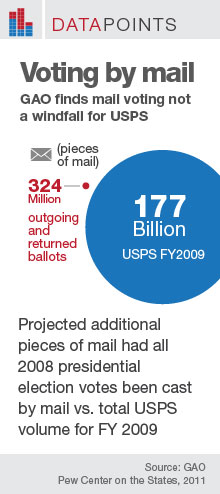 The GAO pointed to three factors limiting the impact on revenue:
The small potential increase in mail volume. Using the 2008 election as an example, the report estimated voting entirely by mail would have increased the total mail volume by only .2 percent.
Low profit margins on election mail. Again using the 2008 election, revenues would have amounted to less than 1 percent of fiscal year 2009 earnings.
A lack of strong nationwide support. The report cites a 2010 Caltech/MIT Voting Technology Project survey that estimated only 14.7 percent of the public supports voting by mail.