New Report Evaluates State Election Websites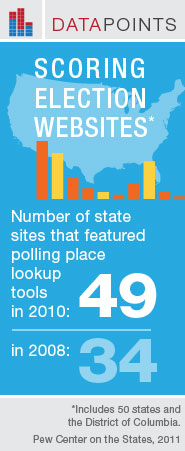 Return to Election Data Dispatches
.
A new report from the Pew Center on the States finds that many states have improved their election sites since 2008, but there are still missed opportunities to better help and inform voters online.
Being Online Is Still Not Enough assessed sites for all 50 states and the District of Columbia between May-November 2010 based on three categories: content, lookup tools and usability. The report builds upon Pew's 2008 assessment and offers state-by-state reviews and recommendations, as well as best practices for providing information to voters on official election sites.
A few highlights of the study:
Ten states received top overall scores of 79 or higher (out of a possible 100). Twenty-nine states received average scores between 65-78 and 12 states scored lower than 64.
All but two state sites offered individualized polling place lookup tools, an increase from 2008, when one in three lacked this basic tool. But only 10 states offered all five recommended lookup tools for voters to check their registration status, precinct-level ballot information, location of polling places, status of absentee ballots and status of provisional ballots.
Only nine states received the highest score for user-friendly navigation within their sites.