Notable Counties—Maricopa County, Arizona
Return to Election Data Dispatches.
Our latest "Notable Counties" dispatch comes from Arizona. As more states start requiring photo ID at the polls, how these measures will affect elections is unclear. How many votes will be rejected? Who will be affected most?
Will the race results be impacted?
In-depth, publicly available data analysis of election results from Maricopa County, one of the largest elections jurisdictions in the country, provides some insight. Unlike states that require only a photo ID at the polls, Arizona requires one form of photo ID or two forms of non-photo ID. Those with insufficient identification cast what the state calls a conditional provisional ballot. These voters have five days after a general election to show appropriate identification to election officials or their provisional ballot will not be counted. The law does not apply to Maricopa's growing number of permanent absentee voters.
The graphic highlights the percentage of voters in two elections who returned with ID after casting a provisional ballot and those who did not return.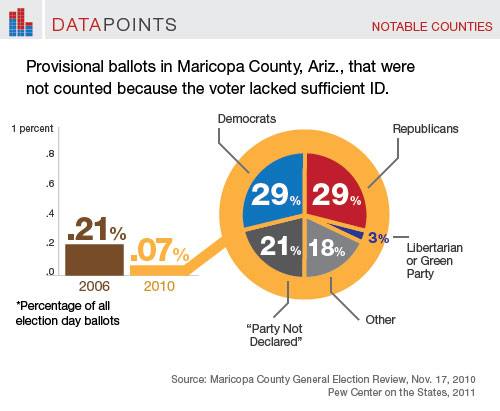 Data from the county's 2010 General Election Review also reveal:
Twenty-nine percent of the voters who did not return were Democrats, 29 percent were Republicans, 21 percent were "party not declared", 18 percent were "other" and the remaining were Libertarian or Green party members.
Almost a third of the voters without sufficient ID were born in the 1980s, by far the largest age group.
The outcome of at least one race could have been affected by the 507 Maricopa voters whose ballots did not count: Proposition 112, relating to ballot initiatives, was rejected by just 194 votes after a statewide recount.