Overfishing 101: Postcard from Pendik
Where is Pendik, you might wonder? That is exactly what I asked myself when I touched down in Turkey last week. Pendik is a bustling coastal town about an hour south from Istanbul, and it was the location of the 22nd meeting of the International Commission for the Conservation of Atlantic Tunas (ICCAT).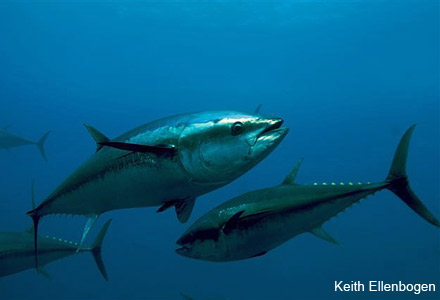 My colleagues from the Pew Environment Group and I were in Turkey for two weeks, along with around 400 representatives from the 48 member governments of ICCAT, other conservation groups, and the fishing industry. ICCAT is the international body that manages tuna fisheries across a quarter of the ocean's surface, including the Atlantic Ocean and Mediterranean Sea.
This 22nd meeting was notably different from previous sessions, when catch limits and illegal fishing allegations regarding the commission's marquee species, the Atlantic bluefin tuna, dominated discussions. This year, bluefin quotas—frequently the subject of intense debate and lobbying—weren't up for renegotiation. But there were many other items on the agenda with a significant potential impact on the future health of this severely depleted species.
I am pleased to report that, after years of work, conservation groups achieved a major victory that will improve the traceability of this valuable species in the Mediterranean tuna fishery. Governments agreed to fund and begin implementation of an electronic catch documentation system for bluefin, with an impressive show of support from the European Union, Japan, Canada, and United States, along with many others, for the reform effort. These countries recognized the need to transition from the current, fraud-plagued, paper-based structure to one that can utilize existing information technologies to track these valuable fish from ocean to market.
After years of work, conservation groups achieved a major victory that will improve the traceability of bluefin in the Mediterranean tuna fishery

.

Lee Crockett
This change is long overdue. In 2010, as illustrated by Pew's recent "Mind the Gap" report, 141 percent more bluefin were traded on the international market than ICCAT quotas allow. An electronic tracking system will go a long way towards closing this wide gap.
Putting the squeeze on illegal, unreported, and unregulated (IUU) fishing is critical to conserving threatened species as well. IUU is a costly blight on the world's oceans – a problem that not only threatens the health of many marine species from a biological perspective, but also robs law-abiding fishermen and coastal communities globally of an estimated US$23 billion a year.
To address this problem, ICCAT members decreased the minimum length of a vessel (from 20 meters down to 12) that must be recorded and reported when found operating illegally. This is a key step, because recent evidence has indicated that a significant number of smaller vessels are currently fishing unlawfully for bluefin and swordfish. ICCAT's decision means that these vessels must now be placed on a list that is shared with all member governments—ensuring rogue operators are inspected and even blocked from port.
ICCAT, though, isn't just about tuna. Many other species associated with these fast-swimming animals are caught in fishing gear, often incidentally. Some shark species, for example, have seen their populations decline by 80 percent, in part due to being snared by these gear.
This year's ICCAT meeting was marked by measurable progress, but they should have done more

.

Lee Crockett
The good news from Pendik is that silky sharks, the third most important species in the global fin trade, received strong protection by governments, with ICCAT banning the vast majority of landings (bringing the caught fish onboard) and trade. Unfortunately, another species did not receive any protection, the severely depleted porbeagle shark. ICCAT's inaction may increase attention on the porbeagle's plight in other fora, including the Convention on International Trade in Endangered Species (CITES).
This year's ICCAT meeting was marked by measurable progress—especially when it comes to action on bluefin and curtailing illegal fishing. Members deserve credit for adopting protections on silky sharks, but they should have done more to safeguard the porbeagle and other fish species.
The Pew Environment Group looks forward to next year's meeting. We will be there to assure continued progress on marine conservation, especially when it comes to doing even more to improve the health of bluefin tuna.