Louisiana Dispatch: The Cost of Special Elections
Return to Election Data Dispatches.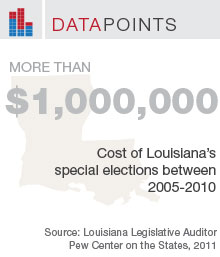 It's challenging to measure election costs accurately, but Louisiana has developed an advanced auditing system that is improving the cost-effectiveness of special elections. The system, which measures all directly billed election-related expenses and runs them through the Secretary of State's office, has given policy makers a powerful tool to track and trim the costs.
A recent report from the Louisiana Legislative Auditor's office calculated that from 2005 to 2010, special elections in Louisiana cost state and local governments more than $1 million, with the direct costs of running them ranging from $12,000 to $137,000 each. As a result, officials have introduced legislation to reduce the number of standalone local elections.
Calculating the savings of the proposed policy change has proven difficult, however, even with Louisiana's excellent accounting systems. Indirect costs, such as overtime pay, owed compensatory time, and mail costs are not included in the auditor's analysis of special elections costs.
Such challenges aside, Louisiana's tracking and auditing system is an extremely valuable tool in evaluating the cost of elections.