Racing car at 24 Hours of Le Mans supports Shark Alliance
The Shark Alliance logo will appear prominently on the No. 64 Lotus Evora GTE in this year's Intercontinental Le Mans Cup. Driven by Dutch endurance driver Oskar Slingerland, the car will participate in races in Europe, the USA and China.
Widely regarded as one of the most prestigious, and punishing, motor racing championships in the world, the Cup includes the legendary 24 Hours of Le Mans race which will be broadcast worldwide on 11th and 12th June. The race will see the Shark Alliance logo travelling at least 5,000km, at an average of almost 200km/h, as Oskar's team competes against 55 other cars for the title.
The Lotus will carry the logo for the whole championship, which will include races at Imola, San Marino (4 July), Silverstone, UK (11 September), Road Atlanta, Florida (October 1/2) and Zhuhai, China (November 12/13). Shark Alliance publicity will be available at all events.
Oskar Slingerland said:
"During a recent diving trip to the the Maldives I did not see a single shark. Twenty years ago sharks were abundant, and the dive guide explained that intensive fishing was the main cause for a decline in their numbers. I saw the film Sharkwater upon my return, and decided that I would promote shark protection on our car for Le Mans.
The Shark Alliance seemed a very logical choice to me since it represents a variety of organisations around the world."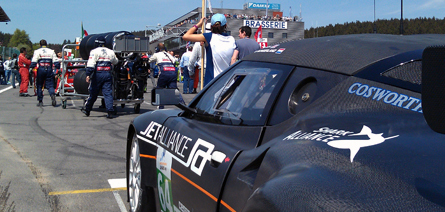 About Shark Alliance
The Shark Alliance is a coalition of more than 100 conservation, scientific and recreational organisations dedicated to restoring and conserving shark populations by improving shark conservation policies. The Shark Alliance was initiated and is coordinated by the Pew Environment Group, the conservation arm of The Pew Charitable Trusts, a non-government organisation that is working to end overfishing in the world's oceans.