Success Story: Keeping the Earth Cool - Canada's Boreal Forest
The Facts
The circumpolar boreal forest, one of Earth's largest and arguably least known ecosystems, plays a crucial role in the health of the planet. Boreal forests store twice as much carbon per acre as tropical forests, and provide a critical cooling function for the planet. If the carbon locked in their deep soils, wetlands, peat and permafrost were released–by logging the forests or digging under them for minerals–scientists predict that global warming would further accelerate.
The Canadian boreal landscape, stretching from Newfoundland and Labrador all the way to Alaska, is the world's largest intact forest, and our biggest terrestrial carbon vault.
But this hoarded carbon is only one of the many globally-significant values of Canada's boreal. Teeming with wildlife, the forest hosts 85 species of mammals, among them bear, moose, hare, fox, beaver, lynx and the woodland caribou. It is summer breeding grounds for billions of migratory songbirds and tens of millions of ducks, geese and swans that travel to the United States, Mexico, and Central America every winter.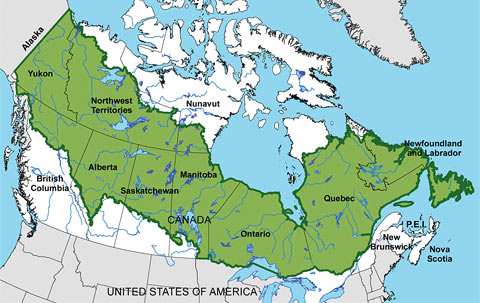 Canada's boreal also contains the world's largest complex of rivers, lakes and wetlands. Pure, fresh water flows from boreal rivers to the Arctic, forming sea ice, stabilizing the climate and supporting the algae, plankton, fish, seals, whales, and polar bears of the north. The long, pristine, undammed rivers of the boreal are the last refuges for many of the world's sea-run migratory fish, including half of the remaining populations of North American Atlantic salmon, and some of the largest brook and lake trout on record. These water resources have led some scientists to call the boreal the "blue forest."
Canada's boreal is also home to more than 600 aboriginal communities. Unlike many tribes in the United States, which signed treaties that established rights to land and self-government more than a century ago, Canada's aboriginal people are still negotiating with provinces and the federal government to secure their settlements. These communities have a tremendous stake in the boreal's conservation and sustainable development.
"The Canadian Boreal Forest Agreement we helped broker this year is a classic example of how the Boreal Framework and our approach can guide conservation policy in practical ways."

-Steve Kallick, director of Pew Environment Group's International Boreal Conservation Campaign
The Challenge
The boreal in Russia is heavily developed. In Scandinavia only about 5 percent of the original forest remains. With 1.2 billion acres of Canada's boreal intact, this last great forest can still be protected.
Yet since the early 1800s, the forest products industry has been a mainstay of Canada's economy. In the 1980s, provincial officials offered up large tracts of public land to guarantee future logging. Timber companies were awarded "tenures," giving them logging rights covering nearly one-fifth of the boreal—more than 250 million acres.
By the 1990s, the industry felled 2 million acres of trees a year in the boreal, feeding huge housing booms in North America, the newsprint for America's papers and cardboard for its industries. Even during the current recession, with reduced demand for wood products, logging continues to be a major presence in the boreal.
Mining for oil, natural gas, gold, diamonds and uranium are also growing industries in Canada's boreal. Alberta's tar sands, used to make synthetic oil, are strip-mined from a region that could eventually rival the size of Florida.
Extensive logging, mining, oil drilling and roads cut through wildlife habitat, endangering woodland caribou and migratory birds, draining wetlands, and polluting water. It is clear that without a new approach, the ecological treasures of the boreal could be lost.

Our Goal
By forging alliances between Canadian and international environmental organizations, corporations and First Nations, Pew Environment Group's International Boreal Conservation Campaign–with support of the William and Flora Hewlett Foundation, as well as the Gordon and Betty Moore Foundation–worked to build support for the Boreal Forest Conservation Framework. This framework provided a plan that would protect half of the boreal in wilderness and parks, and apply sustainable development standards to the other half. The Boreal Framework is supported by 1,500 scientists from around the world, as well as multinational businesses, aboriginal groups and conservation organizations.
The Results
After years of conservation groups' efforts to slow logging in the boreal, including boycott campaigns and lawsuits, and with a global recession beginning to cause a slowdown for the timber industry, Avrim Lazar, president and CEO of the Forest Products Association of Canada (FPAC), and Steve Kallick, U.S. director of Pew Environment Group's International Boreal Forest Campaign, decided in 2008 that it was time to develop common ground.
"If we keep approaching our hard problems with a win-lose attitude, everybody loses. We have learned that over and over again," Lazar said. "We have to find a solution together."
During two years of regular negotiations, the forest industry and conservation groups considered how to maintain jobs for loggers while keeping the caribou, a keystone species of the boreal, alive.
On May 18, 2010, the negotiators unveiled an unprecedented agreement between 20 timber companies and nine leading environmental organizations–the Canadian Boreal Forest Agreement. CBFA is designed to protect 72 million hectares (more than 170 million acres–an area the size of Texas), and to provide global recognition and support for corporate partners participating in the agreement.
"The importance of this Agreement cannot be overstated," said Lazar. "FPAC member companies and their ENGO (environmental non-governmental organization) counterparts have turned the old paradigm on its head. Together we have identified a more intelligent, productive way to manage economic and environmental challenges in the boreal that will reassure global buyers of our products' sustainability."
"The Canadian Boreal Forest Agreement we helped broker this year is a classic example of how the Boreal Framework and our approach can guide conservation policy in practical ways, such as resolving the growing conflict between woodland caribou habitat needs and the existing logging contracts held by Canadian timber companies," said Kallick. "By each side focusing on their most important priorities, we have a chance to save both the caribou and the rural economies dependent on a healthy timber industry."
What You Can Do
Consumers in the U.S. account for more than two-thirds of Canadian boreal forest timber demand. The 21 companies who volunteered to reduce their logging in caribou habitat deserve to be rewarded in the marketplace as their efforts bear fruit. Ask your local wood and paper products retailers to encourage the implementation of this agreement and buy preferentially from these companies, and whenever possible, purchase products yourself that they make.