NZ Wages Battle for Diversity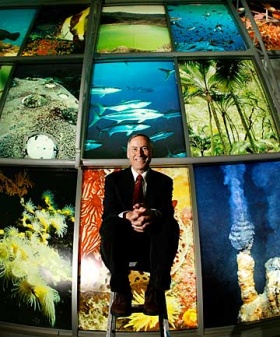 While the United Nations warns of the extinction of thousands of species, experts will hold up New Zealand today as an example of a country fighting to save the final marine frontier.
Scientists will meet at Te Papa in Wellington today for a two-day conference on the Kermadec region, an event being held as part of the UN's International Year of Biodiversity.
The conference comes ahead of international talks being held in Japan in October, and organisers are hoping it will showcase to the world a country that recognises the value of biodiversity.
The conference aims to highlight the scientific work being done in a region also being eyed up for deep-sea mining.
The Kermadecs, about 200 kilometres north of Auckland, make up about 15 per cent of New Zealand's exclusive economic zone and the region has been nominated for World Heritage Status.
The conference is being organised by public policy think tank Pew Environment Group. Its global ocean legacy director, Jay Nelson, says now is the time to raise the awareness of the public, the Government and officials of how special a region New Zealand has in its waters.
"On a global scale the Kermadec region stands out as biologically and geologically unique, partly because of its geographic isolation and unspoilt nature."
Also as part of the International Year of Biodiversity, Japan will host the tenth meeting later this year of countries, including New Zealand, that have signed the international convention on biological diversity.
The convention's executive secretary, Ahmed Djoghlaf, has warned that countries are failing to halt biodiversity loss.
At a forum on biodiversity conservation in China last week, he warned that Earth was reaching a "tipping point", with the widespread extinction of species resulting in disasters such as the collapse of coral reefs – which would threaten hundreds of millions of people's livelihoods.
"We can no longer see the continued loss of biodiversity as an issue separate from the core concerns of society."
For a fraction of the money summoned by the world's governments in 2008 and 2009 to avoid economic meltdown, Dr Djoghlaf said a more serious and fundamental breakdown in Earth's life support systems could have been avoided.
"In the end, unless there is swift, radical and creative action to conserve and sustainably use the variety of life on Earth, natural systems that support economies, lives and livelihoods across the planet are at risk of rapid degradation and collapse."
Mr Nelson said that, while much of the world's oceans were being degraded at a high rate, areas such as the Kermadecs were being recognised as increasingly valuable.
He urged the public, the Government, and policymakers to recognise the opportunity that the Kermadecs represented as a site for scientific research, and as an example to other nations of a region where biodiversity was celebrated.
"New Zealand has a reputation for being clean and green. People come here because they think of it as that. Areas like the Kermadecs can help illustrate that."
Te Papa's fish collections manager, Andrew Stewart, said he hoped the seminar would lead to a more integrated approach to further study of a region about which so little was known. He called for a complete biological survey of the Kermadec ridge systems, but said securing an investment in such a project would be difficult.
"It's very unfortunate the year of biodiversity is coinciding with a very bad recession."