José Leonardo Gutiérrez, Ph.D.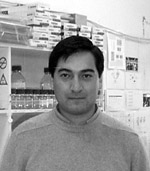 Title

Department

Institution

Address

Laboratorio de Regulacion Transcripcional
Barrio Universitario s/n

City

Country

Email

Website

http://www.csbiol.udec.cl/bbm_i_l4.html

Research field

Award year

Country of origin

Mentor name
Research
In the eukaryotic cell nucleus DNA is in the form of chromatin. Shaping DNA into chromatin allows compaction inside the cell nucleus, but this compaction has profound effects on all aspects of DNA metabolism, blocking the binding ability of cell machinery required for replication, repair and transcription. In order to allow individual proteins or machinery to interact with the compacted DNA, protein complexes utilize a number of mechanisms that are generally classified into two groups: covalent modification of histones protein complexes and ATP -dependent chromatin remodeling complexes. Our laboratory is focused on the study of ATP-dependent remodeling complexes and its role in regulating gene expression. It has been observed that the change in the patterns of activity of these complexes is related to the development of various cancers. Of particular interest is the study of remodeling complex SWI / SNF and its influence on different protein factors that regulate gene expression.