Alejandro Martinez Martinez, Ph.D.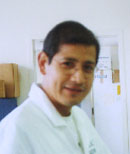 Title

Department

Institution

Address

Laboratorio de Neurociencias y Neuroquimica
Instituto de Ciencias Biomedicas

City

Country

Email

Research field

Award year

Country of origin

Mentor name
Research
Our group is interested in the study of gene expression shift of the brain under psychogenic stress; we use a model of non invasive acute stress: exposure of a rat to a predator odor. After treatment we evaluate the oxidative stress defense by measuring phase 1 and 2 antioxidant enzymes that eradicate intracellular free radicals and ROS in limbic structures, we analyze transcripts, proteins and activity of catalase, superoxide dismutase and glutathione S-transferase.