Patricia Torres Bozza, M.D., Ph.D.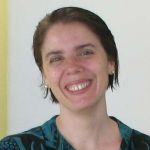 Title

Department

Institution

Address

Nucleo de Imunofarmacologia
Av. Brasil 4365

City

Country

Email

Website

www.fiocruz.br/ioc/cgi/cgilua.exe/sys/start.htm?tpl=home

Research field

Award year

Country of origin

Mentor name
Research
Research in Dr. Bozza's laboratory focuses on molecular and cellular mechanisms of leukocyte activation and generation of inflammatory mediators in host defense and other forms of inflammation. The main areas of investigation are the biogenesis and functions of lipid droplets in host pathogen-interactions; sepsis pathogenesis and biomarkers; and mechanisms of leukocyte activation and trafficking in pulmonary inflammation.