Daniel E. Gottschling, Ph.D.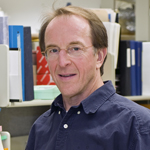 Title

Department

Institution

Address

1100 Fairview Avenue N
Mailstop A3-025

City, State, ZIP

Phone

(206) 667-4494

Email

Website

http://research.fhcrc.org/gottschling/en.html

Research field

Award year
Research
Our laboratory uses the budding yeast Saccharomyces cerevisiae as a model system to investigate fundamental questions in biology. One of our current areas of interest is understanding the striking link between increasing age and the incidence of cancer in humans. A hallmark of cancer, genomic instability, is observed in all types of organisms including yeast. We recently discovered that as yeast cells enter the middle-to-late period of their replicative lifespan, they switch to a state of high genomic instability that persists until death. We believe this change represents a fundamental transition in many aging cells and thus are taking a number of approaches to understand the mechanism underlying this phenomenon.