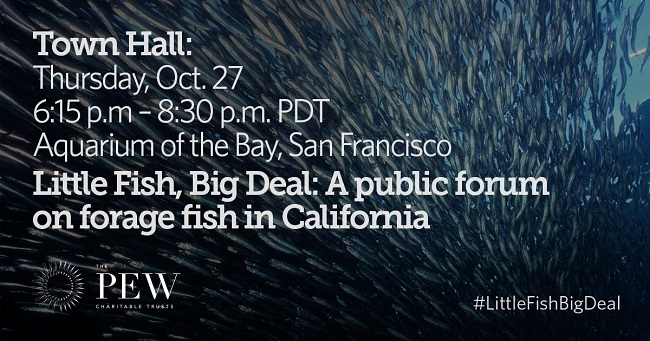 Forage fish—small, schooling prey species such as sardine, anchovy, and Pacific saury—provide food that sustains a multitude of marine life and are an economic driver for coastal communities.
On the heels of a pivotal campaign victory to protect several species of forage fish in federal Pacific Ocean waters, Pew's Pacific Ocean conservation campaign will host a public forum in San Francisco. The event, which is being co-hosted by California Audubon, Earthjustice, The Marine Mammal Center, Mission Blue, Oceana, and Ocean Conservancy, will examine the issues facing forage fish and the marine life and coastal communities that depend on them. Sylvia Earle, Ph.D., world-renowned oceanographer and marine scientist, will serve as master of ceremonies and moderate a panel discussion.
The purpose of the event is to celebrate shared accomplishments, explore ongoing challenges, and consider new opportunities to protect forage fish.
Master of Ceremonies:
Sylvia Earle, Ph.D.
National Geographic Explorer–in-Residence and founder of Mission Blue
Panelists:
Anna Weinstein, California Audubon
Jeff Boehm, Ph.D., The Marine Mammal Center
Steve Marx, The Pew Charitable Trusts
Geoff Shester, Ph.D., Oceana
Bill Sydeman, Ph.D., Farallon Institute