Jud Crawford responds to a June 13 editorial published in the Gloucester Times that was critical of Pew's work and science.

The Gloucester Daily Times' June 13 editorial, "State budget steps are vital toward credible fish science," implied that I have had preferential input into the assessments of fish stocks health conducted by scientists. I have attended these public meetings, observed, and offered comments just as any citizen is welcome to do, but not more.
Many interested people "including fishermen and their representatives" observe and comment as I have. Based on what I've seen, I can say that the science is more than credible, it is strong, and the comments I have offered reflect that.
The Pew Charitable Trusts — a non-profit, non-partisan organization — supports efforts to make the science of measuring fish populations even stronger. Nevertheless, the existing science provides compelling evidence that cod and other New England groundfish are at unacceptably low levels. Data on fish sold at the dock also show signs of trouble. New England's best captains were unable to find enough cod to fill their quota for the last fishing season despite good prices and strong demand. On Georges Bank, for example, fishermen landed barely more than a third of their quota; Gulf of Maine fishermen caught about 60 percent of quota.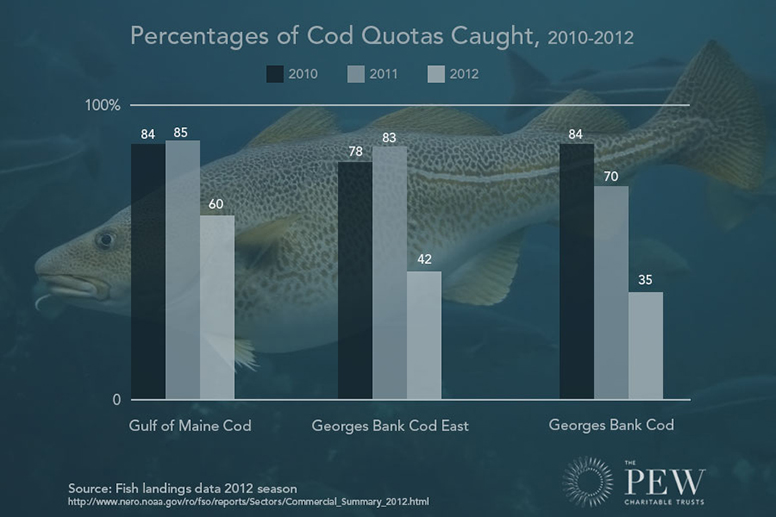 Pew's work emphasizes the recovery that is possible for fisheries when science-based catch limits are followed. Our most recent report celebrates the populations that have been rebuilt by sound management and we are delighted by the economic benefits realized by fishing communities around the country. Sadly, few of these successes are in New England. Our region remains home to many of the nation's severely depleted stocks, the result of management that has allowed decades of chronic overfishing.
Science and the law support the current catch limits. Undoing them would make an already bad situation even worse.
Dr. John Crawford
Officer, U.S. Oceans, Northeast, The Pew Charitable Trusts, Boston