Emerson Carmona Rojas, Ph.D.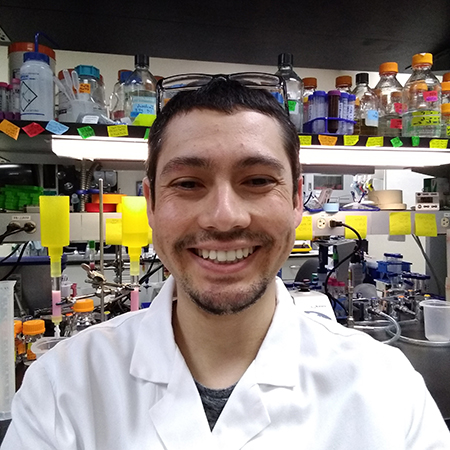 Title

Department

Institution

Address

3601 Fourth St., STOP 6551

City, Pew.Feature.Scholar.Bio.State, Pew.Feature.Scholar.Bio.Zip

Phone

806-743-2525

Pew.Feature.Scholar.Bio.Email

Website

https://www.ttuhsc.edu/medicine/cell-physiology-molecular-biophysics/faculty/cuello/

Pew.Feature.Scholar.Bio.ResearchField

Pew.Feature.Scholar.Bio.AwardYear

Pew.Feature.Scholar.Bio.CountryOfOrigin

Pew.Feature.Scholar.Bio.MentorName
Research
In the Cuello lab, I will probe the structure and operation of a channel protein that is overactive in some forms of leukemia. Cells interact with their environment using channel proteins that allow various ions to enter and exit. Some of these ion channels "open" in response to changes in voltage across the membrane in which they sit. Although most of these voltage-sensitive channels consist of a voltage sensor attached to an adjustable pore, the Hv1 channel that I began studying as a graduate student lacks a distinct, free-standing pore through which ions can flow. How then does this channel, which permits the movement of hydrogen ions, operate? Using a suite of sophisticated methods in molecular genetics, protein biochemistry, and structural biology, I will trap Hv1 in different conformations to determine the structural rearrangements that allow it to form a pathway that admits hydrogen ions. I will then assess how the configurations adopted by a truncated version of the channel protein, which is present in malignant white blood cells, alter the channel's behavior. This work could lead to the development of novel therapies for cancers or other disorders involving the Hv1 channel.