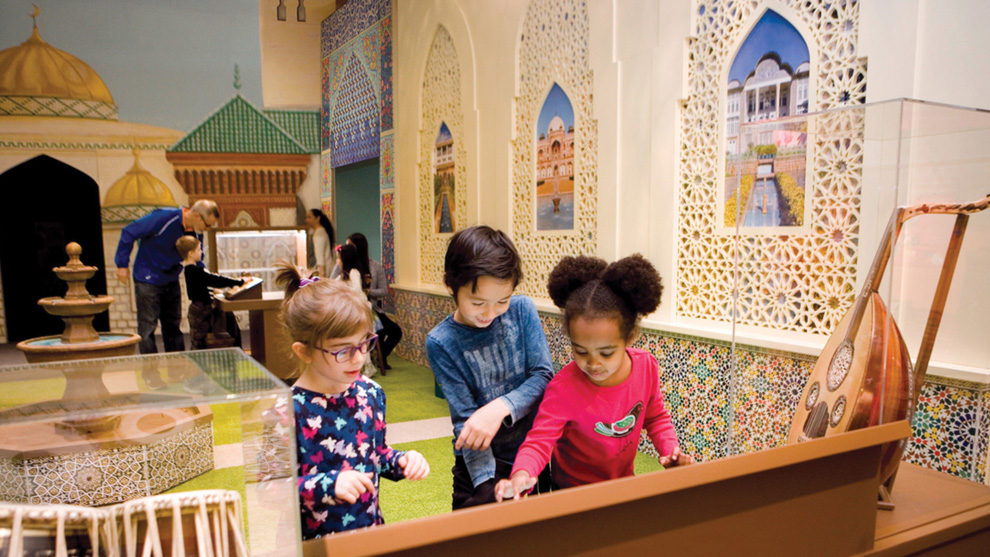 Exhibition about Muslim communities opens
"America to Zanzibar: Muslim Cultures Near and Far," a Pew Center for Arts & Heritage-funded exhibition inviting families to learn about modern and historic Muslim communities, opened at Philadelphia's Please Touch Museum on Feb. 2 and runs until Sept. 2. Visitors to the exhibit can experience immersive 3D environments of Middle Eastern architecture and mosques, view historic artifacts and newly commissioned artwork created by Philadelphia-based Muslim artists, and hear personal stories from local Muslim families.
Philly pensions stress tested
In April, Pew's Philadelphia research initiative and public sector retirement systems team issued a policy brief documenting the results of a stress test of Philadelphia's municipal pensions system, which is less than 50 percent funded and has liabilities of more than $6 billion. The analysis projected how the pension fund will fare over the next 20 years under various economic scenarios and found that changes made in the past few years have positioned the system to gradually move toward fiscal soundness, even if returns on investments turn out to be lower than projected. To discuss the stress test, the Philadelphia policy and research team convened over 35 government officials, public sector labor union leaders, municipal finance analysts, and other stakeholders in May.
Pew Fund grantees
The Pew Fund for Health and Human Services in March awarded $8.12 million in support of the Philadelphia region's low-income children and their families. The funding will help 43 local nonprofit organizations serve more than 25,000 young people annually over three years by focusing on five core areas: supporting high-quality early education and child care; providing effective prevention and early intervention services to reduce behavioral and academic issues; increasing access to mental health services; expanding quality after-school programs; and helping parents secure and retain public benefits and services to strengthen household stability.
National Constitution Center opens a new permanent exhibit
On May 9, "Civil War and Reconstruction: The Battle for Freedom and Equality" opened at the National Constitution Center in Philadelphia. The 3,000-square-foot exhibit, the first in America devoted to exploring the constitutional legacy of the Reconstruction Amendments, features over 100 artifacts, including original copies of the 13th, 14th, and 15th amendments; a fragment of the flag that Abraham Lincoln raised at Independence Hall in 1861; and a ballot box marked "colored" from Virginia's first statewide election that allowed black men to vote in 1867. In March 2017, Pew supported the National Constitution Center's development of the gallery with a grant of $500,000 over two years.