With Partners, Creating Lasting Change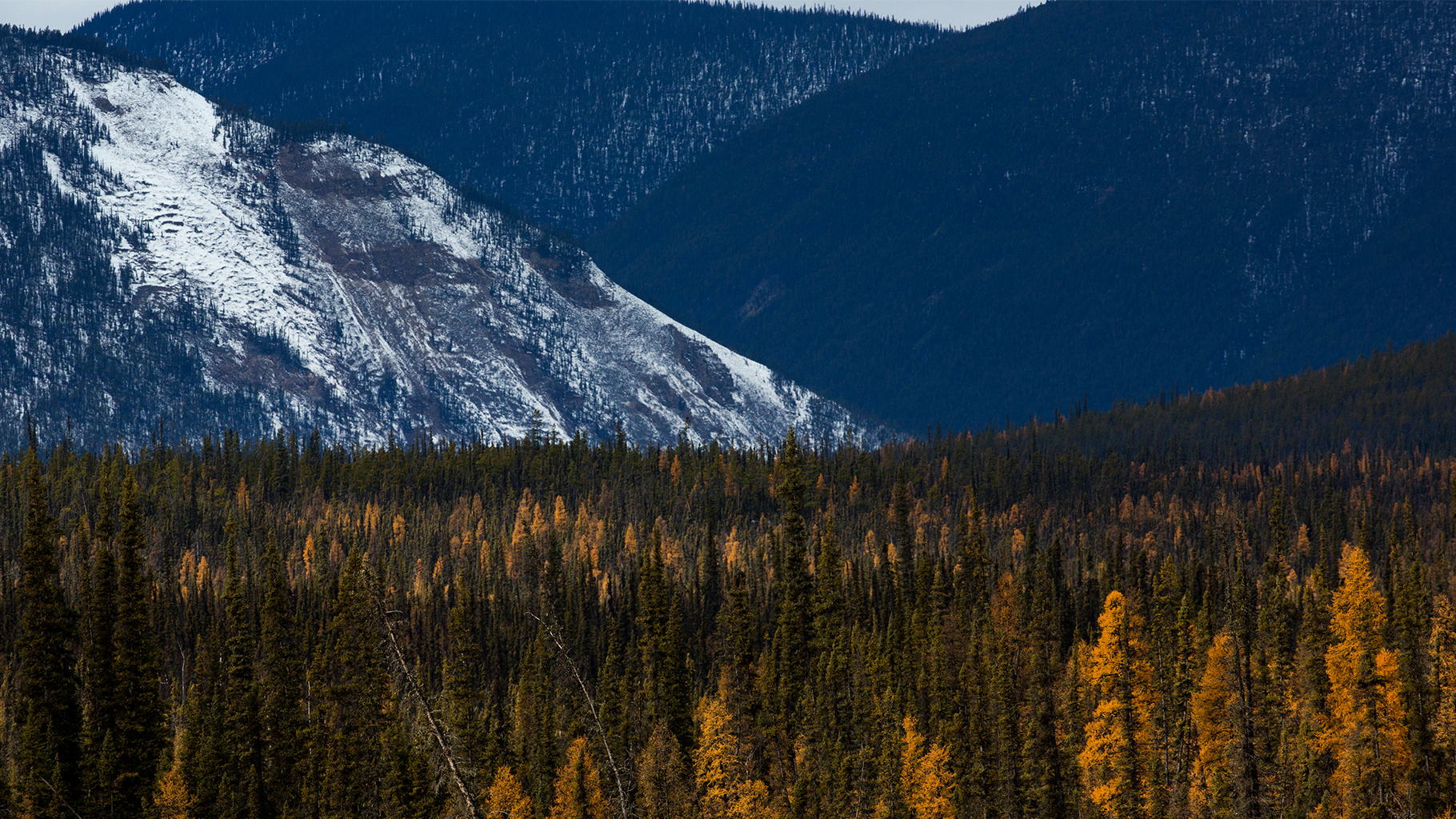 The majestic green pine trees of Canada's boreal forest stretch as far as the eye can see, covering over a billion acres from the Yukon in the west to the shores of Newfoundland and Labrador in the east. Within the aromatic needle-tipped branches, billions of birds take shelter each year after migrations that for some of them began in South America. The world's largest intact forest ecosystem also harbors many of the planet's deepest and cleanest freshwater lakes, and 25% of its wetlands and stores twice as much carbon per acre as tropical rainforests, making the boreal critical for Earth's long-term health. Which is why The Pew Charitable Trusts has worked with partners to conserve this idyllic stretch of nature since 2000.
In the ensuing decades, the boreal conservation project helped to secure pledges for protections, sustainable development standards, and sustainable development zones that will safeguard some 900 million acres of land. These efforts were supported by more than 170 Indigenous communities and a host of conservation advocates, scientists, government officials, and business and civic leaders in partnership with the Indigenous Leadership Initiative, Ducks Unlimited, the William and Flora Hewlett Foundation, and the Gordon and Betty Moore Foundation.
Philanthropic partnerships have also been critical to Pew's work to protect the world's ocean. In 2006, for example, Pew and nearly a dozen philanthropies created the Global Ocean Legacy project, an effort to create marine protected areas, or "parks in the sea." The collaboration resulted in a range of safeguards and nine enormous parks—from Easter Island in the eastern South Pacific to Chagos in the central Indian Ocean—that cover 80% of the ocean's fully protected waters in some of the most unspoiled
ocean environments.
In 2017, Dona Bertarelli, a philanthropist, investor, and sportswoman whose lifelong love of the ocean has inspired her passion for marine conservation, joined forces with Pew in the Pew Bertarelli Ocean Legacy Project. It seeks not only to establish ecologically significant and effective marine protected areas (MPAs) around the world, but also to link these protected areas, which will help conserve key migratory species as well as entire marine ecosystems. "It takes many actors and ingredients to support the creation of an MPA," says Bertarelli. "It also takes good data, science, and technology—factors that provide the foundation for our partnership."
Another example is in Philadelphia, where the William Penn Foundation is collaborating with the Pew Philadelphia research and policy initiative's efforts to improve the fiscal future of the city that's home to both organizations. The work aims to improve the quality of life for the region's residents and help map an inclusive future that includes job and career prospects for all. As essential first steps, the initiative strives to understand the city's economy as well as factors that could influence it in the future and bolster available research that can help civic leaders and the city government in making data-informed decisions.
Synergy with such like-minded philanthropies fuels Pew's work across a wide range of areas. As the organization marks its 75th anniversary, Pew's appreciation for collaboration and the resulting collective impact has continued to grow.
"The challenges the world is facing are far too big for Pew to solve alone, and so we've embraced the power of partnerships," says Susan K. Urahn, Pew's president and chief executive officer.
She notes that in Pew's experience, partnerships provide economies of scale and expertise that complement and compound action on ambitious challenges, helping to build momentum for change. These collaborations can also increase a project's impact through the sharing of networks and approaches, bringing problem-solvers to the table who can develop complementary skill sets and evolve and learn and grow together.
This approach makes big, long-term collaborations possible, addressing sizable challenges that require significant investments of time and funding from multiple parties. One example is the Blue Nature Alliance, which is working to bolster the health of the ocean by catalyzing or accelerating protections on nearly 7 million square miles of waters through new or expanded MPAs and other area-based conservation measures, as well as supporting the improved management of conserved areas. The Alliance is a partnership between Pew and Conservation International, the Global Environment Facility, Minderoo Foundation, and the Rob Walton Foundation.
These partners feel the benefit of the synergy that comes from working together. "At the core of Minderoo Foundation is evidence-based change, bringing the best knowledge and expertise to solve major global challenges," says Tony Worby, of the Minderoo Foundation. "The Blue Nature Alliance is a perfect example of stakeholders from across sectors coming together to collaborate—and that's when meaningful change happens."
Another topic that's always been important to Pew is strengthening America's democracy and the idea that accessible and trustworthy elections are the keystones of government. So the organization recently collaborated with partners to launch an effort to promote election systems that are convenient, secure, transparent, and accurate through the Election Trust Initiative. This effort is supported by The Pew Charitable Trusts, the William and Flora Hewlett Foundation, the Klarman Family Foundation, and the Peter G. Peterson Foundation, and operates as a subsidiary of Pew. "I have a strong bias in favor of working with others. That's how you are most effective," says Larry Kramer, president of the William and Flora Hewlett Foundation. "You have to have partners, and Pew is a very strong partner."
"Pew brings substantive expertise as well as decades of experience in project design, thoughtful implementation, and collaboration to our partnerships," says Priya Bery, Pew's senior vice president for partnerships. "And given today's challenges, we're inspired to catalyze partnerships that grow the expertise and capacity needed to advance scalable solutions to some of the world's most challenging problems."
Another ambitious, large-scale approach is Enduring Earth, which works with governments, local communities, Indigenous peoples, private and public funders, and NGOs to accelerate ocean, land, and freshwater conservation worldwide to help address the climate and biodiversity crises and support community development. The collaboration uses an approach known as project finance for permanence (PFP) to not only establish the policies and institutional arrangements for long-lasting conservation protections, but to also secure their funding in perpetuity. Launched last year, Enduring Earth is a collaboration with The Nature Conservancy, World Wildlife Fund, and ZOMALAB, the family office of philanthropists Ben and Lucy Ana Walton. Enduring Earth aspires to protect 1.5 billion acres around the world by 2030, which would go a long way toward the global ambition among the scientific community of protecting 30% of the Earth's land and water by 2030, an effort known as "30 by 30," to which Pew Bertarelli Ocean Legacy and the Blue Nature Alliance are also contributing.
"An exciting aspect of Enduring Earth is that it holds the goals of nature protection and community benefit as interdependent," says Ben Walton, the co-founder of ZOMALAB. "And this approach includes deep engagement with communities, supporting them in defining the plans and ownership of their own futures, assisting those communities in the vision of their continued relationship with these lands that are being protected."
Pew's Bery explains why Enduring Earth is such a great example of partnerships doing work at scale. "Enduring Earth will cover 20 geographic areas over 10 years, but not all of them are in geographies where Pew is active," she says. "So we'll take the lead in northern Canada, where we've worked for decades in the boreal, and other partners, like World Wildlife Fund and The Nature Conservancy, will take the lead on projects in areas where they have expertise. We're taking the proven PFP approach and scaling it, in a way that shows that we are stronger and more impactful together.
"We're excited about building a community of philanthropists who share our drive to pursue innovative projects that make a difference."
Demetra Aposporos is the senior editor of Trust.