Trust Magazine
A Global Agreement for Conservation
With Pew's help, nearly 200 countries say they will seek to protect at least 30% of the Earth's lands and waters by the end of the decade
A Global Agreement for Conservation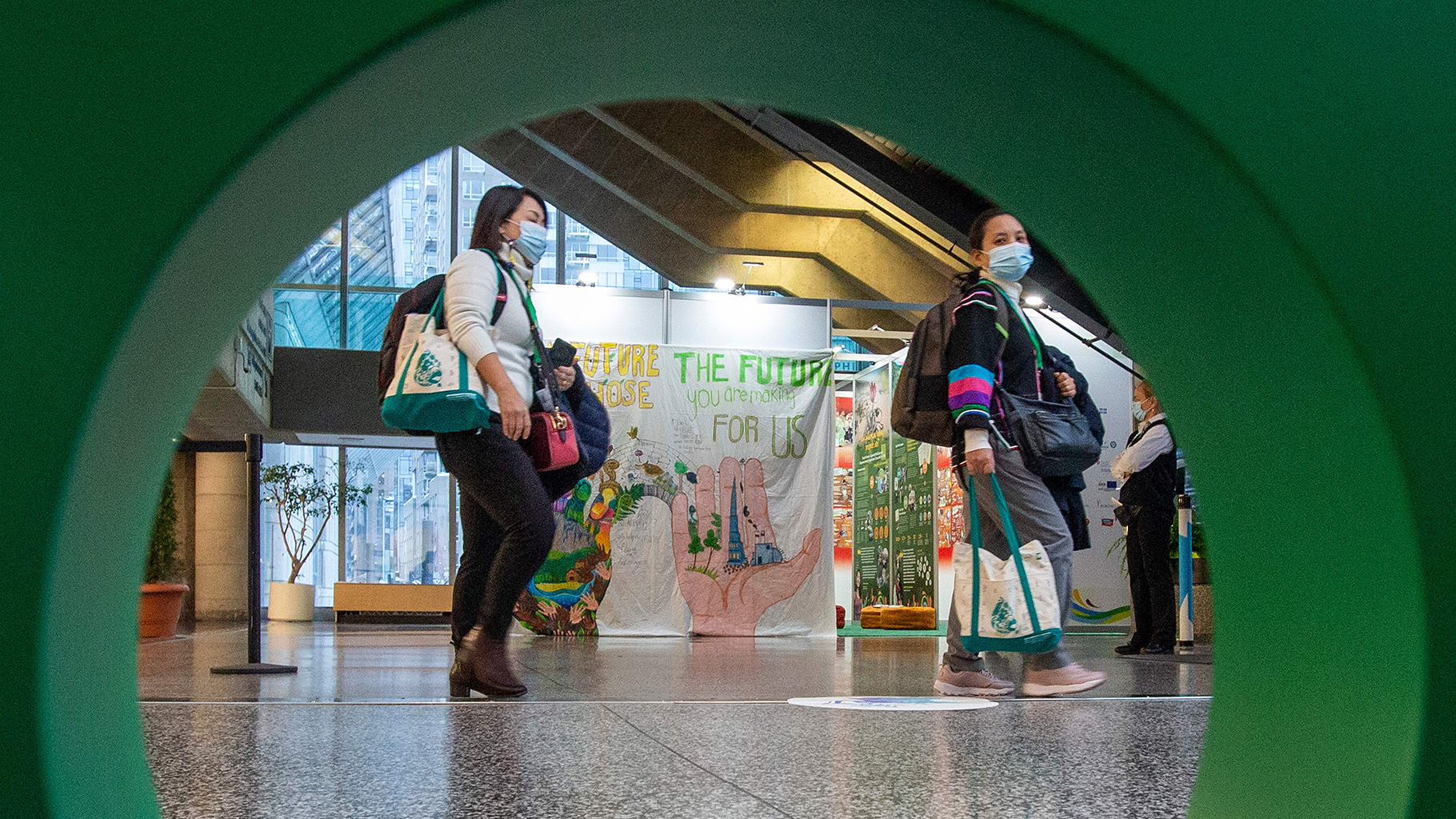 If there is one prevailing lesson from the history of conservation work across the globe, it is this: There is no substitute for persistence. That maxim was on display yet again in December in Montreal, where the 196 member countries of the United Nations Convention on Biological Diversity (CBD) agreed to the goal of protecting and conserving at least 30% of the Earth's land, freshwater, and ocean by 2030—a target known as "30 by 30."
This historic agreement follows more than a decade of work, much of it led by Pew and its partners. And if successful, 30 by 30 could be the singular achievement that allows the planet to continue sustaining life as we know it, today and far into the future.
"It's a very big deal," says Tom Dillon, who leads Pew's conservation work. "Countries in the CBD really do try to meet targets that the convention adopts. So now we don't have to convince them of the merits of the goal. The target is enshrined in a treaty. It's a North Star."
A growing body of science shows that governments must protect large, intact, and biodiverse areas to ensure the sustainability of ecosystems and the services they provide to nature and people. Research also shows that these protected areas must be well designed, well managed, and sustainably funded to yield long-term benefits to biodiversity. The CBD target supports this vision, calling for all 30 by 30 areas to be effectively conserved. It also reinforces the importance, according to the agreement, of "recognizing and respecting the rights of Indigenous peoples and local communities, including over their traditional territories."
"When we first started this campaign in 2016, we were at 0.9% of the global ocean protected," says Matt Rand, who leads Pew's large-scale marine habitat conservation efforts. "Now we're close to 8%, according to governments' self-reported numbers at least, and on land we've made even more progress," with around 17% of terrestrial areas under some form of protection.
(Some groups have different standards for what qualifies as meaningfully protected; the Marine Protection Atlas, for example, which tracks how much of the ocean is "fully or highly protected" and is maintained by the nonprofit Marine Conservation Institute, holds that only 2.9% of the global ocean is safeguarded.)
Implicit in all of those statistics is the fact that governments around the world still have significant work ahead of them to fulfill the 30 by 30 promise.
Today's target began to take form in 2014, when the International Union for Conservation of Nature (IUCN) World Parks Congress first recommended protecting at least 30% of the ocean—a sharp jump from the 10% protection goal, known as the Aichi Target 11, that parties to the CBD set in 2010. Seeking more scientific basis for a global marine goal, Pew commissioned a study by researchers at the University of York in the U.K. to learn if the 10% target was adequate, based on a series of environmental and socioeconomic indicators, including biodiversity, species abundance, and whether the ocean was contributing substantially to human health and well-being.
That paper, published in the journal Conservation Letters in 2016, reviewed 144 prior studies and found that an average of 37% protection was needed to meet those goals. In fact, the paper concluded that protecting only 30% of the ocean would meet just 44% of the objectives, which is why conservationists today are careful to specify the need for at least 30% protection.
At the time, the 30% goal was seen as a moon shot. But later in 2016, IUCN formally adopted its own recommendation as a resolution to push for at least 30% ocean protection. And in 2021, the group added the land component, adopting a resolution to protect and conserve the same percentage of the terrestrial and inland water area on Earth. These resolutions helped align countries and conservation groups around the world on the target and spurred the creation of a global communications plan among multiple advocacy partners.
Recognizing that the CBD was the best tool to help realize 30 by 30 and motivate in-country action, Pew and its partners embarked on a plan to secure a CBD resolution.
And to further focus the disparate conservation community, Pew launched the 30X30 Ocean Alliance with 14 other groups and supported the establishment of the U.K. Global Ocean Alliance and the 30x30 High Ambition Coalition for Nature and People, which is led by Costa Rica, France, and the U.K.
Masha Kalinina, who has led Pew's outreach on 30 by 30 since 2018, attributes much of the success in Montreal to a series of workshops that Pew convened. These included in-person sessions in Jordan in 2019, Samoa in 2020, and Fiji in 2022, along with a number of virtual workshops with the Association of Southeast Asian Nations and with Central and Eastern European regional partners.
"These really helped focus people on the goal and clarify for them that this isn't a national target, it's an aggregate across the globe," Kalinina says. That brought relief to many workshop participants whose governments have fewer resources to design, implement, and enforce protected areas in such a short time frame, she says.
The 30 by 30 target also includes safeguards for Indigenous peoples—for example, it offers a pathway toward recognizing Indigenous and traditional territories and calls for respect for Indigenous rights—provisions that earned the agreement the support of the International Indigenous Forum on Biodiversity. Indigenous peoples have strong track records of stewarding their ancestral lands and waters responsibly, and Pew has worked hard in recent years to ensure that these communities have a strong voice in choosing areas for safeguarding and in determining how those places should be protected.
With all its partners, Pew also strived to keep the goal front and center.
"At every CBD meeting, we organized some type of event to generate energy around 30 by 30 and keep the momentum going," Kalinina says. She spearheaded this effort, but the workload was spread throughout all of Pew's conservation projects and partnerships that have some stake in 30 by 30 and a strong CBD agreement overall, including international fisheries, Pew Bertarelli Ocean Legacy, protecting U.S. lands and rivers, coastal wetlands conservation, and the organization's work in Chile and Australia.
In the end, Pew's work with partners could be among the best chances for moving the conservation needle. For example, Dillon says Enduring Earth—a multi-partner initiative that uses a proven financing approach to lock in long-term protections and funding to support sustainable community development—is one of the biggest and most promising mechanisms for achieving 30 by 30. Enduring Earth has already secured protection for nearly 35,000 square miles of land and water, and it aims to protect an additional 1.9 million square miles, and mobilize nearly $4 billion in new funding, by 2030.
And the Blue Nature Alliance, of which Pew is a partner, is working to protect and conserve an additional 5% (from current levels) of the world's coastal and marine waters; it, too, could play a significant role in the drive to achieve 30 by 30.
Also, in another huge milestone for ocean conservation and 30 by 30, the United Nations on March 4 agreed to the text of a treaty to protect the high seas—a document that's been in development for nearly 20 years, with significant Pew involvement. Once it enters into force, the treaty will provide the mechanism to create marine protected areas on the high seas, which in turn could lead to a rapid rise in the percentage of the ocean under protection.
"The high seas treaty agreement, as much as the CBD win in November, shows that hard, strategic work by dedicated people pays off," says Elizabeth Wilson, who leads Pew's environmental policy team. "Achieving the promise of 30 by 30 is far from a done deal, but this treaty, once implemented, will get us a lot closer to that goal."
If there's one thing that 30 by 30 misses, Dillon says, it's "the small but important areas, such as coastal habitat" that are vital to maintaining and increasing biodiversity on Earth. "These areas are the nurseries for all pelagic fish, and they sequester and store more carbon than any other ecosystem on Earth, except peatlands," he notes. By focusing only on the numerical achievement of 30% protection, "there's a danger that people will forget about these smaller environments."
Regardless of the path, 30 by 30 won't be easy to achieve. An ever-increasing demand for resources and space, coupled with wars, recessions, and other global events, means governments will need unflagging political will to expand conservation. Many will also need to collaborate with each other, and all must find ways to finance the added protections.
But that doesn't mean the goal is out of reach. In fact, many see it as a last chance to pass a recognizable planet on to future generations. Brian O'Donnell, director of the Campaign for Nature, which has had a prominent role in advocating for 30 by 30, says, "The scale of this is commensurate with the challenge we're facing." Conservation efforts to date, he adds, "haven't been keeping pace with the loss" of habitat and biodiversity.
O'Donnell sees conservation of large, intact tropical forests, such as those in the Amazon and Congo basins, as one way to take big strides toward the finish line. "Those protections would benefit the climate, biodiversity, and communities, so it's hard to argue against them."
O'Donnell says China is a critical region, as is Asia more broadly because some governments there held off on agreeing to support 30 by 30 until late in the process. "We need to make sure they're fully on board," he says. "There's a lot of biodiversity there."
Nonetheless, O'Donnell's views echo much of the science and conservation community's, which say the Montreal outcome was decisive and worthy of celebration.
He said that the CDB agreement "shows the discipline of the conservation community. There have been a lot of pulls in different directions and various voices trying to complicate the mission. Some of that could have divided us, but 30 by 30 really galvanized the community—and countries."
Now, it's essential to build on the momentum from the agreement.
"This could help secure the future of biodiversity and humanity," Pew's Kalinina says. "It's a monumental achievement to have an agreement that the last wild places on Earth deserve our attention."
John Briley is a staff writer for Trust.