Under the big Wyoming sky, Trappers Point, with its green dotted wheat-colored hills, is an open-sagebrush ridge pinched to a narrow band by a river on either side. Located a few miles west of Pinedale, it is also a place where giant herds of migrating animals have traveled between their winter and summer stomping grounds for millenia. Mule deer and pronghorn squeeze through this bottleneck that nowadays forces them across Highway 191 and spits them out into the upper reaches of the Green River Basin heading toward Jackson Hole.
When wildlife is forced to cross roads, it creates a safety issue—for both animals and humans. Across the country, drivers hit 1 to 2 million animals each year, according to a Federal Highway Administration report. Approximately 200 people die (as do most of those animals), 30,000 more are injured, and the cost to all of us is upward of $8 billion. At the ecologically vital Trappers Point crossing, some 85 vehicle-animal collisions used to occur annually. "I remember seeing maintenance guys coming back with truckloads of deer to take to the landfill," said Peter Hallsten, Pinedale's resident engineer since 1997, with the Wyoming Department of Transportation (DOT).
But Trappers Point is ultimately a success story. In 2012, the Wyoming DOT completed construction of an $11 million project that includes two wildlife overpasses, six underpasses, and some 12 miles of fencing that funnels the animals to these safe crossings traversing above or beneath the highway. In the first three years post-construction, tens of thousands of animals used the structures, and wildlife-vehicle collisions fell by 80 percent. In addition, mule deer movement back and forth across the road increased by more than 60 percent and pronghorn more than 300 percent, contributing to stronger and healthier populations of these migrating animals.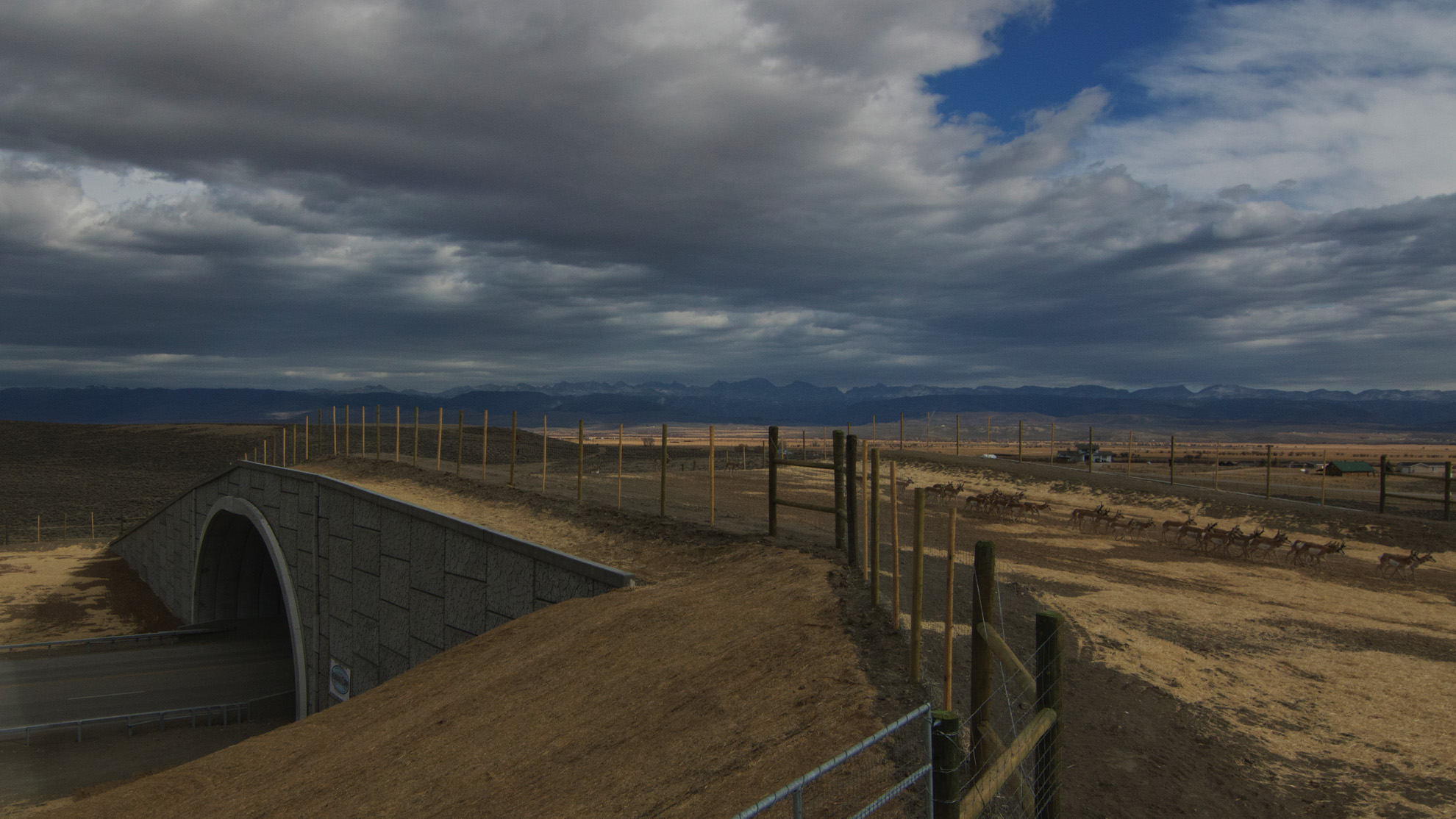 Trappers Point helped prove an important supposition: Building wildlife-friendly transportation infrastructure can be a win for drivers and animals alike. The project has marked the beginning of a growing trend.
In western Colorado, a series of two wildlife overpasses, five underpasses, and fencing with "escape ramps" for trapped animals reduced carnage by almost 90 percent by the second winter after construction on Highway 9 through the Blue River Valley. Lottery money plus a significant contribution from a local landowner funded the project, which should pay for itself in reduced accidents in around 22 years, according to a recent study commissioned by The Pew Charitable Trusts and compiled by the Center for Large Landscape Conservation.
"The work around wildlife crossings and animal migration is exciting because the science is so cutting-edge," said Matthew Skroch, a manager for Pew's public lands and rivers conservation team, which has been working on the issue. "It's only been in the last decade that scientists have been able to follow animals in real time, and it's revolutionizing how we understand them." Pew is working in this space to help reduce traffic fatalities, protect animals, and promote more wildlife-friendly transportation policies—which in turn will help preserve wildlife migration corridors and promote healthy and connected landscapes. The work is essential to both the ecosystems and local economies across the West, which are fully intertwined.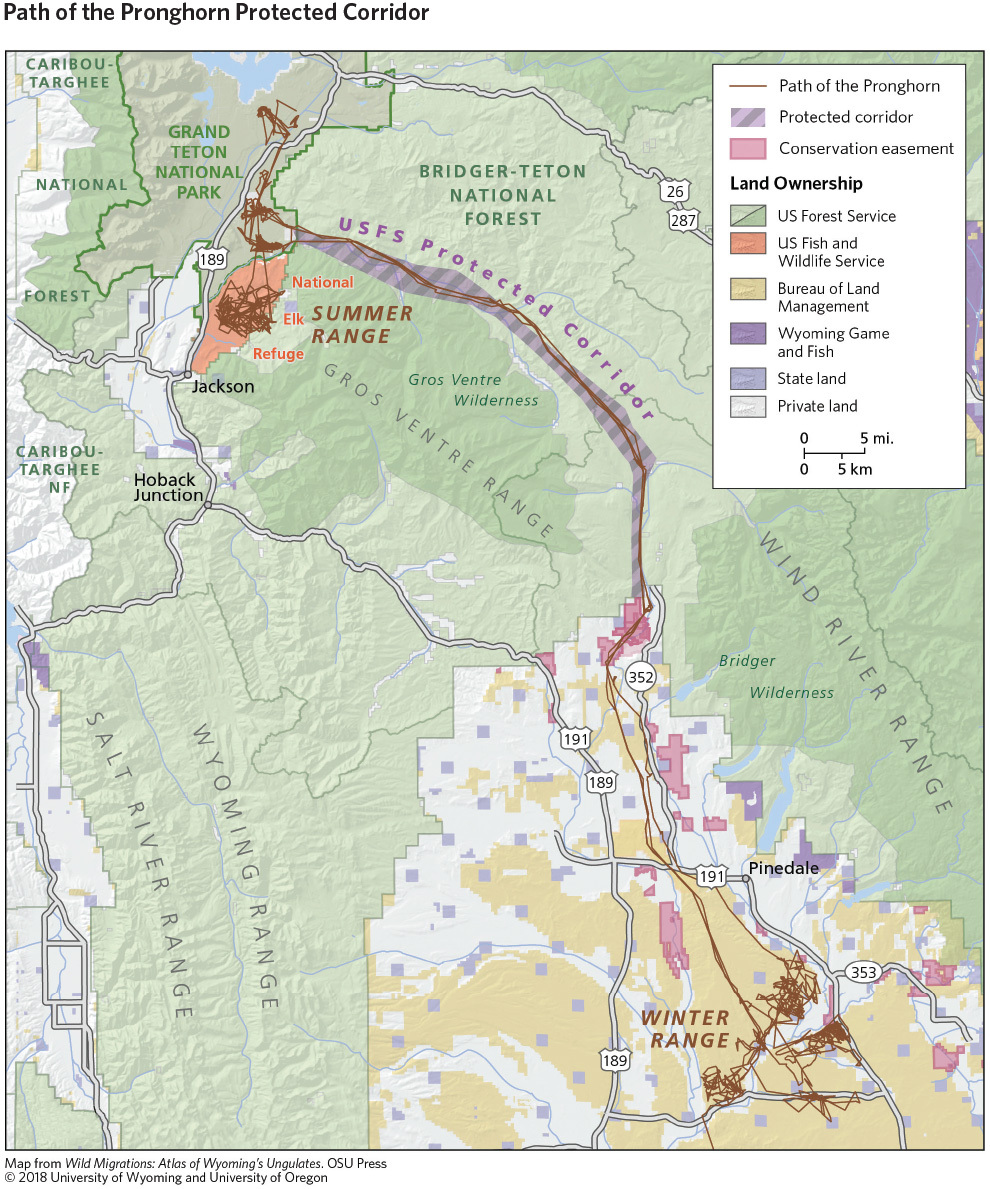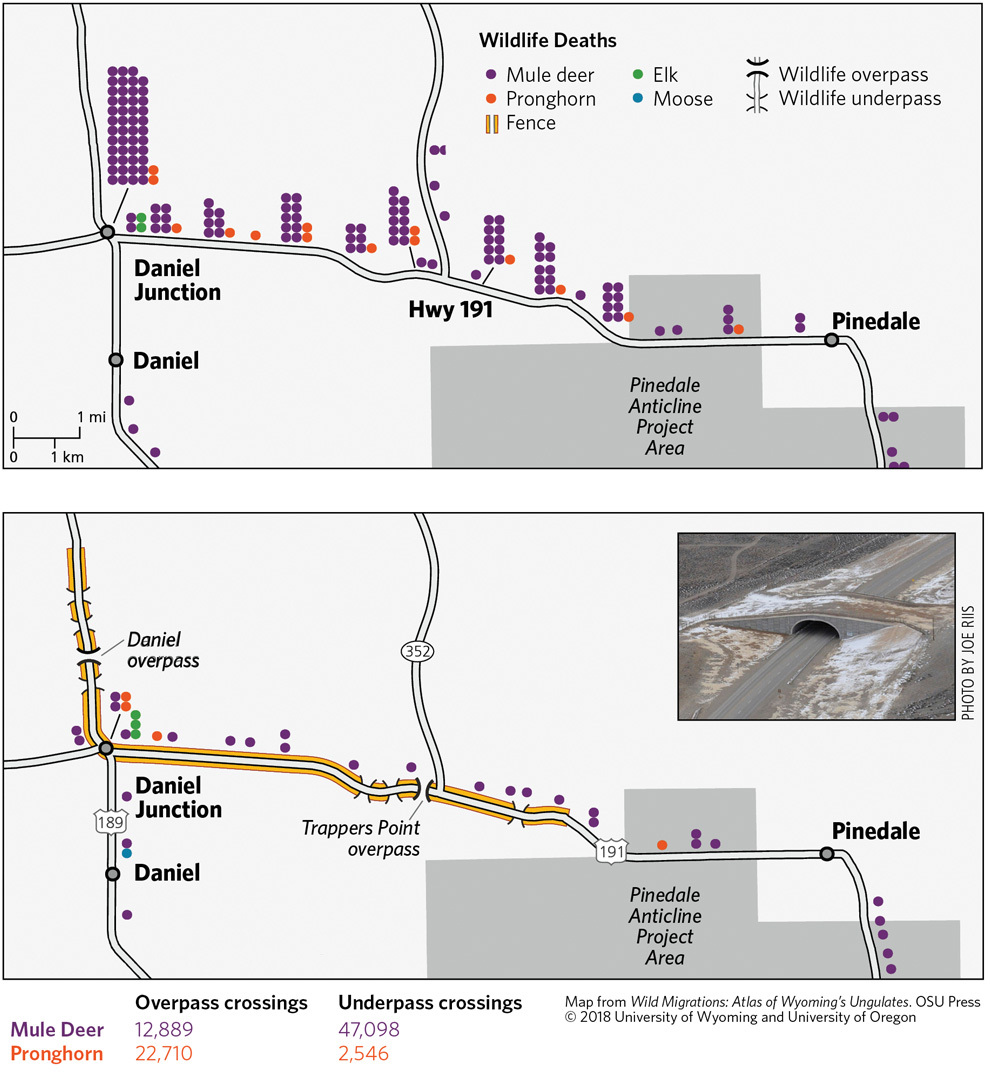 In Utah, the Parleys Canyon overpass between Salt Lake City and Park City, completed last year for $5 million, has drawn not just ungulates, or large hooved mammals, but also bobcats, cougars, coyotes, and even a yellow-bellied marmot, emphasizing how reconnecting migratory landscapes severed by roads, housing, industry, and other development benefits many types of native wildlife.
In Washington, plans for the Snoqualmie Pass project on I-90, part of a $1 billion highway renovation to be completed by 2029, call for a total of 27 structures over 15 miles. The crossings are designed to connect both terrestrial and aquatic (e.g., creeks that house spawning trout) habitat along one of the busiest interstate corridors in the Pacific Northwest. (Construction along the first 7-mile stretch, at $551 million, was funded by the 2005 gas tax.)
And in Nevada, a series of bridge and tunnel projects across U.S. 93 and I-80 in Elko County, completed in 2018, has led to a 50 percent decrease in mule deer collisions with each subsequent migration. (Funding came from a variety of state and federal sources, including Nevada's highway safety program and the American Recovery and Reinvestment Act.) "This is the first project of its kind to address a migration at such a large landscape scale, at four major crossing locations," said Nova Simpson of the Nevada DOT. Wrecks are down 98 percent in some areas. Last year, the Federal Highway Administration gave the state an environmental excellence award for the project.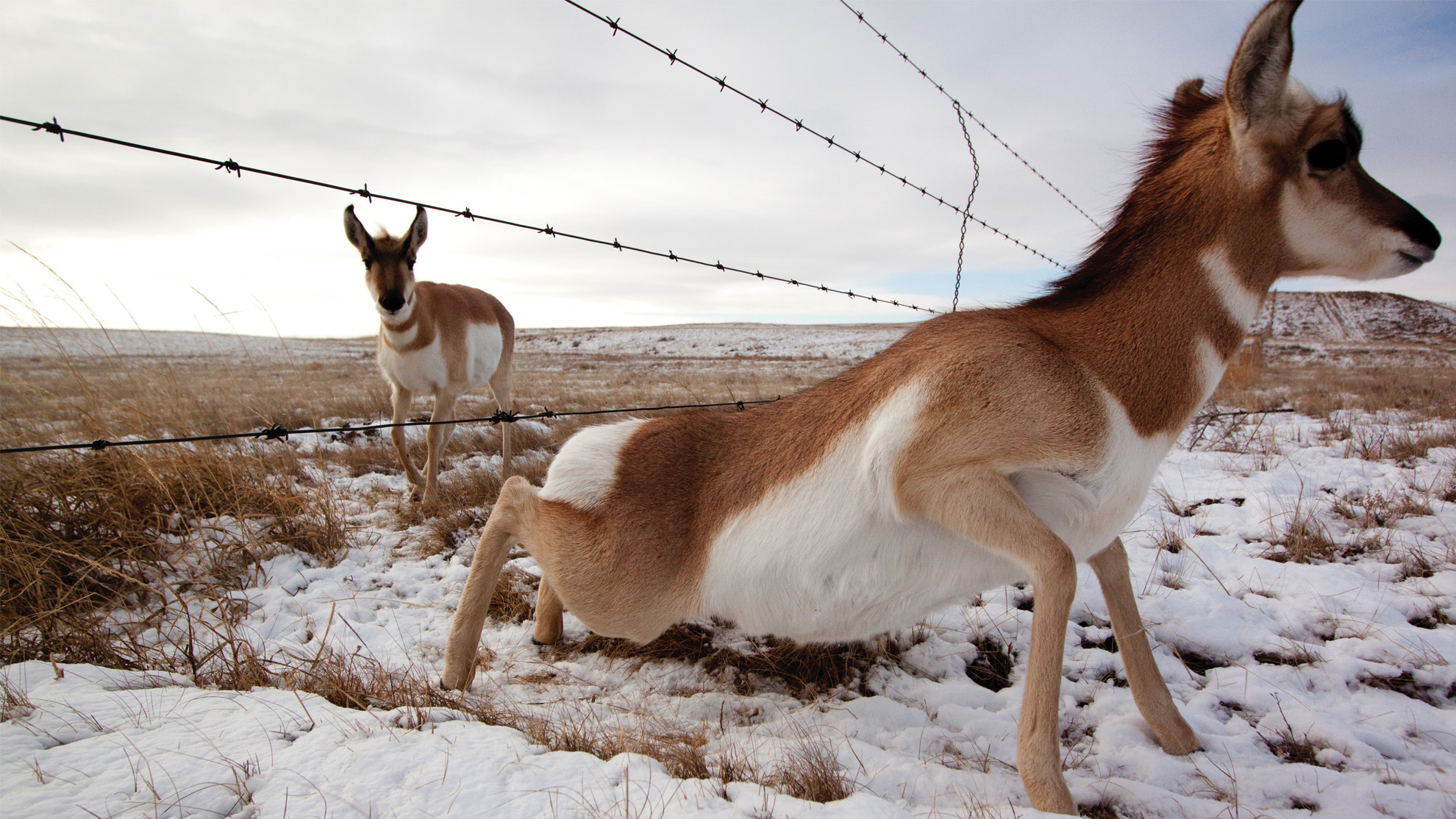 Despite the constant tug of war over limited funds, the list of examples—including a number of crossings back East, in North Carolina, Florida, and elsewhere—continues to grow. That expansion should continue apace as more states, and possibly the federal government if currently proposed legislation succeeds, catch on.
"Clearly, this is a problem we know how to fix," said Matthew Kauffman, wildlife researcher at the USGS Wyoming Cooperative Fish and Wildlife Research Unit, and it's one that cuts across stakeholders, from transportation agencies to tribes to conservation groups to hunters. Not only can properly designed wildlife crossings nearly eliminate collisions at key points in the landscape, he said, "they promise to reconnect fragmented habitat" and preserve perhaps the grandest natural phenomenon still at work in the American West: the great migration of ungulate herds.
For thousands of years, these herds have etched out pathways between the mountains and valleys, chasing summer resources and taking refuge from harsh winter weather. Their ultimate aim is successful reproduction, and the migration routes that support this goal are passed down through generations, in some herds practically down to the hoofprint.
"It's not just a matter of [the herds] getting from point A to point B," said Kauffman. "It's about nourishment—they follow the green-up of plant growth in spring, which we call 'surfing the green wave,' allowing them to build and carry energy through the entire ecosystem." The corridors are not just throughways but important habitats unto themselves, he said, and barriers such as highways or fences can be disastrous for the animals.
That any of these migrations still occur in the United States is remarkable. Every day, collectively, we drive some 4 trillion miles over more than 4.2 million miles of mostly paved roads, and ongoing road building in the U.S. has led to a 50 percent increase in wildlife-vehicle collisions in the last two decades. Additionally, with railways and mines, towns, agriculture, new housing, and industrial development, humans are continually putting up obstacles to wildlife.
Then there is the "invisible" threat: fencing. "We don't consider its potential impacts, and there are literally millions of tons of fencing on the landscape," said Andrew Jakes of the National Wildlife Federation. Depending on the context, fences can be a conservation tool or a roadblock. Either way, Jakes said fencing is a pervasive infrastructure that has profound influence on wildlife and ecosystems.
Building wildlife crossings isn't a new idea. Europe and Canada were early adopters; Banff National Park in Alberta, for example, constructed six overpasses and 38 underpasses for its herds some 20 years ago. Even the engineers who laid Wyoming's stretch of I-80 in the early 1970s placed concrete tunnels in spots where wildlife movements were known to occur; most animals rejected the dark passageways, and understanding their preferences would be vital to future successes.
Camera traps have been essential in this regard, revealing how animals react to structures. It turns out some will readily enter well-designed underpasses (mule deer), others cross only open bridges (pronghorn), and different species navigate different kinds of fences in their own ways. For example, pronghorn can get "piled up" for weeks behind a right-of-way fence, unable to leap it. This evidence suggests animals that can't navigate barriers are changing their behavior or being fully excluded from places they used to go.
Looking to Wyoming's herds, scientists decided to learn migratory routes from the animals themselves. "We realized the best way to solve the problem is to map the actual corridors," said Kauffman, "and let the animals show us exactly where they want to go and how they want to get there." Looking to the herds would also make clear any challenges, barriers, and threats they faced along the way, he said.
Thankfully, tracking technology has improved immensely since early wildlife researchers documented paw prints and scat and chased weak radio signals by plane or on foot. Today's GPS collars allow scientists to monitor the exact location of an entire herd from behind a laptop, as data ping to satellites every few hours, 24-7.
After years of such data collection, Kauffman co-founded the Wyoming Migration Initiative based at the University of Wyoming. Among other conservation tools, its research team has created an online "migration mapper" that planners and conservationists can use to identify and prioritize animal corridors.
Such intensive work in Wyoming uncovered some incredible journeys. Hall Sawyer of Western EcoSystems Technology Inc., a scientific consulting firm, and colleagues with the University of Wyoming and Wildlife Conservation Society documented the now-renowned "Path of the Pronghorn," a 100-mile stretch used by a dedicated herd from the Green River Basin to Grand Teton National Park. It's the first corridor to get federal designation and protection, albeit limited to a 40-mile section of U.S. forest land. Sawyer also documented the longest deer trek known so far in America: mule deer herds' 300-mile round-trip journey in western Wyoming—across highways and over more than 100 fences—between wintering grounds in the Red Desert of lower central Wyoming and summer range amid the slopes of the Hoback Basin just south of Grand Teton National Park, near the state's western border.
Across the West, the issue of migratory corridors is on the docket. In 2018, then-Secretary of the Interior Ryan Zinke issued a secretarial order requiring officials in Western states to identify ungulate winter ranges and migration corridors on federal lands that has facilitated mapping and other conservation efforts in the last two years. Congress is also beginning to show interest in connecting the new migration science with public lands and wildlife policy. A bipartisan bill called the Wildlife Corridors Conservation Act is making ripples, if not waves, in the lower chamber with a national proposal for designating wildlife corridors. And a Senate committee recently passed—unanimously—a new highways bill that allocates some $250 million for wildlife-friendly bridges and underpasses.
Still, the patchwork of public, private, state, and tribal land ownership can complicate efforts to conserve habitat and corridors. "Things can become very polarized in local areas, especially at the urban-rural interface, and where landowners feel unheard," noted Nevada DOT's Simpson. Case in point, in Island Park, Idaho, angry property owners feeling ignored by decision-makers and worried about land access and views thwarted plans for wildlife crossings across the Targhee Pass. "That's why we have to create partnerships and find common ground." Of course, many landowners are, and have long been, excellent stewards of the corridors that run through their properties.
Casey Stemler of the U.S. Fish and Wildlife Service, the coordinator for the Department of the Interior's secretarial order, said that, with so many different interested parties, "the value of voluntary and proactive conservation cannot be understated in the West." Although going in with a regulatory, top-down approach could lead to a lot of slammed doors, he said that joint ventures aimed at preserving habitat represent landscape conservation at its best. Still, many experts assert that some regulatory framework—combined with collaborations at the state and local levels—would go a long way toward providing substantive and lasting conservation measures for migrating wildlife.
Whatever policies are or aren't in play, diverse partnerships are key, noted Pew's Skroch. "It's a matter of bringing together all of the disparate pieces—DOTs, state wildlife agencies, tribes, NGOs, property owners—to look at the science and figure out what works toward the common goal of conserving big game migration habitat." To that end, the Western Association of Fish and Wildlife Agencies, Wyoming Migration Initiative, and Pew held regional workshops in 2017 and 2018 attended by wildlife managers from many Western states. More recently, Pew has helped bring together agencies and stakeholders in Nevada and California, respectively, to assess how wildlife movement and transportation infrastructure interact, with an eye on future collaborations for safe-passage projects.
Safety is on the agenda in a number of states—Wyoming, Nevada, California, New Mexico, and others—that have completed studies to identify priority areas for future initiatives. Last summer, the Western Governors' Association passed a resolution calling for better collaboration and more resources for wildlife-friendly transportation infrastructure, and Governor Jared Polis of Colorado signed the first-of-its-kind executive order to protect migration corridors and seasonal habitats. Other governors are considering similar action.
Along with competing land uses, limited funding can hold back wildlife crossing projects. Costs vary widely depending on geography, type of structure, and design, but overpasses in particular run well into the millions, and projects with multiple structures can ring up tabs above $50 million. "With so many competing priorities and declining revenues, the solution doesn't always have to be big, shiny new overpasses," said Pew's Skroch. "Sometimes, depending on the target species, retrofitting existing culverts or tunnels with fencing to guide the animals can be extremely effective." As much as possible, officials are making animal crossings part of already-funded highway construction or improvements. For example, Washington's Snoqualmie Pass project is part of the state's more general ($1 billion) overhaul of part of I-90.
Still, as yet there's no dedicated federal money for the actual construction of new crossings. However, the Department of the Interior's secretarial order has provided $6.4 million to fund state wildlife agency efforts to identify corridors and collision hot spots, plus another $1.8 million for data analysis and mapping assistance to the respective states. And the bipartisan proposal now in the Senate, America's Transportation Infrastructure Act of 2019, would allocate $250 million in grants over five years for projects aimed at reducing wildlife-vehicle collisions.
Engineers, meanwhile, are trying to cut costs through more modular designs and cheaper, greener materials such as precast concrete and composite materials. Construction is evolving: California may soon see the first overpass in North America made of fiber-reinforced polymer, a light, durable material that can include recycled plastic. (Engineers are eyeing a site in Siskiyou County, near the Oregon border, for the new structure.) If applied widely, such a material could greatly economize future projects.
But even bridges of traditional concrete and steel construction are proving to be cost-effective solutions over the long term. Wyoming engineer Hallsten said that first seeing animals readily using the structures at Trappers Point "felt like winning the Super Bowl." That whole project, he said, should pay for itself in 15 years of reduced collisions, if not sooner.
Today, the United States—not just in the West but also in Florida, New Jersey, and elsewhere— has hundreds of wildlife bridges and underpasses. Some are new, some old but improved, and more are in the works. And they've been wildly successful at reducing deadly interactions between drivers and animals. The win-win is crystal clear.
Also important, said Kauffman, is that third winner, the natural landscape. Linked habitat allows herds to move freely, giving them the options—such as mates, food and water resources, and pathways—that let them thrive. Connectivity also supports higher biodiversity and can soften the blow to animals from habitat loss, drought, disease, and other threats. "Wildlife crossings are such great common-sense solutions," said Pew's Skroch. "They save lives and help maintain and enhance landscape connectivity that supports our wildlife heritage. We now have the tools, and the partnerships, to give wildlife safe passage into the future."
Jennifer S. Holland is a former staff writer for National Geographic specializing in life sciences.