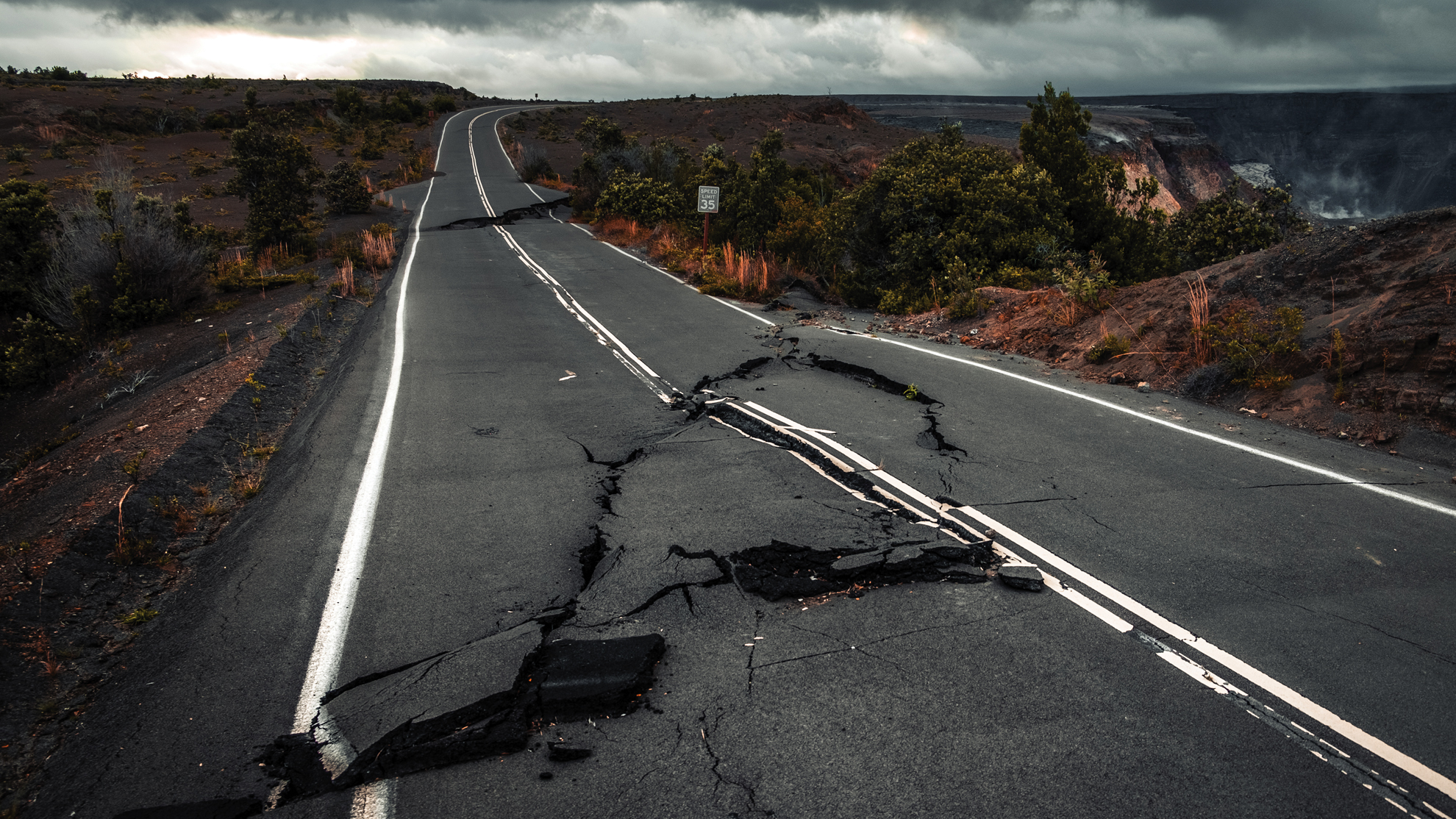 In National Parks, Repair Backlog Affects Roads—and Visitors
The appeal of America's national parks, from the best known to the most obscure, is as varied as our country's culture and topography. But certain attributes tie the entire park system together, chief among them a reliable network of roads to bring visitors into and through the sites.
Today, many of the more than 5,000 miles of paved roads, tunnels, and bridges maintained by the National Park Service (NPS) are showing their age, and park managers are grappling with a backlog of transportation-related repairs that's part of deferred maintenance totaling $12 billion across NPS sites nationwide.
About half of that accounts for needed repairs to roads and other transportation-related assets, with NPS categorizing $4.8 billion of those repairs as high or highest priority. Last year, the agency's funding requests for "megaprojects," or transportation repairs that would greatly exceed the agency's core funding, amounted to nearly $2 billion, well beyond the $325 million appropriated. Examples of damaged roads and related assets stretch throughout the park system. In Yellowstone National Park, damage on the Grand Loop Road is part of nearly $370 million worth of transportation-related repairs (as of May 2019). Alaska's Denali National Park needs over $30 million in such repairs, including significant maintenance on the park's extensive unpaved roads. The Natchez Trace Parkway, a 444-mile scenic roadway that runs through Mississippi, Alabama, and Tennessee and includes stops for hiking, biking, and horseback riding, faces a deferred-maintenance list totaling almost $350 million. At Cape Cod National Seashore, more than $30 million is needed to fix roads and parking lots used by the more than 4 million annual beachgoers.
Some national park transportation systems are over a century old and, even with periodic updates, many are showing their age. That, coupled with increased visits—more than 300 million in each of the past five years—and inconsistent funding, has made it difficult for NPS to keep up with needed repairs.
The backlog directly affects visitors by limiting or cutting off access to historic sites, wildlife viewing areas, campgrounds, restrooms, and hiking trails. Left unaddressed, the deferred maintenance could also hurt the local jurisdictions that depend on park visitors: In 2018, tourists spent more than $20 billion in gateway communities and supported more than 329,000 jobs.
With so much riding on the infrastructure within our national parks, The Pew Charitable Trusts is urging Congress to ensure sufficient funding to address deferred maintenance as it works to reauthorize the Fixing America's Surface Transportation (FAST) Act, which will expire in September.
Last summer, the Senate Environment and Public Works Committee approved a proposal to reauthorize the surface transportation act and included a more than 20 percent increase in overall funding for NPS programs. That would help, but ideally the House and the Senate will approve dedicated funding for the full $4.8 billion needed to repair all the agency's priority transportation-related assets and allocate at least $350 million annually for megaprojects on federal and tribal lands.
"Congress has an opportunity to address these long-overdue repairs and restore our parks for generations to come," says Marcia Argust, who directs Pew's work to restore America's national parks. "It's a smart investment that will protect visitor access and safety, as well as create jobs."
—John Briley
States Prioritize Broadband Access
From surfing the web to communicating with family and friends, internet access was increasingly intertwined with the daily lives of most Americans even before the coronavirus pandemic forced people to stay home to work, study, and watch movies and concerts. And a reliable, high-speed connection—broadband—is also fast becoming a necessity for businesses of any size, linking them with customers around the world as easily as those down the street. That's especially true when customers prefer to, or are obliged to, shop from home.
What's more, the pandemic also increased the need for health care providers to connect with patients via telehealth or telemedicine.
But according to the Federal Communications Commission, some 21 million Americans still lack access to broadband, and leaders in those communities cite a growing gap between the resources and opportunities available to their residents and those living in places that have a robust network. They are also recognizing the critical role that broadband plays in efforts to modernize transportation networks and improve health care.
For these reasons, states are making it a priority to bring broadband to those who lack access to it—with a particular focus on providing "last mile" connections, the part of a network that connects a local internet provider to residences and small businesses.
To see what actions are working, The Pew Charitable Trusts examined state broadband programs nationwide, then interviewed more than 300 leaders, lawmakers, local officials, and broadband providers in nine states: California, Colorado, Maine, Minnesota, North Carolina, Tennessee, Virginia, West Virginia, and Wisconsin. The detailed findings were published in a February report that was 18 months in the making, "How States Are Expanding Broadband Access."
It found that although no single approach works for expanding broadband access, successful state programs have most of these five elements in place: a policy framework, planning and capacity building, funding and operations, program evaluation and evolution, and stakeholder engagement.
Twenty states have set up dedicated broadband offices, and although their benchmarks might differ based on speed, coverage, and timelines, most define success by how many more residents they are able to connect. Minnesota, for example, wants to ensure that by 2026, every home and business has access to speeds of 100 megabits per second (Mbps) to download data and 20 Mbps to upload it, which allows easy access to big files such as videos.
Areas that still lack such high speeds are often the most difficult and expensive to serve, either because the population is sparse—meaning fewer customers—or because their geography makes extending wired and wireless infrastructure more challenging. To place more fiber conduit, the hard tubing that houses fiber optic cables, states are allowing internet service providers to access utility poles and passing "dig once" rules that require conduit to be run alongside highway construction. And to help make projects economically viable, states are offering grants and loans to providers to cover a portion of installation costs.
States such as Maine and North Carolina are also helping unserved or underserved communities to identify broadband needs and goals, initiate conversations with providers, evaluate their options, and carry out broadband infrastructure projects.
This kind of engagement with communities and other stakeholders is necessary if states want to receive widespread support for their expansion efforts, says Anne Stauffer, who directs Pew's broadband research initiative.
"Technology is just one part of the solution," Stauffer says. "Bringing broadband to rural or otherwise more expensive areas requires partnerships between state leaders, communities, local governments, and internet service providers."
—Anne Usher
Republicans and Democrats Distrust Political and Election News on Social Media Sites
As we approach the 2020 elections, a large majority of Americans are familiar with the major social media sites in the rapidly expanding digital universe. A number of them are also sources for political and election news for many Americans, according to a new analysis of data from the Pew Research Center's Election News Pathways project.
A survey of 12,043 U.S. adults who are members of the center's American Trends Panel, conducted in the fall, found that despite Americans' level of familiarity with these social media sites, both Democrats and Republicans (including independents who lean toward either party)—in an unusual display of bipartisan convergence—register far more distrust than trust of social media sites as sources for political and election news. And the most distrusted sites are three giants of the social media landscape: Facebook, Instagram, and Twitter.
Facebook is the most widely used of the six social media sites examined when it comes to getting political and election news, and it is distrusted by about six-in-ten, or 59 percent, of U.S. adults, the authors write. That includes almost equal percentages of Democrats and independents who lean Democratic (59 percent) and Republicans and independents who lean Republican (62 percent). Close to half of all U.S. adults also say they distrust Twitter (48 percent), and about four-in-ten (42 percent) distrust Instagram.
Not everyone, however, is as concerned about the credibility of social media sites as sources of political and election news. Those who say social media sites are their "most common" way of getting this news express more trust in those sites and voice less concern about the influence made-up news could have on this year's election.
—Demetra Aposporos
Youth, Disconnected: Coronavirus Shutdown Leaves Some Behind
Also in this issue