From new masks for medical personnel to analysis of city finances, we explore how Americans are contending with the coronavirus.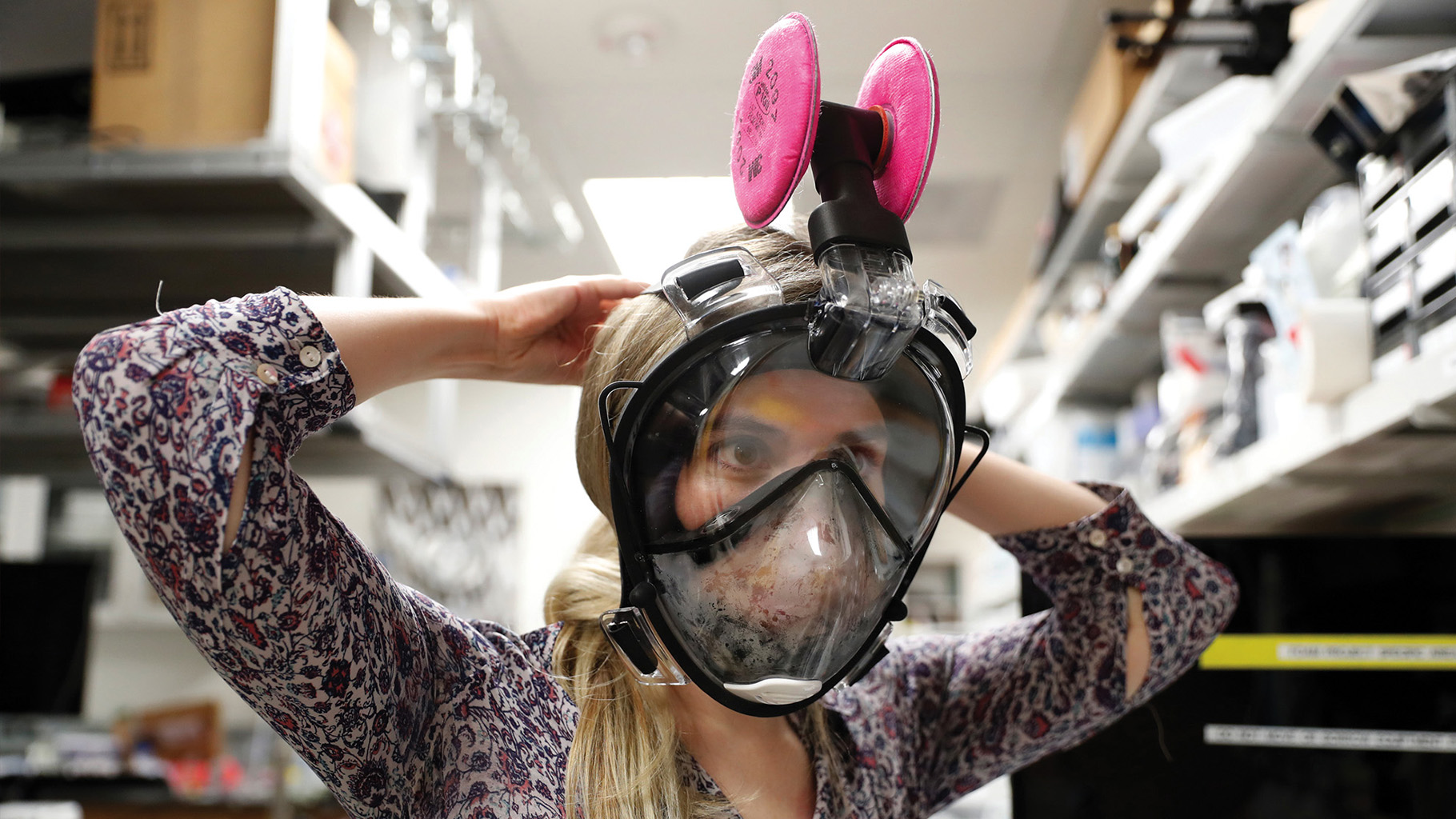 Innovative Science to Protect Medical Workers
By Demetra Aposporos
In mid-March, when Manu Prakash developed a fever and cough soon after returning to his California home from a work trip in Europe, he feared the worst. At the time, COVID-19 infections were raging across Europe and had just been discovered in all 50 U.S. states, with President Donald Trump having declared a national emergency. Although Prakash, an associate bioengineering professor at Stanford University, would end up testing negative for COVID-19, he couldn't stop thinking about the disease and how he had watched the doctors and nurses who examined him at Stanford Medical Center discard their personal protective equipment (PPE) after each interaction. With fears already rising that PPE would soon be in short supply, he wondered if there might be a way to tailor some existing item to work as protective equipment.
Prakash (right), a 2013 Pew biomedical scholar, runs a lab he describes as "curiosity-driven" and dedicated to inventing creations he likes to call "frugal science"—making him well equipped to noodle on the looming problem of PPE shortages. And one possible solution was soon as clear to him as the nose on his face—or, rather, as clear as the full-face snorkel mask he had just unpacked from his European sojourn. Could it, he mused, somehow be adjusted to work as protective gear for front-line medical workers?
It wasn't long before Prakash and 10 scientists in his lab were modifying the snorkel mask to work as a substitute for an N95 respirator, which offers the highest level of protection against airborne coronavirus. The solution they engineered is both innovative and strikingly simple: a new part, or coupler, that fits onto the mask's existing breathing tube, allowing for the addition of a medical-grade air filter. The team dubbed its creation (above) the "Pneumask."
The Pneumask works with existing rated medical filters in standard use at hospitals and is reusable after a decontamination process the team explains in depth on the website pneumask.org. Thinking ahead about the potential for different kinds of shortages, the team also designed a second coupler piece that fits onto the first one, which allows for industrial-grade filters to be attached—giving hospitals access to two different supply chains for filters. Perhaps best of all, the couplers can be custom-made on a 3D printer, and instructions for making them are available online through a Google document accessible to anyone.
It wasn't long before people far and wide were making and using the Pneumask. (See Q&A, page 42.) Currently some 23,500 Pneumasks are in use in 24 countries, with 3,200 of them deployed across the U.S., according to the team's website. Although it has not yet received FDA approval, an array of doctors who have used the mask attest to its sealing capability, filter performance, and clinical usability and say that it's both effective and practical—a testament to the team's "frugal science."
Prakash believes that a great deal of lasting innovation will result from the challenges presented by the coronavirus. "This pandemic has truly exposed the underbelly of weaknesses in our protection for health care workers," he says. And, he adds, he's happy to have been able to contribute to the effort to protect them.
Demetra Aposporos is senior editor of Trust.
Pandemic Brings Fresh Challenges for City Budgeting
Officials from Philadelphia and other cities discuss how they're responding to economic shock.
By Larry Eichel and Thomas Ginsberg
For city governments, the budget process is never easy. But this year, the COVID-19 pandemic and resulting recession have made that work exceedingly difficult—and the pain is only just beginning.
This was the consensus from several top city budget officials speaking at a July 8 online panel discussion organized by The Pew Charitable Trusts. The spending plans being adopted by major cities throughout the country are based on revenue estimates containing more than the usual dose of uncertainty.
"We expect there will be need for some adjustments," said Philadelphia Budget Director Marisa Waxman, referring to the $4.8 billion budget the city adopted in late June. "This has been a very challenging time. Philadelphia will survive; it has been around for 300 years and isn't going away."
The virtual panel discussion featured Waxman, San Francisco Controller Ben Rosenfield, Houston Deputy Finance Director William Jones, and budget consultant John W. Hill, who served as Detroit's chief financial officer during its 2013 bankruptcy. The hour-long conversation before an online audience of more than 100 city policymakers, public finance experts, and other stakeholders was part of Pew's project on local fiscal oversight.
Houston and Philadelphia have approved spending plans for the fiscal year that started July 1. Although San Francisco's fiscal year also began July 1, its leaders delayed the new budget for three months to give themselves more time to deal with the economic shock.
During the discussion, the officials detailed how they scrambled to make cuts and offset the decline in local revenues, which was greater in cities like Philadelphia that rely more on income and sales taxes than on less-volatile property taxes. (Unlike the federal government, local governments cannot run budget deficits.) For now, none of the jurisdictions plans to reduce city employee pension contributions or borrow new money to close budget gaps. Each received funding from the federal coronavirus aid package, which must be spent on COVID-19-related expenses by December.
Houston, whose mayor initially talked about widespread furloughs of city workers, managed to avoid those and pass a budget roughly equal to the previous year's $2.5 billion spending plan. The city is seeing a big drop in sales tax revenue, and the law limits the amount it can get from property taxes, its main source of revenue, Jones said. This left Houston with a gap of about $170 million, which it filled by cutting costs, by taking about $90 million from its reserves, and by "redeploying" workers and jobs into COVID-19 relief work.
That redeployment enabled Houston to fund those workers and jobs with some of its $404 million in coronavirus aid, Jones said. Houston also projected having enough revenue this year to avoid tapping into its small rainy day fund. Neither Philadelphia nor San Francisco took such steps with that aid ($276 million and $154 million, respectively), and neither city is expected to replenish its rainy day fund this year.
San Francisco is likely to cut its fiscal 2021 budget below last year's $6.5 billion, Rosenfield said. The city's property tax revenues have held steady, but
just about everything else has plunged: Hotel tax revenues this spring, for example, fell from $100 million to approximately $10 million. The projected budget gap stands at $750 million. The mayor has ordered all departments to plan for 10% cuts and
brace for even more.
Like Waxman, Rosenfield understands that the uncertainty surrounding the coming months means that San Francisco's budget will probably have to be revised early and often. "We have an office pool going on how soon the first readjustment will have to be made. I'm guessing three months," Rosenfield said. In addition, he expressed hope that cities will increasingly use technology to deliver services—such as license renewals—remotely and more efficiently, a point echoed by the others.
Philadelphia's $4.8 billion operating budget is about 8% smaller than the one that Mayor Jim Kenney proposed in early March before the outbreak. Then the recession hit sales tax and income-based taxes hard: The city initially warned of a $649 million shortfall, then increased it to $749 million as the numbers came in. To close the gap, the city took $229 million from its reserves and rainy day fund and made up the rest with targeted tax and fee increases as well as layoffs. But that has left little cushion for another shock.
"We won't be able to dig $100 million from the seat cushions again," Waxman said, agreeing with the others that some of the budget-balancing tactics used this year won't be available next year. Among the cities with current officials on the panel, only Philadelphia has laid off city workers at this point—454 in total, mostly part-time and temporary employees.
Hill said the economic shock, even though it came suddenly, is not a passing blip after which urban life—and the items and activities that cities tax—will return to normal. "There will be some changes in how corporations do business," he said, "how we deal with physical infrastructure, how we deal with distance learning and work—and those are likely to be permanent."
These changes and others, Hill said, are likely to complicate city budgeting for years to come.
Larry Eichel is a senior adviser and Thomas Ginsberg is a senior officer with The Pew Charitable Trusts' Philadelphia research and policy initiative.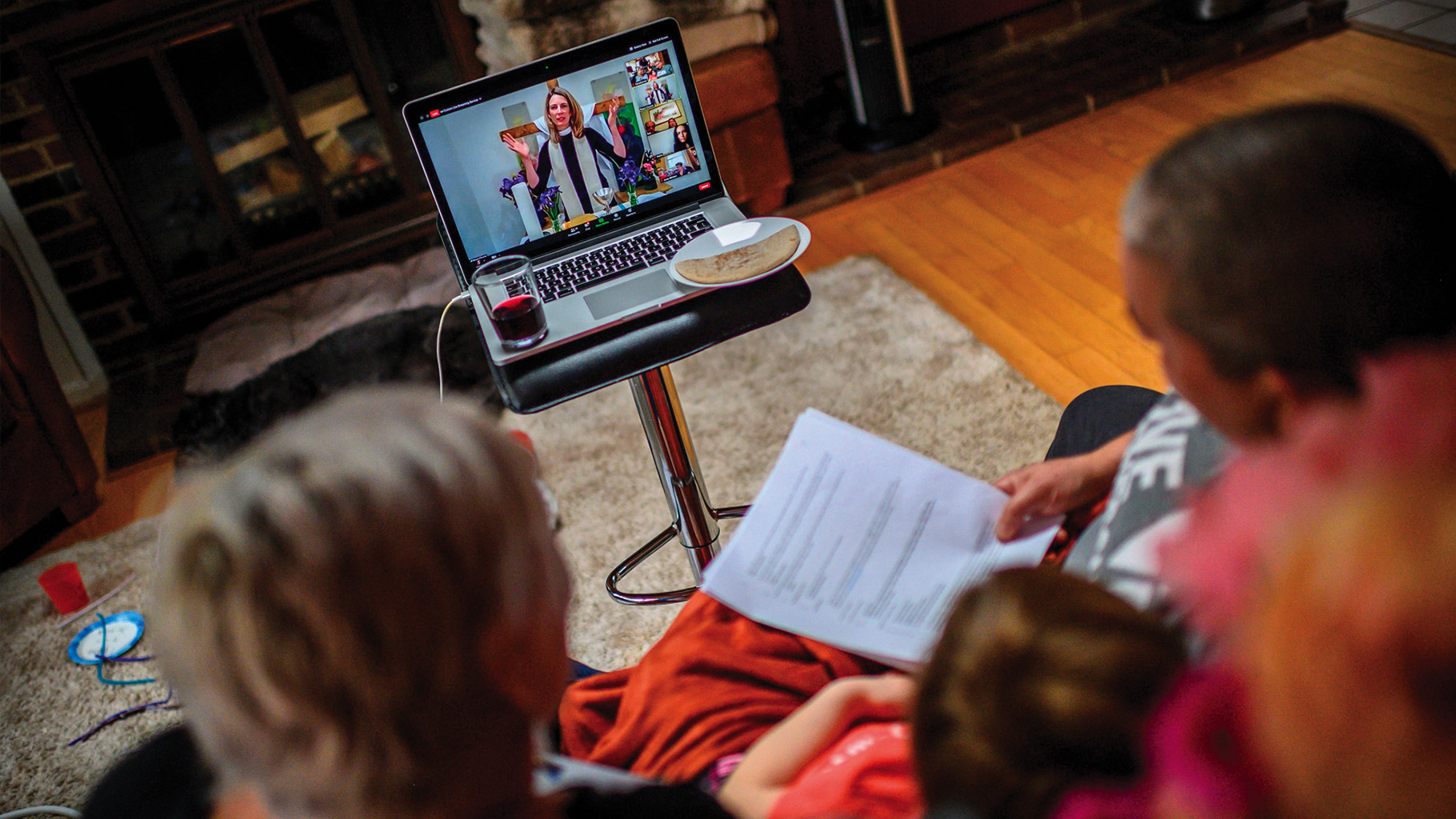 Will the coronavirus permanently convert in-person worshippers to online streamers?
By Alan Cooperman
One-third of U.S. adults recently have watched religious services online or on television, and a little over half of them—or 18% of all adults—say they began doing this for the first time during the coronavirus pandemic. Of course, if you're worshipping remotely, you can't hug the other members of your congregation or shake hands with your minister, priest, rabbi, or imam. But you can wear whatever clothes you want, turn up (or down) the volume, forget about traffic in the parking lot, and easily check out that service you've heard about in a congregation across town or even across the country.
Whatever the reasons, lots of people like virtual worship. Nine out of 10 Americans who have watched services online or on TV in the past month say they are either "very" satisfied (54%) or "somewhat" satisfied (37%) with the experience; just 8% say they are "not too" or "not at all" satisfied, according to a Pew Research Center survey conducted in mid-July.
So what does this bode for the future? By the time the COVID-19 pandemic has finally run its course, will Americans have lost the habit of going in person to a church, synagogue, temple, or mosque? Some commentators have suggested that just as the pandemic has accelerated the trend toward shopping online and made Americans reliant on the internet for work, school, health, and entertainment, so might many, if not all, varieties of religious experience move online in the 21st century.
But that's not what the people who've been worshipping online see in their future. On the contrary, most U.S. adults overall say that when the pandemic is over, they expect to go back to attending religious services in person as often as they did before the coronavirus outbreak.
To be sure, a substantial share of Americans (43%) say they didn't attend religious services in person before the pandemic struck and they don't plan to start going to a church or other house of worship when it's all over. But 42% of U.S. adults say they plan to resume going to religious services about as often as they did before the outbreak, while 10% say they will go more often than they used to, and just 5% anticipate going less often.
Similarly, a lot of Americans are not interested in virtual services: Two-thirds of U.S. adults say they have not watched religious services online or on TV in the past month. But of the one-third of U.S. adults who recently watched services online or on TV, relatively few (19% of this group, or 6% of all adults) say that once the pandemic is over, they intend to watch religious services more often than they did before it started.
Most online worshippers say that after COVID-19 has passed, they plan to revert to their pre-pandemic habits (18% of all adults) or watch online less often than they did before the outbreak (9%).
The forecast is even more striking if one looks just at regular attenders from pre-COVID times—the respondents who told us in a 2019 survey that they went to services at least once or twice a month. Of those congregational stalwarts, 92% expect that when the pandemic is fully behind us, they will attend physical services at least as often as they did in the past. This includes 10% who say they will also watch online or on TV more than in the past.
Of course, it is impossible to predict how behavior will actually change after the pandemic, particularly if it extends further into the future than people expect. But, at the moment at least, very few U.S. adults anticipate substituting virtual participation for physical attendance at their church or other house of worship: Just 2% of the pre-pandemic regular attenders think that in the long run they will watch services online or on TV more often—and attend in person less often—than they used to.
Alan Cooperman is director of religion research at the Pew Research Center.
How People View the Impact of the Coronavirus
Since March, the Pew Research Center has been surveying public opinion on a range of topics affected by COVID-19. Here are snapshot views of some recent key findings.