Trust Magazine
The Pew Research Center Remains Focused on the Facts
The Pew Research Center analyzes the issues and trends shaping our world.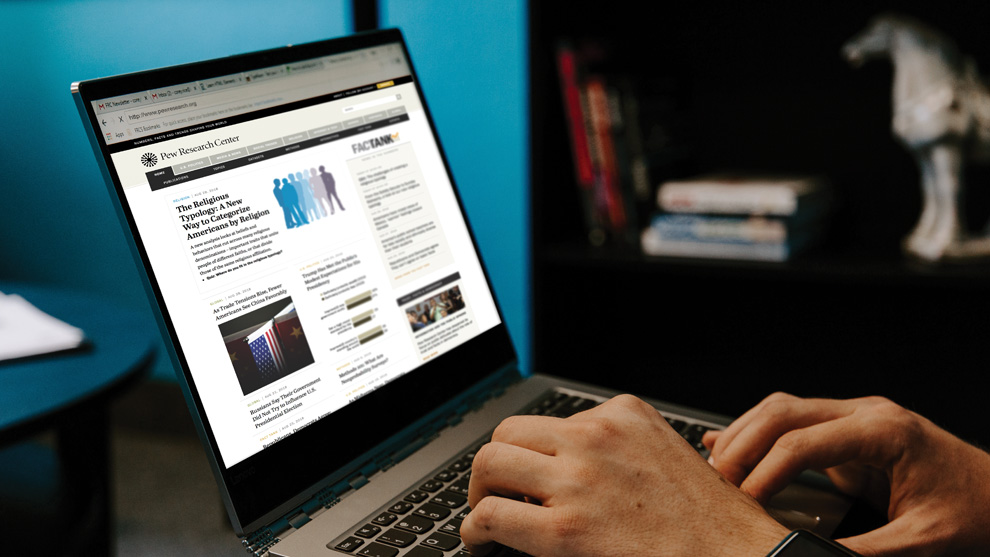 How valuable is accurate information? Pew donor Roger Perry, a former circuit judge in West Virginia, would say it is extremely valuable, maybe even priceless.
"Making decisions based on good information—and discerning what counts as good information—was terribly important in my work as a lawyer, prosecutor, and judge for some three decades. But it's also important for my activities as a citizen," Perry says. "I feel the Pew Research Center provides good information across many areas."
Perry is just one of many avid readers of the center's reports—which receive wide coverage in the news media and are available to anyone on the center's website—who have supported this work through a gift to The Pew Charitable Trusts.
The center employs an array of research methods—including content analysis, public opinion polling, and other data-driven social science research—making the self-described "fact tank" an important public resource. Created in 2004 but rooted in a 1990 research project called the Times Mirror Center for the People & the Press, the center is a subsidiary of The Pew Charitable Trusts.
Susan Sims, a public affairs officer for her church in Iowa, also believes in the importance of accurate information, and regularly relies on finding it in reports and newsletters from the center, which prompted her gift to Pew in support of the center's work. "If I want to understand something on a larger topic, I prefer to read Pew research first," she says. "Pew helps me find depth, puts in the right amount of scholarship, and strives to be as unbiased as possible. In this world of quick sound bites, it's good to have an organization like Pew that does research before they speak—as a consumer of information and a parent to five children, I need good information."
Since its creation, the Pew Research Center has earned the trust of policymakers and the public and helped both to gain a deeper understanding of complicated issues that is grounded in the facts. And by conducting and publishing public opinion polls, the center often gives a collective voice to citizens in the United States and around the globe.
Its Hispanic research, for example, is regularly cited by parties on both sides of the national debate over immigration because it is unbiased and detailed. Center reports have explored attitudes of the Millennial generation, now the largest generational group in the nation and poised to have deep influence on politics, the workplace, and social issues. The center also has probed demographic trends on motherhood and gender issues as well as differing perspectives among rural and city dwellers.
Its journalism project has documented the evolution of the news business over the past decade and a half as newspapers declined and digital sources moved to the fore. And the center has become a leading source on the digital revolution that is touching every American's life, documenting the rise of smartphones and use of social media while exploring future trends.
The center also is one of the few organizations polling on and analyzing the public's practice of and dedication to religion. It was one of the first research groups to survey Muslims in the U.S.; it's initial 2007 survey took note of the fast-growing religion that has been gaining influence. And since then, it has surveyed tens of thousands of Muslims around the globe in a series of illuminating reports that showed Islam is poised to become the world's largest faith group later this century.
It was the religion work that attracted Sims' attention during the 2011 political season, when Mitt Romney was running for president. A colleague had forwarded to Sims, who is a member of the Church of Jesus Christ of Latter-day Saints, an article that covered issues important to Romney, the first member of that church to seek the presidency. She thought the piece was well-structured scholarship, logged on to the center's website, and immediately signed up for its daily religion newsletter. Sims says the newsletter not only helps her understand her own faith but also benefits her work. "It helps me when I reach out to other faiths looking for opportunities to cooperate, learn, and work together in service if I understand some of the challenges they are facing," she says. "And I'm more sensitive to things important to other people in their faith."
For his part, Perry referenced center data and articles on a regular basis during his professional career, and even used one of its reports to spur conversation in a Sunday school class he was teaching several years ago at his Presbyterian church. The subject was how current topics dominating the news had become polarized, and Perry used center information to promote a reasonable, calm, and sensible discussion of some hot-button topics, including the environment, labor, and mining.
Sims and Perry both say their appreciation for the depth of research prompted them to make donations to Pew to help support the center's work. "As a retired West Virginia circuit judge, I certainly appreciate decisions based on evidence, rather than emotion. Pew is part of this, and I appreciate its work," Perry says.
Sims adds that she values the good scholarship. "I'm a researcher by habit, and I really appreciate organizations that do solid research without bias, and really believe Pew is like that. You produce information where the data and facts take you, without spin and without judgment."
Indeed, the center does not take policy positions. Its main goal, according to its president, Michael Dimock, is helping the public to be well-informed. "Our reports and analyses are intended to generate a foundation of facts that enrich the public dialogue and support sound decision-making," Dimock says. "We value independence, objectivity, accuracy, and transparency. We are grateful for all the partners who help support our work, from leading foundations to members of the public. In fact, it's especially gratifying to hear from members of the public and know the information and data we provide is valued."
For Sims, such support was never a question. "My donation was modest, but I wanted to give to the center because it is an asset to the whole world," she says. "I will be an annual supporter for as much as I can, because I believe in supporting the things I use. I don't believe in getting something for free."
Demetra Aposporos is the senior editor of Trust.