Trust Magazine
'Like a Kid in a Candy Store': Remembering Gerry Lenfest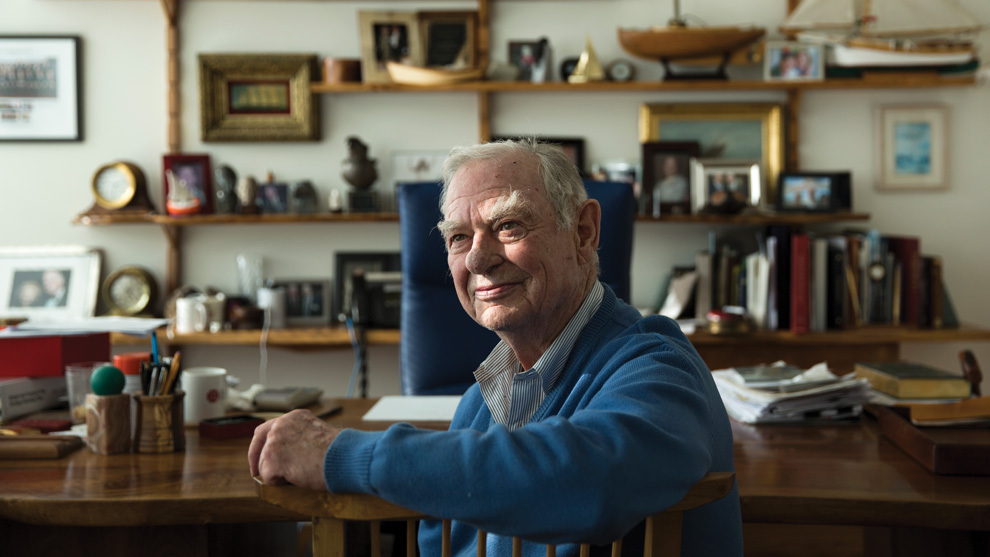 When my dear friend Gerry Lenfest decided to embark on a second career as a full-time philanthropist, he was asked what challenges he most wanted to address. "All of them!" he said. "I'm like a kid in a candy store."
After a long, successful tenure as a lawyer, magazine publisher, and cable television entrepreneur, he and his wife, Marguerite, sold their cable company in 2000 and were ready to give away their sizable fortune in the hope, as Gerry would say in his usual humble fashion, of "accomplishing some good things." Together, they would end up working as hard to give away their wealth as they had toiled to earn it in the first place—and create an impressive legacy.
Gerry left us too soon, on Aug. 5 at the age of 88. And as I look back on his philanthropy and our friendship, I'm astonished to see how many good things he and Marguerite accomplished in less than two decades of giving during that second career.
Gerry launched Lenfest Communications with 7,600 subscribers in 1974—a time when nobody really understood the potential of cable TV. He not only built a company but also helped create an industry: He was instrumental in ushering in an era of change in how the world receives entertainment, news, and information. It should be no surprise that a man with that foresight would eagerly pursue his philanthropic passions with the same sagacity.
Not long after selling his cable company, Gerry came to my office in Philadelphia. He was launching his philanthropic journey and wanted to commit to some successful and innovative projects in the city. And like the good lawyer that he was, he interrogated me. He wanted to know how to select areas for investment and how to launch his new approach to giving. I remember it well—not just because he already had so many good ideas, but because he asked such terrific questions.
It was clear to me from the start that Gerry and Marguerite wanted to be proactive and deeply engaged in their giving, that they wanted to make changes that would benefit not only the Philadelphia region they called home but the nation and the world as well. It was also clear to me that they wanted to have fun doing it.
There are many ways to approach philanthropic giving, none necessarily more appropriate than another. Some philanthropists create foundations that will outlive them and have impact far into the future. Others, like Gerry and Marguerite, want to play an active role and deploy all of their resources while they are alive—which they did, giving away more than $1.3 billion to a broad range of issues and institutions.
Their partnership was a treat to watch. They took different approaches—Gerry studying the data but relying primarily on his gut instincts, Marguerite analyzing plans and undertaking extensive due diligence. But they usually ended up coming to the same conclusions—or an artful compromise.
The beneficiaries—and this is only part of a long list—include the Philadelphia Museum of Art, the Curtis Institute of Music, the Barnes Foundation, and the Museum of the American Revolution. There are new buildings and endowments at Gerry's alma maters, including Columbia University, and scholarship programs for high school students in rural Pennsylvania. He purchased The Philadelphia Inquirer and Daily News and donated them to the Lenfest Institute for Journalism, the first organization of its kind dedicated to supporting business models for great local journalism. Millions more went to Teach for America.
In 2004, Gerry and Marguerite became the first donors to The Pew Charitable Trusts. We had recently changed our governance structure to become a public charity; Gerry quizzed me, wanting to understand the legal changes. We seek partners who share our goals so that we can leverage resources and accomplish more together than we could individually. And Gerry was fascinated and encouraging that we were trying this new model for philanthropic investing.
Gerry and Marguerite's early investment with us was critically important because we had not raised outside funding before and needed to prove the viability and potential impact of our new strategy; it was a real vote of confidence when we needed it. They donated to our work to conserve a billion acres of the ecologically essential boreal forest in Canada. They also asked Pew to create and manage a new effort to support world-class ocean research. Gerry knew that policymakers needed clear, reliable data to guide decision-making. He saw this void and agreed to partner with us in filling it with the Lenfest Ocean Program, which has supported almost 100 important scientific projects by researchers around the world—and become a model for how science can inform and improve public policy.
Gerry's love for the ocean was just one of the many things he and Marguerite shared with my husband, Patrick, and me. We sailed with them off the coast of Maine for several summers, and I got to see up close Gerry's passion for the sea and his exuberance for life. He was indeed like that kid in the candy store.
It was typical of Gerry that he could take the same glee with which he captained his boats and apply it to the challenging, complex, and often daunting business of balancing need, merit, potential for success, and available resources when determining his philanthropic investments. He and Marguerite had discovered perhaps the most important lesson in giving: the joy factor. When donors recognize the importance of the happiness they feel when they give and let the joy they reap guide their philanthropy, they become more engaged, informed, and successful. If Gerry were here now, he would happily explain that the joy he experienced from his second career was one of his greatest achievements. And certainly his life was a gift to those of us who knew him.