Oregon Mother Testifies About Son's Foodborne Illness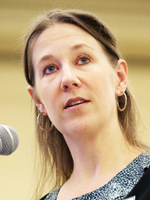 Chrissy Christoferson of Bend, OR, testified in March before the Food and Drug Administration about the need for the agency to fully implement the Food Safety Modernization Act, or FSMA.
In 2007, Christoferson's 10-month-old son became ill after eating a snack tainted with Salmonella wandsworth. The product, linked to an outbreak sickening 65 people in 20 states, contained an imported spice that may have been the source of the contamination, according to the U.S. Centers for Disease Control and Prevention.1
When our youngest son, Beck, just a baby at the time, started showing symptoms of the flu, we didn't think much of it. We begrudgingly changed diaper after diaper. But after a few days went by, like any parents, we became concerned for our child's well-being, especially after layers of skin were falling off with each diaper change. We took Beck to the pediatrician for an exam. It was then that blood and mucus were discovered in his stool. At this point, we still didn't know what was wrong, and our worry was increasing exponentially. Beck was merely months old at the time. We had a patient that couldn't effectively communicate the pain he was experiencing, a mother with a litany of questions, and doctors without any answers.
During Beck's 10-day illness, it was discovered that he had an infection derived from Salmonella wandsworth, an uncommon bacteria that impacts mostly young children. Before we even knew why he became so sick, we began to wonder what struggles our baby boy may experience later in life. Not only are a 10-month-old's digestive and immune systems relatively defenseless against such dangerous bacteria, but because his body was and is still developing, the health impacts are unknown. Six years have passed, and we still don't know the full impact of this foodborne disease. Every time he tells me his stomach hurts I wonder if it's connected.
We do, however, know the probable source. A few days after the culture confirmed a salmonella infection, we heard from our local health department. After many hours of questions and interviews, we learned that Beck was one of 65 people sickened most likely from a contaminated snack called Veggie Booty. We thought we were making a healthy choice for our child. An imported seasoning used in that product caused that decision to be one that I will always question.
The key provisions in the FDA Food Safety Modernization Act are designed to prevent an outbreak like this one from occurring. The vast majority of victims were young children, like Beck, who were under the age of 3. For this reason, it is important that the requirements of the preventive controls rule be very strong. Food processors must put in place measures that ensure that they are producing safe food and must verify that these steps are working. For a product like Veggie Booty, it is appropriate for the processor to test ingredients, like an imported spice, which can be contaminated. Other types of testing, such as end-product and environmental testing, should also be required in appropriate situations.
Once this rule is finalized I hope that fewer parents will have to experience what we did. But there are important rules — like the one on import safety — that also need to be released and finalized, so fewer of our most vulnerable loved ones will be sickened. With a fully implemented FSMA, we will all be safer.
---
1 "Salmonella Wandsworth Outbreak Investigation, June-July 2007," Centers for Disease Control and Prevention, accessed July 24, 2013, http://www.cdc.gov/salmonella/wandsworth.htm.