Philadelphians' Attitudes Toward Their City Take a Downward Turn
New Poll Finds Concerns About City's Prospects, Dim View of Political Leadership

A new poll from The Pew Charitable Trusts finds that Philadelphians are concerned about the city's prospects and take a dim view of its political leadership.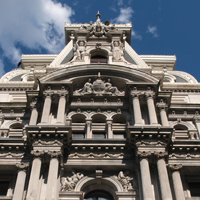 Take the poll!
See how your answers compare with the official survey results.
On the whole, residents gave the city lower ratings in this poll than at any time during the five years that Pew has been polling locally:
Forty-five percent of respondents said the city was "off on the wrong track," compared with 37 percent who said it was "headed in the right direction." In 2009, the responses were reversed, with 37 percent choosing the wrong track and 46 percent the right direction.
Thirty-seven percent of residents said the city had become a worse place to live during the past five years, while 25 percent said it was better. In 2009, only 27 percent said worse, and 33 percent indicated better.
And fewer Philadelphians said they expected the city to improve in the next five years. In the current survey, optimists outnumbered pessimists 52 percent to 27 percent. In 2009, it was 68 percent to 14 percent.
Philadelphia's elected officials did not escape these downward trends in residents' attitudes. Mayor Michael Nutter's ratings were the lowest recorded in the five years of Pew surveys.
Only 39 percent of residents said they approved of the mayor's job performance, while 52 percent disapproved. This is a dramatic change from January 2012, when 60 percent approved of his work—his highest rating since 2009—and 30 percent disapproved.
The City Council's job approval rating also was lower, though it did not fall as much. Thirty percent of respondents approved of the job the council is doing, a decrease of 5 percentage points from 2012.
Despite these negative perceptions, three-fifths of Philadelphians said they considered the city a good or excellent place to live, roughly the same as in previous years.