Public Opinion Poll: Mayor Nutter's Ratings Improve, but Philadelphians Worry About Crime and Direction of the City
A new public opinion poll commissioned by The Pew Charitable Trusts' Philadelphia Research Initiative finds that Mayor Michael Nutter's job approval ratings have improved over the past year, even as Philadelphians voice concerns about violent crime and the overall direction of the city.
Sixty percent of city residents now approve of the job Mayor Nutter is doing, and 30 percent disapprove, up from 52 percent approving and 37 percent disapproving a year ago. The current ratings are the best for the recently reelected mayor in the four years of the poll's existence. But Philadelphians are unhappy with much that is going on in the city.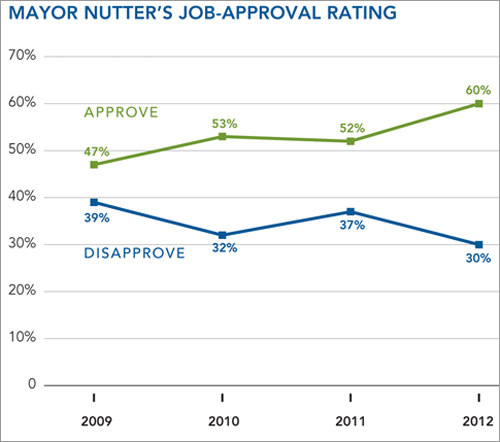 Crime is a top concern. Seventy-four percent of residents call crime a "serious" or "very serious" problem in their neighborhoods, up from 64 percent a year ago. Assessing the first term performance of the Nutter administration on five fronts, residents reserved their lowest scores for "reducing violent crime." About half (49 percent) of respondents saw improvement, with only 14 percent describing the improvement as "major." Moreover, 85 percent want reducing violent crime to be a high priority for the next four years; that was the highest score of five issues polled.
Support for the teen curfew, enacted by City Council last fall in an attempt to reduce youth violence, is overwhelming, with backers outnumbering opponents 11-to-1.
Worries about the overall direction of the city surface in answers to a question about how the city has changed over the past five years. Thirty-five percent of respondents say the city has gotten worse and 23 percent say it is better. A year ago, Philadelphians were evenly divided on the subject, and better outpolled worse 33 percent to 27 percent in 2009.
Even so, residents remain optimistic about the city's future, with big majorities saying they expect Philadelphia to be a better place in five years and that they would recommend it to their friends.