Bringing America Up to Speed: States' Role in Expanding Broadband
Broadband is available to most Americans, but large disparities exist among states and localities, income levels, urban and rural areas and racial and ethnic groups.
Only 65 percent of Americans have broadband at home even though it's available to 95 percent. The estimated 100 million Americans who lack broadband at home say they cannot afford it, they don't know how to use it, believe it is irrelevant to their lives, or can't get it.
Bringing America Up to Speed: States' Role in Expanding Broadband, a new report from the Pew Center on the States, finds that states increasingly see broadband as a powerful vehicle for driving long-term economic growth and delivering services more efficiently and effectively.
Expanding Broadband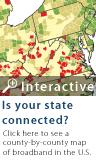 A growing number of states are stepping up their efforts to expand high-quality, high-speed broadband for their residents.
Bringing America Up to Speed: States' Role in Expanding Broadband examines the national push to ensure broadband access for all Americans. Driven by tight budgets, states are seeking to use this technology to deliver and improve education, public safety, health care, government services and energy. Just about every policy area that states manage could be affected by expanding broadband availability, adoption and quality.
Several states have been working for years to develop the use of broadband and are well positioned to take advantage of the federal stimulus funds and the new national broadband plan. But the majority of states are trying to catch up. They are being encouraged to do so by the Federal Communications Commission (FCC), which released its ambitious National Broadband Plan in March 2010. The plan calls for sweeping policy changes; increased funding; action by federal, state, local and tribal governments; and creative partnerships with the private sector.

In addition, the American Recovery and Reinvestment Act of 2009 is delivering $7.2 billion in stimulus money to achieve universal broadband and tap its potential applications.
The report also examines the challenging steps states must take to improve broadband access, including: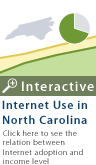 Cost—coverage for many underserved communities remains economically unfeasible
Mapping current access—who has it and at what speed
Physical infrastructure—negotiating federal, state and county jurisdictional issues
Capacity—only an estimated 15 states have agencies or authorities that focus on broadband expansion

Media Inquiries
If you are with the media and would like additional information, please view the press release or contact Nicole Dueffert, communications manager, the Pew Center on the States, 202.552.2274.