How COVID-19 Has Undercut Philadelphians' Physical and Financial Well-Being
Pew poll also reveals less positive views of police and public safety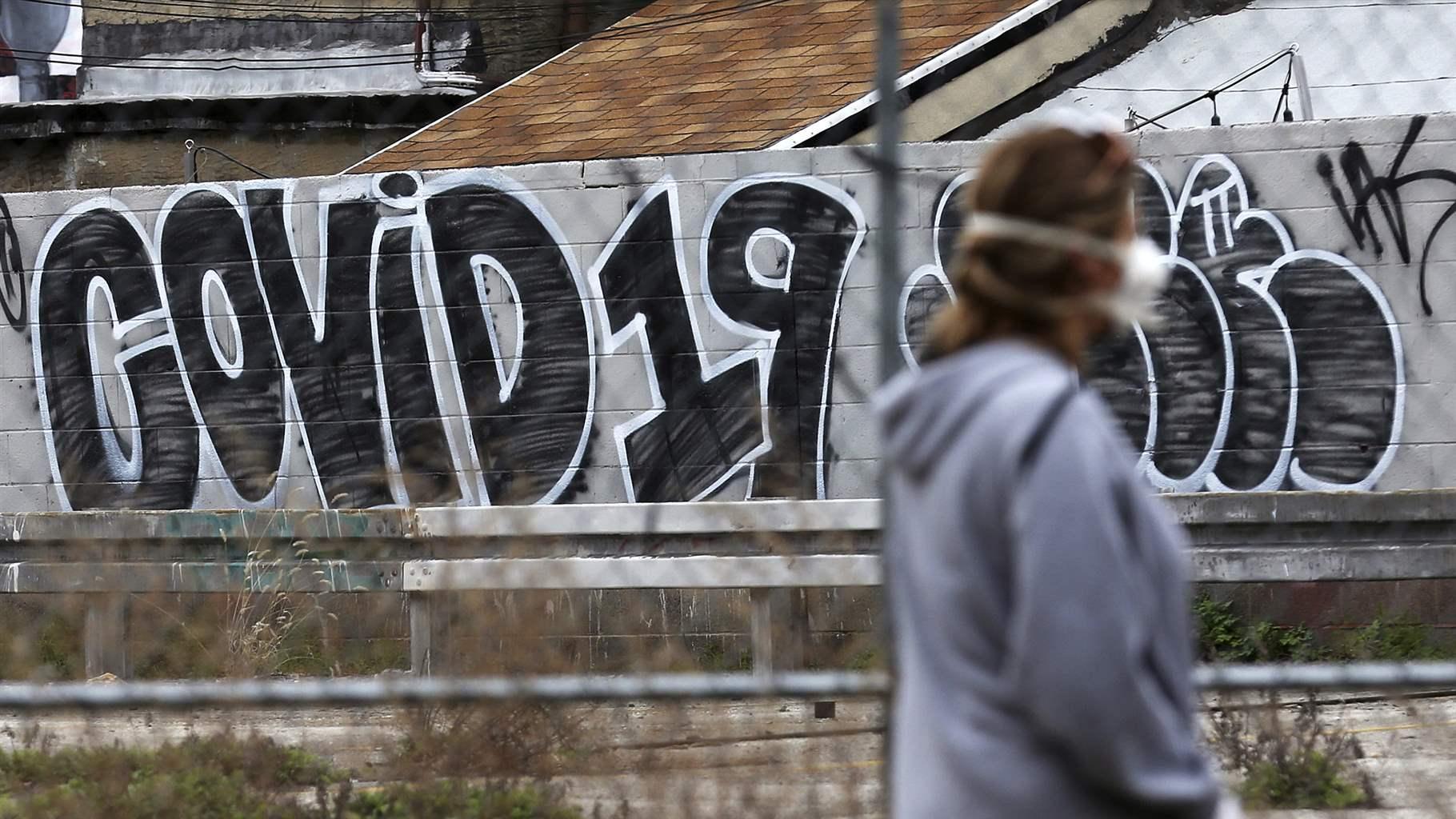 The coronavirus pandemic has hit Philadelphians hard—in ways that affect their jobs, their economic security, and their mental and physical health. Following the deaths of civilians at the hands of public safety officers and amid the subsequent civil unrest throughout the country, Philadelphians' attitudes toward police have become less favorable. And the city's residents also feel less safe in their neighborhoods than at any other time in recent years.
Polling by The Pew Charitable Trusts, conducted from July 27 through Aug. 24, finds that 58% of Philadelphians know someone who has tested positive for COVID-19 and 24% know someone who has died from it. In the months since the virus-related economic shutdown, a quarter of residents have fallen behind in rent or mortgage payments, and nearly a third have done so on credit card or other bills. Twenty-eight percent have had problems paying for food, and half have reported feeling seriously depressed or anxious. Forty percent of Philadelphians who were employed at the time of the shutdown lost their jobs or had their pay cut or their hours reduced. And in most cases, Hispanics and Black people experienced these impacts more than White people did.
Attitudes toward police, especially among non-Hispanic White people, have become less positive. Four years ago, three-fourths of this demographic in Philadelphia had confidence in the police to treat Blacks and Whites equally; now, only half do. Overall, the percentage of Philadelphians expressing confidence has fallen from 60% to 47%. Majorities of the poll's respondents give the Philadelphia Police Department, Mayor Jim Kenney, and Commissioner Danielle Outlaw "only fair" or "poor" ratings for their handling of May and June's local demonstrations against racial injustice. (The mayor and other city officials get better ratings for their handling of the pandemic.) Nearly 3 out of 5 residents say the police department needs some reforms, while another 3 in 10 want a complete overhaul. At the same time, only 14% of residents—and just 6% of Black respondents—want to reduce the size of the department, and 45% say the department is not large enough.
As was the case in the 2019 Pew Philadelphia Poll, respondents list public safety as the top issue facing the city, with 41% mentioning it. In one respect, however, concern about public safety is stronger than in years past: Only 49% of Philadelphians say they feel safe outside in their neighborhoods at night, the lowest figure Pew has recorded in more than a decade of polling. (Typically, the percentage has been in the 55% to 60% range.) Blacks and Hispanics are less likely to say they feel safe than in past surveys.
And more than 40% of Philadelphians say that events related to the pandemic and to the demonstrations have made the city a less desirable place to live. But the degree to which these sentiments translate into an intention to move out is unclear: The share of residents who expect to still be living in the city five or 10 years from now is 66%, lower than in 2019 but essentially the same as in 2015 and 2016, the previous two times the question was asked.
The survey—conducted for Pew by SSRS, an independent research company based in Glen Mills, Pennsylvania—used address-based sampling, with individuals initially contacted by mail. SSRS collected data from 1,025 adult Philadelphia residents; 662 filled out the questionnaire online and 363 completed it on paper. The margin of error for results involving all respondents is plus or minus 4.2 percentage points.
Attitudes on the pandemic and its impacts
The direct effects of the virus
Fifty-eight percent of Philadelphia residents say they know someone who has tested positive for COVID-19. The percentage is lower among those with a high school diploma or less schooling (48%) as well as those making less than $30,000 per year (46%) and over 65 years of age (39%).
Twenty-four percent of Philadelphians know someone who has died from the virus. The share is substantially lower among non-Hispanic White Philadelphians (12%) than among Blacks, Hispanics, or "other" groups—a category that includes Asian Americans and other racial or ethnic groups for which the survey did not produce statistically significant samples. (See Figure 1.)
Effects on daily life, including ability to pay for food and housing
In the survey, 66% of Philadelphians say that COVID-19 has had a major impact on their lives, with another 24% describing the impact as minor; the rest say there has been no impact or did not answer the question.
Nearly one-third say they have fallen behind on credit card or other bills since March as a result of the pandemic. Twenty-eight percent have had problems paying for food, and 24% have had issues paying their mortgage or rent. By comparison, in a 2019 Pew poll, 6% of Philadelphians said they had trouble paying their mortgage or rent many months out of the year; another 34% in that poll said they had trouble for a few months. (See Figure 2.)