Public Opinion on Juvenile Justice in America
Voters support sending serious juvenile offenders to corrections facilities, but they favor a range of less-costly alternatives for lower-level offenders, according to a nationwide poll conducted in 2014 by a bipartisan team of pollsters, the Mellman Group and Public Opinion Strategies. Voters see juvenile corrections facilities as government programs that should be subject to a basic cost-benefit test, and they strongly support a more robust probation system and more intervention by families, schools, and social service agencies. When it comes to the juvenile justice system, voters want offending youth to get the services and supervision they need to change their behavior and stop committing crimes—even if that means less incarceration.
Key Findings
Voters support diverting lower-level juvenile offenders from corrections facilities and investing the savings into probation and other alternatives.
Support for juvenile justice reform is strong across political parties, regions, and age, gender, and racial-ethnic groups.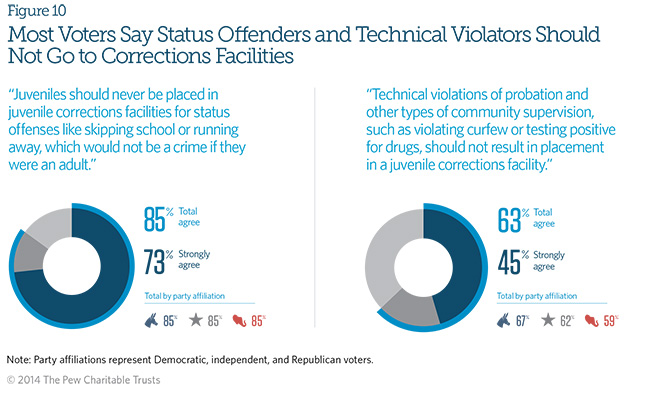 The Mellman Group has provided sophisticated opinion research and strategic advice to political leaders, public interest organizations, Fortune 500 companies, and government agencies for over 30 years. Current clients include the majority leader of the U.S. Senate and the Democratic whip in the U.S. House of Representatives.
Public Opinion Strategies is a leading national political, public policy and public affairs research firm. Public Opinion Strategies is widely recognized as the nation's leading Republican polling firm, listing 19 U.S. senators, six governors, and over 70 members of Congress as clients. Public Opinion Strategies also works for some of America's largest corporations and associations in the public affairs realm.