Let's Find a Better Way to Catch Pacific Swordfish
Swordfish caught off the coast of California is a prized seafood delicacy. Sadly, the predominant method of catching this abundant fish, called drift gillnetting, kills many species of marine mammals, fish, sharks, and turtles the fishermen never intended to catch. We can do better. It's time to investigate shifting to alternatives – such as deep-set buoy gear – that enable fishermen to catch swordfish while leaving other marine life in the water where it belongs.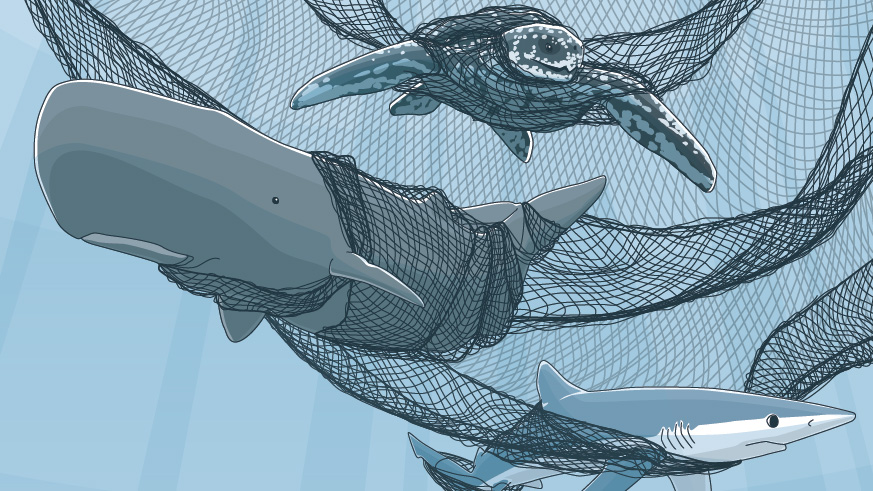 Illustration: Ned Drummond
Drift gillnets target swordfish but indiscriminately kill other animals, too, including many species of game fish, sharks, marine mammals, and Pacific leatherback sea turtles.
Newer isn't always better
In the early 1980s, the state of California approved the use of a new tool designed to catch swordfish—gillnets that drift with the ocean current. These nets, stretching as long as a mile and reaching more than 200 feet below the surface, caught two to three times as many of the prized swordfish, compared to traditional gear, with the same amount of effort expended by fishermen. The fishing industry quickly transitioned to the new gear. Unfortunately, it came with a catch: Large numbers of animals besides swordfish were unintentionally entangled and killed.
Off the California shore, nets as long as a mile are submerged for hours at a time to catch swordfish and thresher sharks. The problem is that these nets also entangle and kill other animals the fishermen never intended to catch—including whales, turtles, sharks, dolphins, and many species of fish.
Thousands of nontarget animals are caught in these impenetrable walls, a problem known as bycatch, including endangered sperm whales, Pacific leatherback turtles, and valuable but severely depleted game fish such as bluefin tuna. In fact, the severe injury and death of two sperm whales in December 2010 prompted federal fishery managers to enact a temporary emergency rule requiring observers on all drift gillnet boats—a fivefold increase from the scant 20 percent observer coverage normally accorded this fishery, as of 2013. That rule is now due to expire on August 5, 2014.
Observers have recorded thousands of fish tossed overboard such as the mola mola (a large oblong-shaped creature also known as sunfish), striped marlin, and blue sharks, in many cases dead or dying. Observers have accompanied less than 20 percent of drift gillnet trips, so there is no way of fully knowing the full harm caused by this gear.
It's time for West Coast fishery managers to phase out the use of drift gillnets. We can end the discard of nontarget fish ensnared by them and stop the senseless killing of rare animals by simply using alternative fishing methods.
The past and future offer other ways to continue catching swordfish and thresher sharks. For most of the 20th century, fishermen using harpoons hunted these fish along the West Coast. This fishery produced a fresh and highly valued product, with virtually no bycatch or harm to nontarget animals. Today, the National Oceanic and Atmospheric Administration and other organizations are exploring alternative types of fishing gear to reduce the wasteful catch of marine species, including the use of deep-set buoy gear that drops hooks deep enough to reach swordfish while avoiding other animals closer to the surface.
These and other alternatives for catching swordfish do not ensnare nontarget animals, such as leatherback sea turtles, whales, and tuna. When it comes to drift gillnets, now should be the end of the line.

Federal fisheries managers should:
Require 100 percent observer coverage on all trips and close the fishery for the season if a drift gillnet entangles any protected species, such as a sperm whale or leatherback sea turtle.
Support the transition of the fleet to more selective gear.
Take action:
To learn more and take action, check our web site at www.pewtrusts.org/swordfish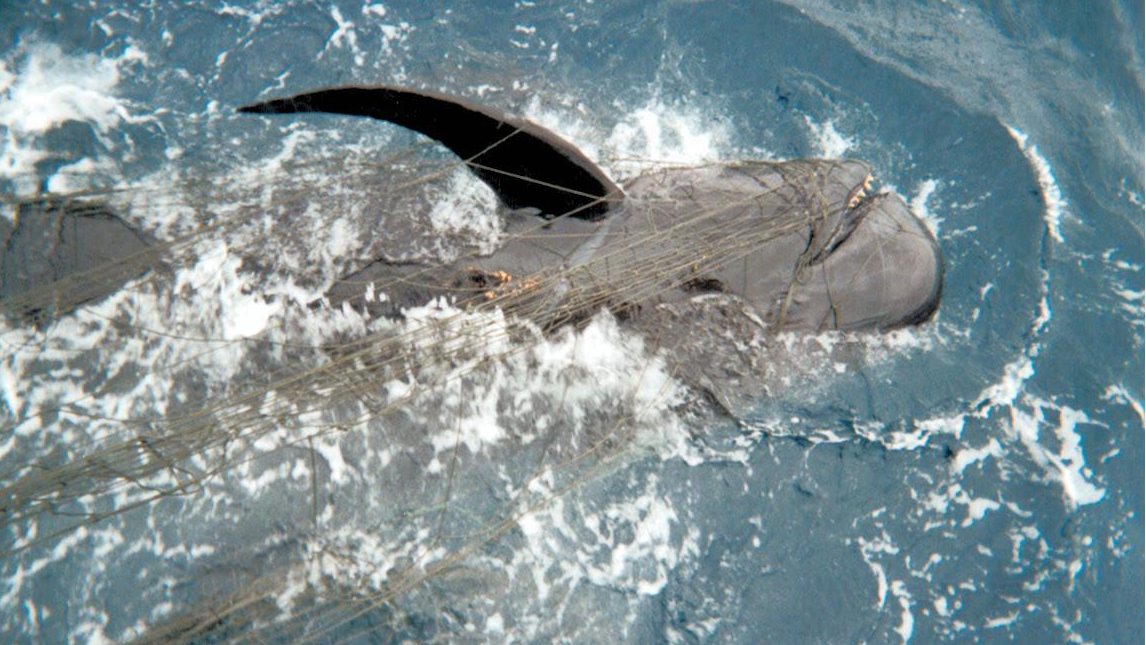 Drift gillnets targeting swordfish also entangle many other species of marine life, including the pilot whale shown here.