Horizontal Falls on Australia's Kimberley Coast Gets Much-Needed Protection
Sir David Attenborough calls Horizontal Falls, on Australia's northwest Kimberley coast, one of the great natural wonders of the world. Massive tidal currents flow through two narrow coastal gorges in Talbot Bay, creating a stunning horizontal waterfall that is listed as a Commonwealth Heritage Site. But this natural wonder is under threat from mining.
Three companies have expressed interest in mining for copper, which would bring large open-cut mines and the threat of long-term toxic releases into this pristine marine environment. The Western Australia mines department recently approved exploration within five kilometres (three miles) of Horizontal Falls.
Fortunately, on 5 December 2012, the Western Australian Government overruled the mines department and established a 17,000-acre mining exemption zone around Horizontal Falls. The decision represents the first time the government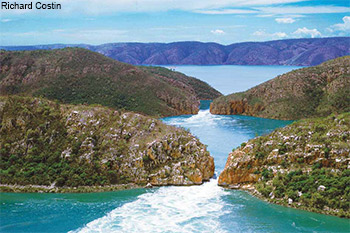 has issued a ban on mining in an area because of its iconic value.
This is the first critically important step toward protecting the falls and the larger coastal region, but much more is needed. The area is still under threat from mining and other destructive practices. The only way to truly protect it is by creating a Kimberley marine park, a network of sanctuaries where ocean life is protected from industrial activities and overfishing. Establishing a marine park would safeguard the region's whales and other unique wildlife and create a legacy for future generations.
The Kimberley Coast