Who Reads 40 Pages of Disclosures?
The need for a disclosure box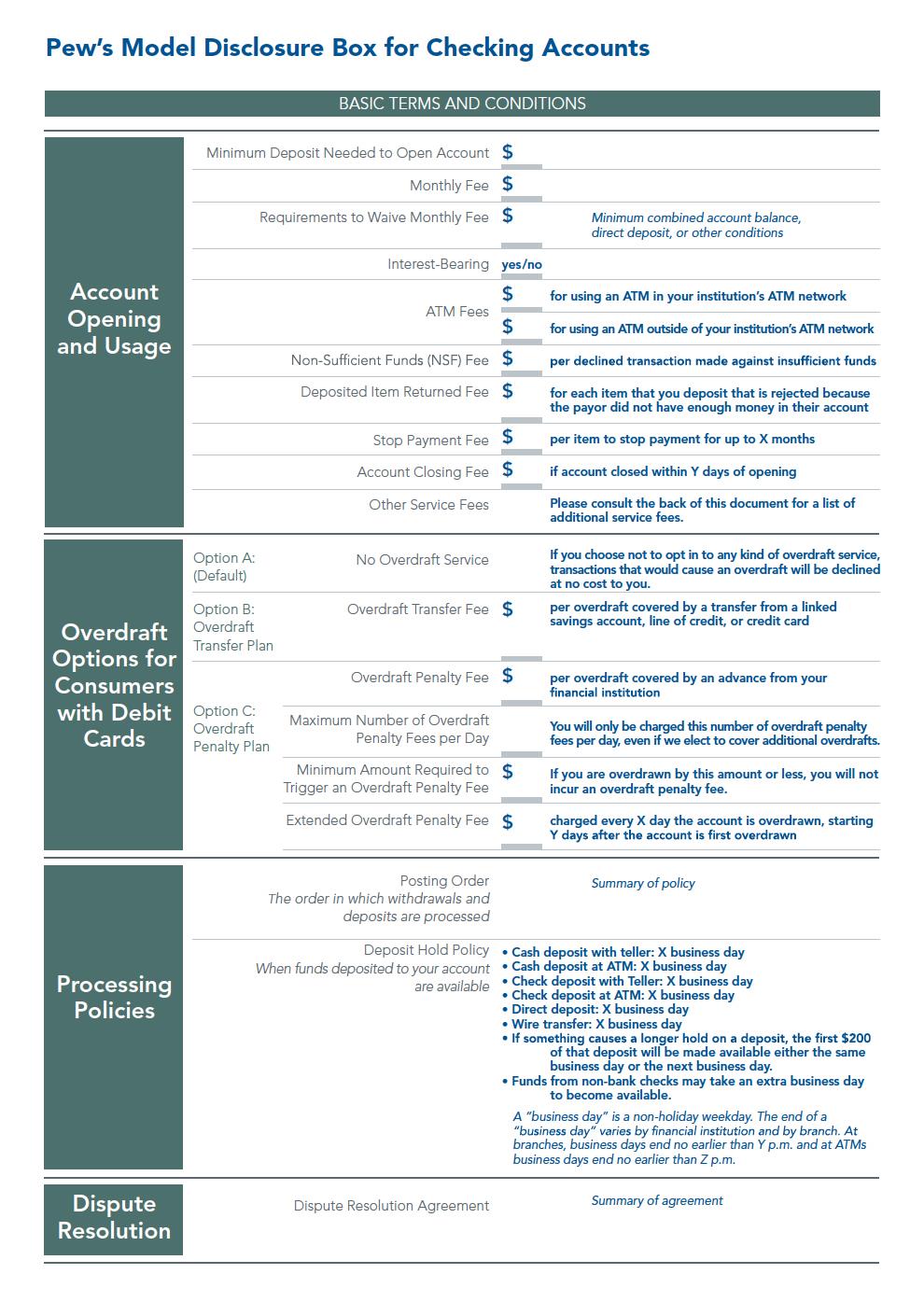 Pew's Model Disclosure Box for Checking Accounts
The Pew Charitable Trusts consumer banking project's 2015 survey of checking accounts, Checks and Balances: 2015 Update, found the median length of disclosure materials for checking account agreements and fee schedules to be 40 pages, excluding addenda and other supplementary documents. Previous research has shown that few consumers read such lengthy information.
Pew has developed a summary disclosure form, similar to a nutrition label for food or a Schumer box for credit card offers, that provides consumers with clear and concise information about the key fees, terms, and conditions of checking accounts. Consumers say the model disclosure box is a useful and valuable tool, because it helps them understand fees and important policies when comparing checking accounts.
Many banks have come to understand the value of transparency for such a fundamental product. More than 30 banks and credit unions—including the 12 largest banks and the three largest credit unions, covering more than half of U.S. deposit volume—have worked with Pew to adopt the model disclosure box.
Download the model disclosure form
The following banks have voluntarily adopted Pew's simple disclosure for checking accounts:
Ally Bank
Bank of America
Bank of the West
BB&T
Cape Cod Five Cents Savings Bank
Capital One
Cascade Community Federal Credit Union
Charter One
Chase
Citibank
Citizens Bank
Eastern Bank
Eastman Credit Union
Fifth Third Bank
First Tennessee Bank
Inland Bank

KeyBank
Navy Federal Credit Union
North Carolina State Employees' Credit Union
Pentagon Federal Credit Union
Santander Bank
Suncoast Credit Union
SunTrust
TCF Bank
TD Bank
Town and Country
University of Illinois Employees' Credit Union
U.S. Bank
UW Credit Union
Webster Bank
Wells Fargo
Wright-Patt Credit Union