How to Improve City-State Economic Development Cooperation
Expert talks about new study that examined the benefits of increasing collaboration
How to Improve City-State Economic Development Cooperation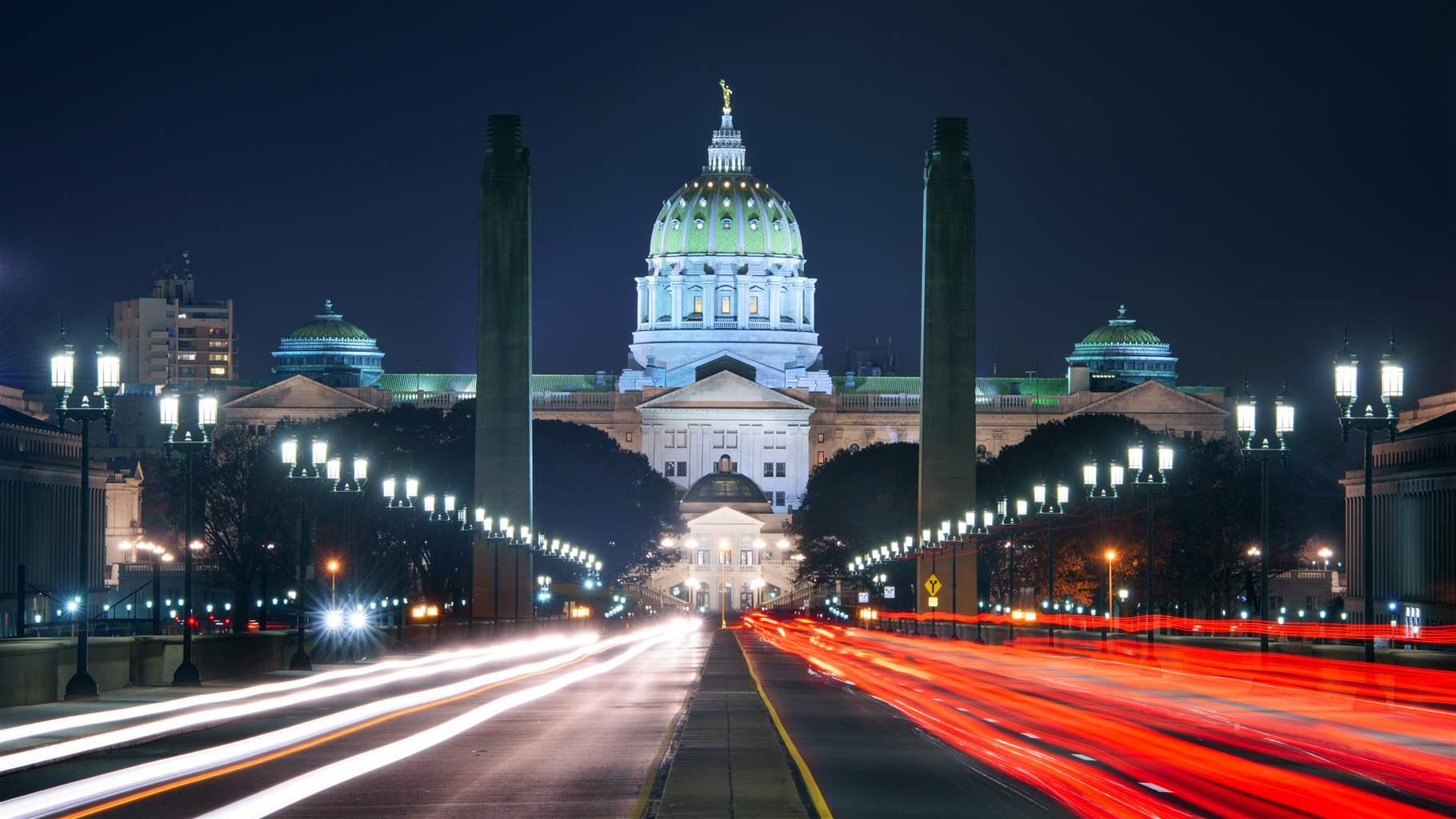 Effective urban economic development strategies require close cooperation between state and city governments, especially in this era of unprecedented federal funds for local projects. The Pew Charitable Trusts hired Business Development Advisors, Econsult Solutions, Equitable Cities Consulting, and Rvesta Consulting to explore the challenges and opportunities for economic development cooperation between Philadelphia and Pennsylvania—and to develop recommendations for improvement. The research was based on detailed interviews, including case studies from Baltimore; Columbus, Ohio; Detroit; and Newark, New Jersey.
Ellen Harpel, one of the lead researchers, founded Business Development Advisors in 1999 to work with economic development leaders at the local, state, and national levels to increase business investment and job growth in their communities. She also founded Smart Incentives, a consulting firm that helps state and local governments make sound decisions throughout the incentive process. Harpel, who has a Ph.D. in regional economics from George Mason University's Schar School of Policy and Government, also serves as a senior research fellow with the Center for Regional Economic Competitiveness, based in Arlington, Virginia.
This interview with Harpel has been edited for clarity and length.
Q: Cooperation starts with effective communication. How can cities and states work to improve their communication?
A: Success often comes down to personal relationships, but relying on one-on-one communication can be challenging. There are a couple of main reasons for that: First, a wide range of stakeholders beyond city and state economic development agencies needs to be involved, including representatives from other agencies and anchor institutions as well as business leaders. Second, key leadership—such as elected officials and their appointees—changes regularly. So creating an ecosystem that enables information-sharing beyond one-on-one relationships can provide a consistent communication across election cycles and personnel changes.
Q: What's a real-world example of that?
A: Let's start with New Jersey. The New Jersey Economic Development Authority (NJEDA) board includes local government representatives in addition to business leaders and key state agency leaders as ex officio members. During the pandemic, NJEDA started holding regular webinars to inform local businesses of funding programs. Building on that success, NJEDA now works with local leaders to hold webinars to communicate about program developments. And the annual conference of the New Jersey State League of Municipalities offers opportunities to network and form new relationships. Recently a Governor's Conference on Housing and Economic Development provided additional opportunities.
Q: What about other states?
A: In Maryland, a cross-agency network facilitates collaboration and communication at the state and regional levels. Approximately 10 state agencies (such as Commerce, Housing, and Transportation) are involved and meet quarterly. The Maryland Economic Development Association also provides a forum for building relationships and sharing information between state and local economic developers and leaders through its annual gatherings, committee structure, and education programs.
Q: What are the lessons here for Philadelphia and Pennsylvania, the focus of your report?
A: While changes of administrations and staff turnover are impossible to fully eliminate, there are communication and procedural steps that can insulate against these anticipated challenges. Regional partnership organizations, overlapping board and committee participation, designated representatives to the state or local counterpart organizations, state or regional economic development association events, and webinars or in-person events that keep everyone abreast of news are ways to disseminate information and build relationships.
Q. You mention regional partnership organizations. What are they, and what role can they play in facilitating city and state economic development cooperation?
A: These are economic development entities that span local government boundaries and work in the space between cities and states. They can be important for two reasons. First, they can be designed to address economic issues—such as transportation networks and workforce development—that require a regional approach. Second, they're often designed for strategic planning, with a mission to facilitate communication and collaboration among a variety of stakeholders. Cities and states alike can struggle to find time for strategic thinking when they're so busy with day-to-day problem-solving, so regional partnership organizations can fill this gap.
Q: For example?
A: In Michigan, the Detroit Regional Partnership (DRP) is a one-stop shop for businesses thinking of relocating to the 11-county region that includes the Detroit metropolitan area. It also provides a focal point for coordination between the local governments and state agencies, especially the Michigan Economic Development Corp. It strives to play a connecting rather than gatekeeper role between the state and local partners. Local economic development organizations support the DRP, but they still maintain their own initiatives. That said, a regional entity like DRP is often in a better position to be strategically focused, while cities and local governments tend to be more transaction focused.
Q: And in other states?
A: State-local collaboration in Ohio occurs primarily between JobsOhio, a state-authorized nonprofit private economic development corporation, and a network of six regional partnership organizations. The state capital is represented by One Columbus, which—along with the Columbus Partnership (a business leader network that shares a CEO with One Columbus)—takes the lead in a regional growth strategy. One Columbus emphasizes sustaining a high level of engagement with stakeholders and maintaining good working relationships between business and government leaders while working on regional issues such as housing, labor force, and transportation topics. Intel's commitment to invest in semiconductor manufacturing in central Ohio was made possible by One Columbus bringing together a united team of state, local, and private stakeholders to make the case for the investment.
Q: How does that compare with Philadelphia and Pennsylvania?
A: The Philadelphia region lacks a clear, single convener with the authority and accountability to create a set of strategic priorities around which all area economic development stakeholders can speak with one voice. Having a single convener would allow for the local entities to come together and practice proactive and strategic planning. As a long-term outcome, the same muscle used to coordinate priorities on the city level can strengthen relationships with the state by making it apparent when the city and state should partner through clear alignment of priorities. And if localities did more to provide clear points of contact, you'd also find an increased willingness among state partners to collaborate by avoiding the fear of stepping on toes by reaching out to the wrong organization.
Q: So we know there are various impediments to cooperation, some of which you've outlined. How can cities and states overcome these obstacles?
A: It starts with a clear vision and strategy. Otherwise, state partners may not understand how they can best support the city or the region—and locals may not be able to take into account the state context. For instance, state programs in Pennsylvania are often poorly suited to the unique needs of the Philadelphia region, particularly given the region's outsized economic impact in the state. An agreed-upon strategy would be a valuable first step for addressing these problems and others.
Q: What else?
A: Next, there must be a high-priority commitment to collaboration around the strategy. All stakeholders must be willing to put in the time to share information and ideas with each other so that the mechanisms are in place to keep those connections functioning.
Q: Did you find that cities and states have been successful with devising these strategies?
A: In our interviews, both state and city stakeholders—consistently in all five city/state sets that we looked at—reported that they have good procedures in place for discrete economic development projects but struggle more with longer-term strategic planning. We found examples of excellent cooperation on specific projects, with formal or informal procedures and protocols that have worked well, particularly on projects with clear and broad-based support, but strategic planning is more difficult: It takes time and commitment and involves a much broader set of players.
Cities and states can also build on past project successes to lock in communication and collaboration mechanisms that have worked for them. Interviewees often saw large-scale regional collaborations as the best examples of how cities and states can work together.
Q: What's a good example?
A: There are two in Philadelphia and Pennsylvania: The Amazon HQ2 bid and the federal Good Jobs Challenge award to develop equitable talent solutions for growing industries in Greater Philadelphia both represent the true potential for collaboration in the Philadelphia-Pennsylvania relationship. Building on the success of these large-scale regional collaboration opportunities may provide an opportunity to create positive momentum for long-term strategic partnerships.
Q: What are the prospects for change in Philadelphia and Pennsylvania?
A: There's plenty of room for optimism. Even though Pennsylvania and Philadelphia have historically lacked articulated strategies with clear visions for regional efforts, we found interest in changing that at both the city and state levels. For example, Governor Josh Shapiro (D) recently launched the development of the first statewide economic development strategy in nearly two decades. If Philadelphia and Pennsylvania bring the same spirit of partnership to new efforts that they did to the Amazon bid and the Good Jobs Challenge, they can strengthen the culture of collaboration and, our research suggests, deliver strong returns for city and state residents.