To Reduce Flood Risk, New Jersey Invests in Local Stormwater Utilities
Pew-supported state and local collaboration and $7 million in grants will help advance nature-based solutions
To Reduce Flood Risk, New Jersey Invests in Local Stormwater Utilities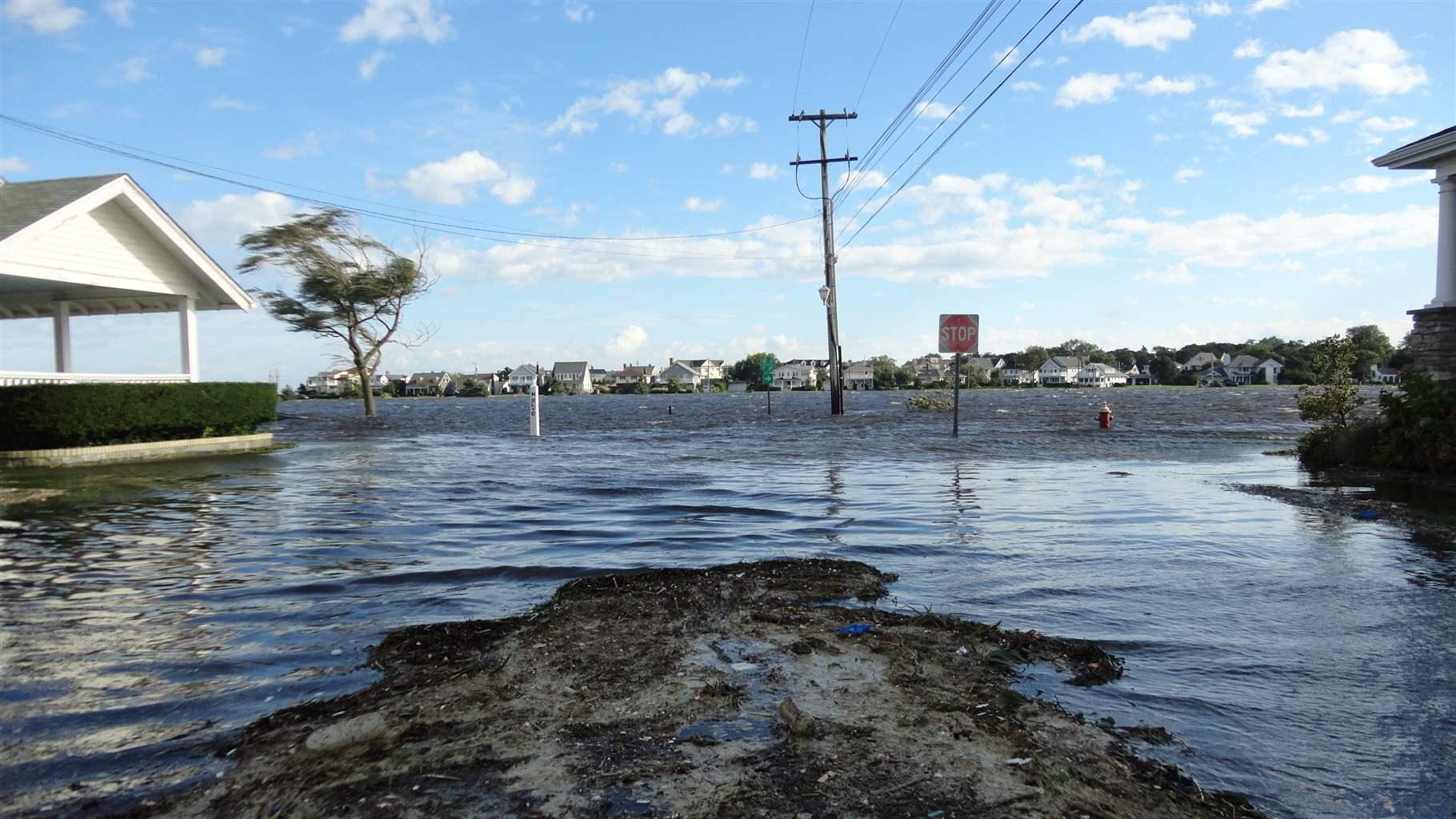 Editor's note: This article was updated July 12, 2023, to clarify some details about New Jersey's stormwater management plans and programs.
Like many states, New Jersey has seen increasingly heavy rain events in recent years that, coupled with outdated water infrastructure, have led to more floods across the state. Now, New Jersey is fighting back, with a series of grants to help localities better manage stormwater.
As part of the $7 million effort, New Jersey Governor Phil Murphy earlier this month awarded Hackensack and Newark grants of $200,000 and $150,000 respectively. Hackensack officials will use the money to create a stormwater asset management plan and analyze the feasibility of implementing stormwater and sanitary sewer utilities. Newark will put its grant toward developing a stormwater rate ordinance and stormwater utility implementation plan.
The funding should help communities upgrade aging stormwater management systems that are often overmatched by modern-day flooding. In particular, a lot of New Jersey's surface area is impervious, with asphalt and concrete having replaced many forests, meadows, beaches, and other porous surfaces. That means stormwater pools and runs off much quicker and in a higher volume than it once did, which in turn results in a lot of localized flash flooding that overwhelms stormwater management systems.
This is a particularly urgent concern in New Jersey, which includes some of the most densely populated and developed urban areas in the country, according to the 2020 U.S. Census. That's coupled with the National Climate Assessment's finding that the Northeast region of the U.S. experienced a 71% increase from 1958 to 2018 in the amount of precipitation falling in "very heavy events."In short, New Jersey is at high risk of both nuisance and catastrophic flooding, especially in localities that fail to proactively address the impacts of climate change and sprawling development.
Stormwater runoff is also one of the largest sources of pollution for New Jersey waterways. Typically, it contains pollutants, such as industrial chemicals, litter, and pet waste, that can contaminate waterways and reservoirs. High levels of contamination also often force officials to close beaches and can kill wildlife and destroy their habitat. Coastal tourism is vital to New Jersey's economy, with 80% of state residents living in coastal communities, raising the stakes for sound stormwater management.
Since the summer of 2019, the nonprofit New Jersey Future (NJF) and The Pew Charitable Trusts have worked on educating state and municipal decisionmakers on the importance of proactively funding improvements to stormwater infrastructure. One tested approach is through the establishment of a stormwater utility (SWU), a fee that raises funds for stormwater management. Municipal governments use these funds to maintain systems and infrastructure that help control stormwater and filter pollutants out of drinking water. More than 2,000 stormwater utilities were operating in 41 states and the District of Columbia as of 2022, according to a survey by researchers at Western Kentucky University.
SWUs can help fairly distribute the costs associated with water treatment infrastructure maintenance by charging user fees based on the amount of stormwater runoff each property generates. Well-designed SWUs also dedicate funding to stormwater solutions, such as updating failing or inadequate water systems to ensure that they can handle excess runoff and avoid overflows or disruptions to water treatment due to clogs or leaks in pipes. These updates are critical to ensuring that communities can manage stormwater in the face of increasingly heavy rainfall.
No New Jersey localities have implemented an SWU, but that may soon change. Under its Stormwater Utility Feasibility Technical Assistance Grant Program, the New Jersey Department of Environmental Protection (NJDEP) is expected to announce the recipients of technical assistance grants later this summer, an important step toward localities adopting this untapped stormwater management tool. These grants, which are funded by the New Jersey Corporate Business Tax, will help municipalities determine the feasibility of adopting SWU fees and assess implementation costs. NJDEP originally announced the technical assistance—worth $2 million total, to be split among recipients—in August 2022 following three years of educational efforts from NJF and Pew on the importance of strong stormwater infrastructure.
As part of this, NJF and Pew supported eligible grant applicants by meeting with municipal officials to explain the application process and the importance of conducting a feasibility study, attending municipal council and board meetings to raise awareness about the benefits of SWUs, and providing technical assistance, presentations, and resources. The teams hosted webinars, provided virtual assistance, created an online forum to connect practitioners during the COVID-19 pandemic, and built out the Stormwater Utility Resource Center on NJF's website.
Because of leadership at the state level, NJF and Pew's partnership efforts, and support from Flood Defense New Jersey, Hoboken is undertaking a stormwater feasibility study. Hoboken Mayor Ravi Bhalla said, "This is a critical long-term project that will help ensure our streets are not flooded with combined sewer overflow, which is a threat to our city's quality of life." He added that Hoboken, which sits on the Hudson River and is vulnerable to storm surges, tidal, and other flooding, "is at the forefront of managing stormwater runoff."
Like much of the U.S., New Jersey is facing a future of increasingly severe weather, including heavy rain and associated flooding. Stormwater utilities can play a critical role in keeping communities safe and reducing the amount of pollution that stormwater carries into the state's streams, rivers, lakes, and coastal areas. With disbursement of technical assistance grants across the state, localities within New Jersey may soon join a robust network of municipalities working proactively to manage the rising threat of flood risk.
Berenice Davila Gonzalez is a Pew RAY Outreach and Advocacy fellow and a program assistant supporting The Pew Charitable Trusts' flood-prepared communities project, Lindsey Sigmund is a program manager with New Jersey Future, and Mathew Sanders is a senior manager with the flood-prepared communities project.