Rainwater Harvesting Leads to More Culturally Appropriate Food in Water-Scarce Native American Community
New Mexico partnership addresses food security and sovereignty by promoting water conservation practices for gardening
Rainwater Harvesting Leads to More Culturally Appropriate Food in Water-Scarce Native American Community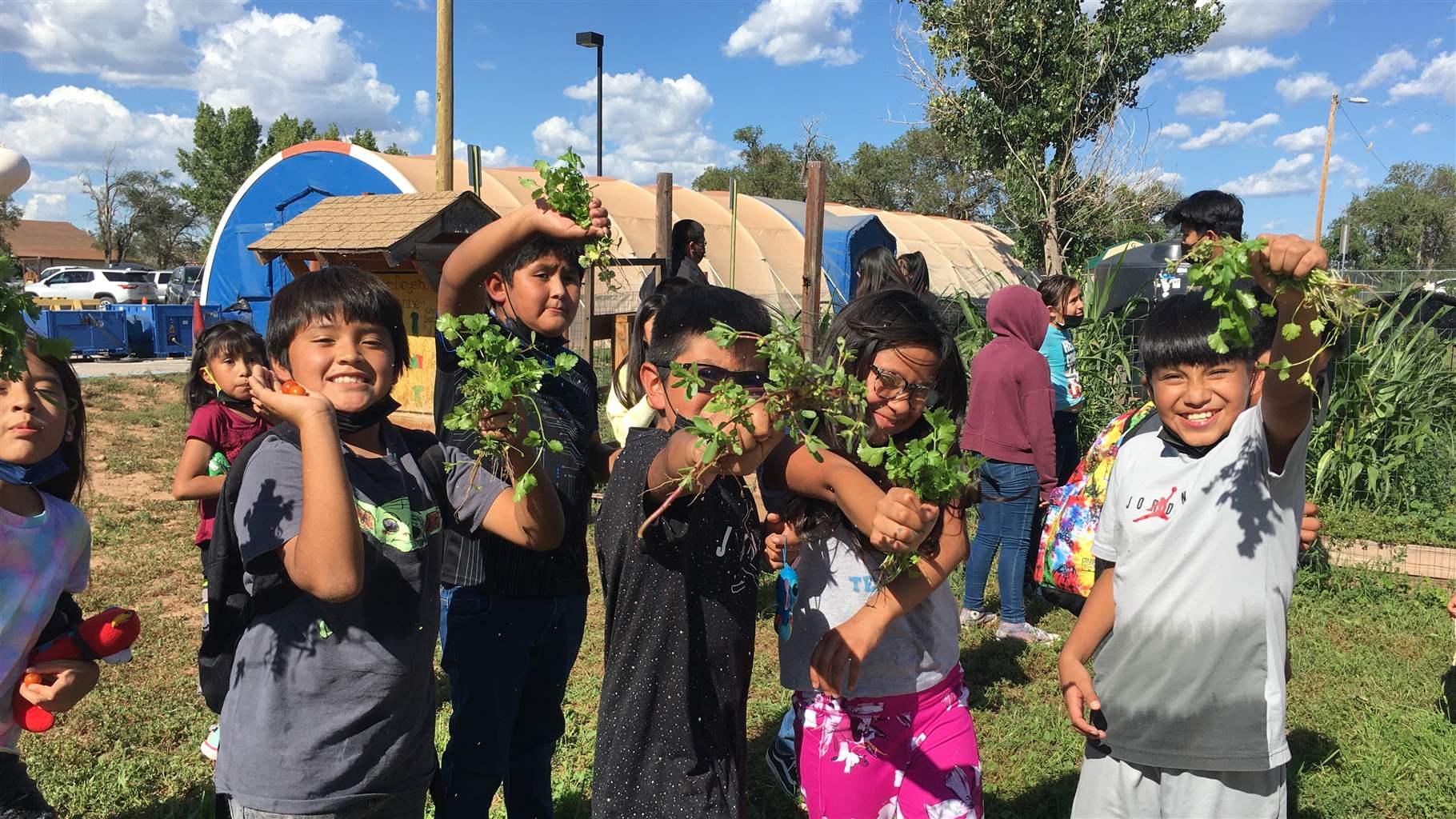 Food sovereignty—the right to healthy and culturally appropriate food—is key to Native American communities' physical and mental health. To achieve this goal, such communities must have the right to define their agricultural systems and produce food through ecologically sound and sustainable methods. Native American households that gather food through the cultural practices of hunting, fishing, and growing tend to increase their food sovereignty, while those that rely on Eurocentric food assistance not aligned with a traditional diet are more likely to experience poverty, lack knowledge of Indigenous foods, and be food insecure.
This is a serious problem for the American Indian and Alaska Native (AIAN) population. AIAN people make up about 2.4% of the total U.S. population but suffer from some of the country's highest rates of food insecurity, poverty, diet-related diseases, and other socioeconomic challenges. According to data from 2017, 21.9% of AIAN were living in poverty, with food insecurity affecting one in four families. In 2018, AIAN adults were 50% more likely to be obese, 2.3 times more likely to die from diabetes, and 50% more likely to be diagnosed with coronary heart disease than their non-Hispanic White counterparts.
New Mexico works to maintain traditions
The Zuni Pueblo in western New Mexico has a long history of vibrant agricultural traditions but has faced challenges in maintaining them, including increasing water scarcity due to demand outpacing supply. This imbalance is the result of historic policies that diverted water away from Native American communities, and it has been exacerbated by variable rainfall attributable to climate change. However, Breaking Barriers to Better Health for All—an initiative of the Health Impact Project—supported several Zuni groups seeking to strengthen the Pueblo's water conservation practices and revitalize its sustainable agriculture. The Zuni Youth Enrichment Project (ZYEP), Zuni Utility Department (ZUD), and Zuni Public School District (ZPSD) worked together to promote rain harvesting for home gardens and schools through ZYEP's Family Garden and Rain Harvest Initiative, ZUD's Rain Barrel and Rain Harvest Reward program, and ZPSD's Rain Harvest for School Gardens Wellness Policy.
Zuni's partnership was designed to tackle food insecurity while fostering traditional agricultural practices for improved physical and mental health. Activities such as gardening can not only provide healthy food, but in Native American communities, they also help support relationships and bonds among generations, strengthen stewardship of cultural resources to increase access to traditional foods, and reinforce self-reliance. In a meta-analysis of food systems that can advance health equity, gardening was highlighted as a successful food sovereignty intervention, especially in schools that teach traditional, indigenous farming practices as part of their gardening and composting curriculum.
To ensure responsible use of water for home gardening, the partners piloted a reward program that incentivized the use of harvested rain to help grow fresh produce. The program focused on 100 gardens in an equal number of households. Rainwater harvesting is a traditional conservation practice in water-scarce communities in the United States and globally. It is used to address water resource management, create synergies in landscape management and human well-being (particularly when used to improve rainfed agriculture), and help residents adapt to climate change and build resilience.
Of the 100 households, about 50% harvested over 150 gallons of rainwater, decreasing the use of municipal water for their gardens. Since the pilot program harvested 28,000 gallons of water, and almost all participating households found the program helpful, ZYEP now plans to work toward a water conservation policy for all gardening engagements at Zuni.. In addition to the success of municipal water conservation in individual households, two Zuni schools received rainwater harvesting equipment and 92 students at these schools were trained and educated on traditional agricultural practices that can support food sovereignty.
In partnership with ZYEP, the First Nations Development Institute (First Nations), a leader in supporting healthy Native American communities that has specific expertise in food sovereignty, contributed to Zuni's efforts. In collaboration with other Native American communities working toward food sovereignty goals but facing similar challenges and barriers as Zuni, First Nations hosted a peer learning session that facilitated conversations to share knowledge and strengthen relationships among communities. One key issue raised in these discussions was the need for non-indigenous communities to appreciate that food sovereignty and food security have implications and highlight needs for Indigenous peoples that are not the same as those for people in the rest of the country. For example, the peers identified Native Americans' ability to grow and sustain their traditional foods, and overcome barriers such as water scarcity, as a precursor for having enough to eat. In these places, a lack of food should not simply be addressed through federal nutrition programs and other government efforts.
To that end, First Nations generated two foundational papers: Perspectives on Native Food Sovereignty and Health Equity and Native Food Security From Lack to Abundance. These papers put in context food security and food sovereignty from the perspective of Indigenous people, identifying barriers and strategies to centering health equity and Indigenous wellness. A third publication, Serving Native Youth: A Dialogue on Native Food Sovereignty and Native Food Security, summarized conversations First Nations and ZYEP led with Native American youth on their perception of food sovereignty and food security during the peer learning conversations. Having these conversations will help ensure that future generations continue to learn, from their communities and from others, how to incorporate health equity into Indigenous food systems.
Mimi Majumdar Narayan works on The Pew Charitable Trusts' Health Impact Project.