Stronger Federal Oversight of Dietary Supplements Will Protect Consumers From Unsafe Products
Pew has supported efforts to enhance FDA's ability to regulate supplements
Stronger Federal Oversight of Dietary Supplements Will Protect Consumers From Unsafe Products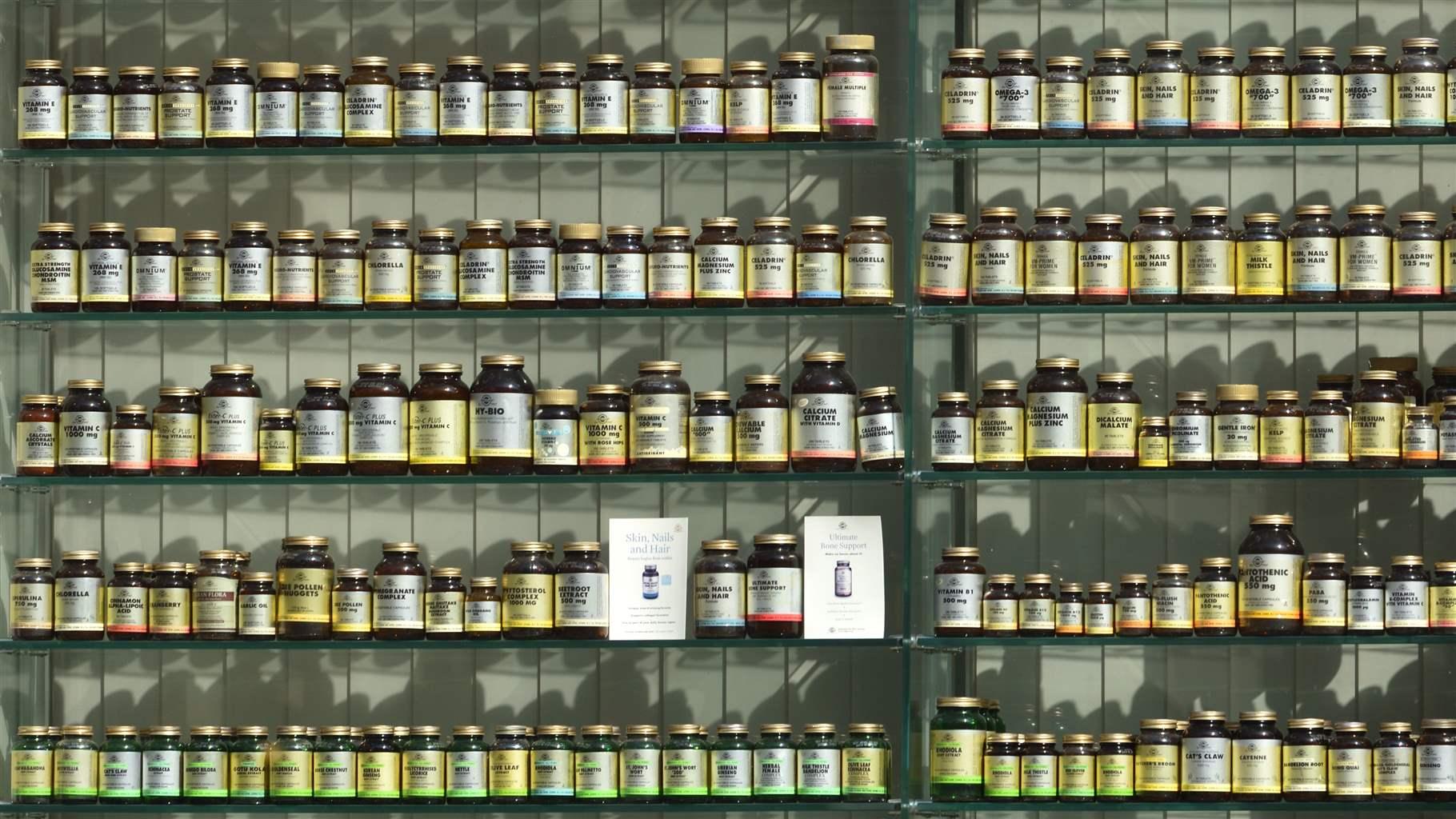 Every day, more than half of Americans take a dietary supplement—an oral dose containing one or more vitamins, minerals, herbs or other botanicals, amino acids, or other ingredients. But many users overestimate the federal government's regulation of these products. The truth is that although the Food and Drug Administration oversees supplements, it does not review or test their safety before they are sold. The agency has no way of knowing for certain what supplements are on the market, nor what they contain. In addition, FDA cannot mandate recalls for supplements that may be tainted with illegal pharmaceuticals. These glaring deficiencies have hurt, and continue to hurt, the Americans who take these products.
Since 1994, when the law governing FDA oversight of dietary supplements was last updated, the industry has grown 20-fold and has shown no signs of stopping. Meanwhile, federal oversight has not kept pace, despite some positive steps forward, including FDA's creation of the online Dietary Supplement Ingredient Advisory List in 2019.
In 2022, lawmakers in Congress took aim at this problem. Bipartisan legislation, sponsored by Senators Richard Durbin (D-IL) and Mike Braun (R-IN), aimed to establish a mandatory product listing for supplements, requiring manufacturers to provide FDA with information about each supplement, including the name and amount of each ingredient; warnings and precautions for use; and allergen statements. The bill, the Dietary Supplement Listing Act, would have helped FDA identify unsafe products and ingredients, warn companies and consumers about such dangers, and give patients and their doctors easy access to a searchable database that could help determine if supplement use is appropriate.
The legislation did not pass, but it provides Congress with a blueprint for pragmatic, bipartisan policy that would strengthen dietary supplement oversight. For the past five years, The Pew Charitable Trusts has worked to support that goal, publishing research on harms associated with some supplements and advocating to protect consumers from illicit and dangerous ingredients.
Pew helps reveal risks of supplements
In a national survey conducted for Pew in 2019, 1 in 8 adults said that they or an immediate family member had experienced extreme side effects—such as increased heart rate, high blood pressure, kidney problems, or liver damage—as a result of taking dietary supplements. Those findings built upon previous research about the dangers of limited oversight, including a 2015 study in the New England Journal of Medicine that revealed that nearly 23,000 people go to the emergency room each year because of adverse reactions to dietary supplements.
The COVID-19 pandemic has only exacerbated this problem. Since the beginning of the pandemic, sales of these products have skyrocketed. In a 2020 joint op-ed for The Hill, Pew and the Council for Responsible Nutrition warned that many businesses were exploiting the pandemic, illegally marketing their products as treatments or cures for the virus. Indeed, in the first six months of the pandemic, FDA and the Federal Trade Commission sent 106 joint warning letters to supplement producers for selling products with fraudulent claims.
Pew also urged Congress to clarify FDA's authority to recall supplements tainted with drug ingredients, warning that a loophole in current law limits the agency's ability to protect consumers from harm—problematic because, as the agency found, between 2007 and 2019 almost 1,000 products masquerading as dietary supplements contained active and potentially dangerous pharmaceutical compounds from prescription drugs. Though lawmakers ultimately did not include the clarification in the 2022 Dietary Supplement Listing Act, Pew's efforts helped raised awareness of the problem, creating a foundation for future legislative action.
Consumers alerted to dangerous supplements
FDA took a key step toward strengthening oversight of supplements in 2019 with the online Dietary Supplement Ingredient Advisory List, which lists potentially unlawful chemical compounds in dietary supplements. Substances that meet FDA's definition of dietary ingredients can legally be included in supplements, but it can take time for the agency to determine if a substance meets the definition. So consumers who view the list can learn of suspicious ingredients before the agency reaches a final decision. Pew praised FDA's move at the time, while also pushing the agency to continue its support for a long-term solution to existing oversight gaps.
Pew advocates for increased funding to support FDA oversight efforts
Over the past five years, Pew has consistently called on Congress to increase funding for FDA's Office of Dietary Supplement Programs in order to help strengthen the agency's oversight of a wide range of products, including many of questionable safety. In recent years, Congress heeded the call, boosting funding by about $7 million in its fiscal year 2020, 2021, and 2022 appropriations packages. At the same time, Pew continued to push for broader reform, urging lawmakers to pass legislation that requires manufacturers to inform the agency of all supplements they make as well as their ingredients.
Mandatory product listing is essential to improve FDA's ability to safeguard public health and has been endorsed by a variety of organizations, including the American Medical Association, the Council for Responsible Nutrition, and US Pharmacopeia. This policy also enjoys widespread public support: In the 2019 survey, nearly all adults—95%—said that supplement manufacturers should be required to give FDA a list of the products they make and their ingredients. Going forward, Congress can pursue reforms that respond to this call from the American public and protect consumers from potential harm.
Kathy Talkington directs The Pew Charitable Trusts' public health programs.