Medicare Pushes Medical Providers to Share Public Health Data Electronically
Updated federal rule expands guidelines for information sharing using electronic health records
Medicare Pushes Medical Providers to Share Public Health Data Electronically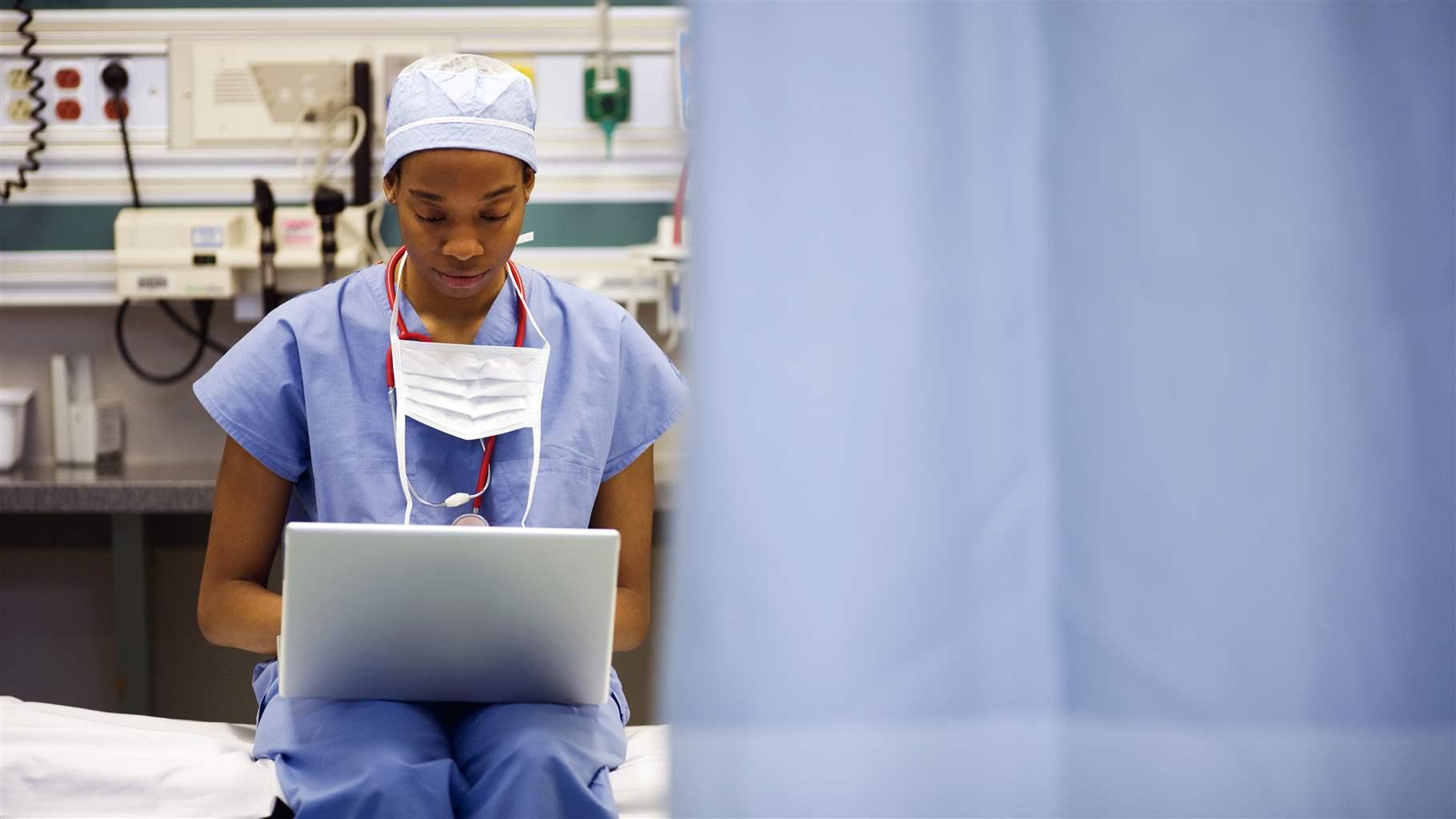 A final rule released Nov. 1 by the Centers for Medicare and Medicaid Services (CMS) encourages eligible clinicians to electronically report data on patient health conditions to state and local health departments. The changes could help those agencies launch more effective responses to emerging crises. The rule, which takes effect Jan. 1, sets new requirements for how providers should engage with public health agencies, offers them greater financial incentives to report data, and expands data-sharing requirements to include other groups of clinicians.
Specifically, the rule updates what is known as the Merit-Based Incentive Payment System (MIPS) within the CMS Quality Payment Program. MIPS sets payments for eligible clinicians who care for Medicare patients based on performance in four categories: quality, cost, improvement activities, and how they promote interoperability. The latter category is designed to expand electronic data sharing throughout the health care system, including with public health agencies; the more data clinicians share electronically, the more points they can earn, which can help them avoid penalties. As such, Pew supported several of CMS' proposed changes in comments submitted in September focused on electronic public health data sharing.
With this rule, CMS continues its focus on improving public health data, following on changes released in August. Moving from manual reporting methods toward automated electronic exchange can help public health agencies respond quickly to emergencies and even reduce reporting burdens on providers by letting their electronic health record systems take care of sharing data with officials who need it.
But many agencies still struggle to get this information: Even before the COVID-19 pandemic, fewer than 1 in 5 primary care physicians were sharing data electronically with public health departments. And when reports were sent, they often lacked details such as patient contact information or demographic data. At times, they also came through methods such as faxes, which take longer to incorporate into agencies' systems and thus slow response times.
These gaps mean that state and local officials can miss opportunities to contain infectious diseases, respond to emerging threats, improve care for underserved residents, and, ultimately, save lives.
To help address this, the updated CMS rule will, among other things:
Set new guidelines for eligible clinicians to show that they are actively engaging with public health agencies. In particular, clinicians will have to report which stage of active engagement they are in with specific agencies: (1) registering and testing electronic data submission or (2) sending clinical data. Beginning in 2024, clinicians at the first stage must progress to the next one within a limited amount of time.
Increase how many points eligible clinicians will earn for reporting data to public health agencies. These points are used to determine payment rates for providers who treat Medicare patients.
Expand participation in the program to other health care providers, including nurse practitioners and physician assistants. This will allow a broader range of providers to share relevant data with public health agencies.
This rule is a meaningful step forward, but more is needed. CMS should consider requiring additional measures that help with promoting interoperability under MIPS such as syndromic surveillance data, which can signal health threats at a community level. Many outpatient physicians collect data that could provide early warnings about unusual levels of illness to public health agencies, enabling them to respond before a threat gets out of hand. Sending syndromic surveillance data remains optional under the new rule, though providers can earn bonus points for doing so.
In addition, CMS should address health equity by encouraging providers to submit complete data—including patient demographics—to public health agencies so officials can understand how health threats are affecting different communities. CMS, the Centers for Disease Control and Prevention, and the Office of the National Coordinator for Health Information Technology—the federal agency that oversees health IT—should continue collaborating to identify standards for electronically collecting and sharing more granular data. For example, that could include an individual's race, ethnicity, and contact information, all of which can make it easier to track and respond to disease outbreaks among diverse communities.
The COVID-19 pandemic highlighted the importance of high quality, timely data for any public health response—whether communities are facing a transmissible disease such as the flu or higher rates of conditions such as asthma or diabetes. With these new rules, CMS has taken another key step toward making that a reality.
Lilly Kan is the director of and Alexandra Woodward is a senior officer with The Pew Charitable Trusts' public health data improvement project.