A Roadmap for States to Improve Opioid Use Disorder Care
Measuring the effectiveness of treatment systems, from diagnosis to recovery, can save lives
A Roadmap for States to Improve Opioid Use Disorder Care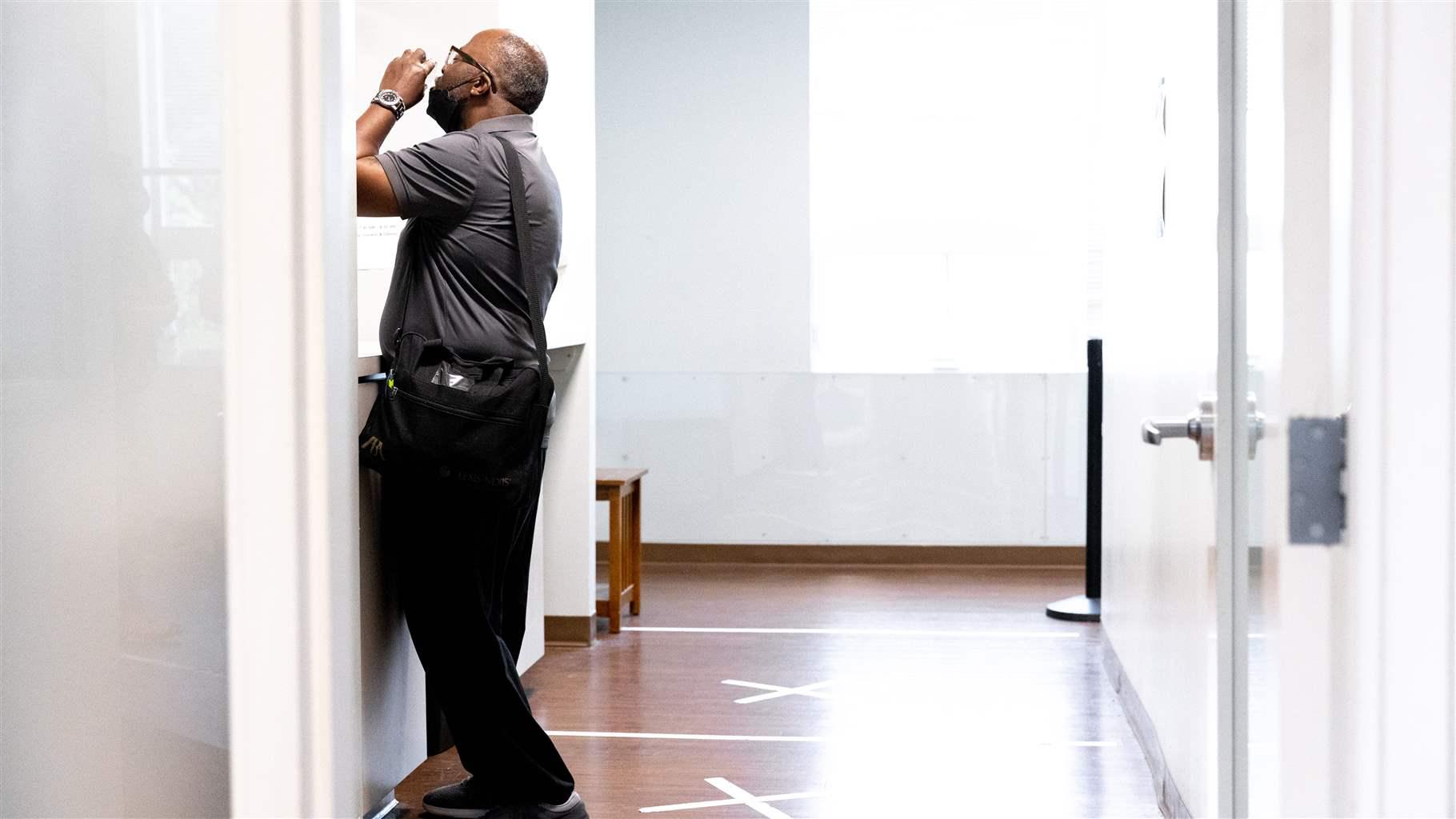 Over the past year, drug overdose deaths in the United States have hit record levels, with the Centers for Disease Control and Prevention reporting more than 100,000 fatalities between April 2021 and April 2022. An equally troubling statistic, though, is that most people with opioid use disorder (OUD) who would benefit from lifesaving therapies—that is, FDA-approved medications, including methadone, buprenorphine, and naltrexone—do not receive them.
Although state public health practitioners have a good grasp on how many people die from drug overdoses, practitioners often fail to capture data that illuminates how effective OUD treatment systems are—such as how many people are diagnosed with OUD, how many patients begin or stay in treatment, or even how many people receive medication, the most effective treatment for this condition. Collecting this data would give state stakeholders detailed insight into both the strengths and weaknesses of their treatment systems, and more importantly, a path forward to strengthen patient care and ultimately save lives.
Quality measures, which provide data to assess and compare the quality of health care delivery against recognized standards, are the best tools to help states understand and improve OUD treatment systems. Accordingly, in fall 2021, Pew brought together stakeholders representing state and federal governments, people with lived experience and other advocates, treatment providers, and experts in health measurement and analytics to discuss which quality measures could help states improve OUD treatment.
The resulting eight measures, if collected, would help states understand their treatment systems' capacity to effectively diagnose, treat, and support patients with OUD. These measures were selected based on the OUD Cascade of Care, a public health framework for understanding OUD treatment through progressive stages of the chronic condition, from the initial diagnosis through treatment, retention in treatment, and recovery:
OUD diagnosis: Percentage of people who had a documented OUD diagnosis (e.g., on an insurance claim).
Percentage of people assessed using a standardized screening tool: Rate of assessment using a tool such as the Drug Abuse Screening Test (DAST) or the Tobacco, Alcohol, Prescription Medication, and Other Substance Use (TAPS) tool.
Use of pharmacotherapy for OUD: Percentage of people diagnosed with an OUD who received medication to treat it.
OUD provider availability: Number of providers and treatment programs that can provide medication for opioid use disorder (MOUD).
Continuity of pharmacotherapy for OUD: Percentage of people receiving MOUD who use it for at least six months.
Initiation of OUD treatment and engagement in OUD treatment: Percentage of people who initiate treatment within two weeks of diagnosis; percentage of people with two or more services within the first month after initiating treatment.
Follow-up after an emergency department visit for substance use: Percentage of people who receive follow-up care for substance use disorder or an overdose within seven days, and 30 days after visiting an emergency department for a substance use disorder-related issue.
One or more patient-reported outcome measures to be determined by each state: Percentage of individuals who achieve an improved level of functioning or quality of life.
But it's not enough for states to just collect this data. In order to make the most of these measures, state officials should:
Publicly report OUD treatment data collected via these measures. Such transparency has been shown to encourage efforts to improve health quality.
Design a plan to use the collected data, including regularly reviewing the data and using it to inform policy change.
Involve people with lived experience and providers in data-driven decision-making, as these individuals can share important insights that help identify areas of success and improvement.
Disaggregate data by factors such as race and ethnicity to improve health equity and identify communities most in need of resources. Doing so is crucial, given the disproportionate increase in overdose deaths among populations of Black and American Indian or Alaska Native people and the lower likelihood that Black and Hispanic people receive medication and remain in treatment compared to White people.
Policymakers have long used data to inform their decision-making. It's time for state officials to apply this same data-driven approach to OUD treatment and use these measures to assess and ultimately improve treatment systems. Doing so will save lives.
Frances McGaffey is an associate manager and Vanessa Baaklini is a senior associate with The Pew Charitable Trusts' substance use prevention and treatment initiative.