Why Veterans With GI Bill Benefits Still Take Out Student Loans
More than half of borrowers used bulk of borrowed money to cover living expenses, survey shows
Why Veterans With GI Bill Benefits Still Take Out Student Loans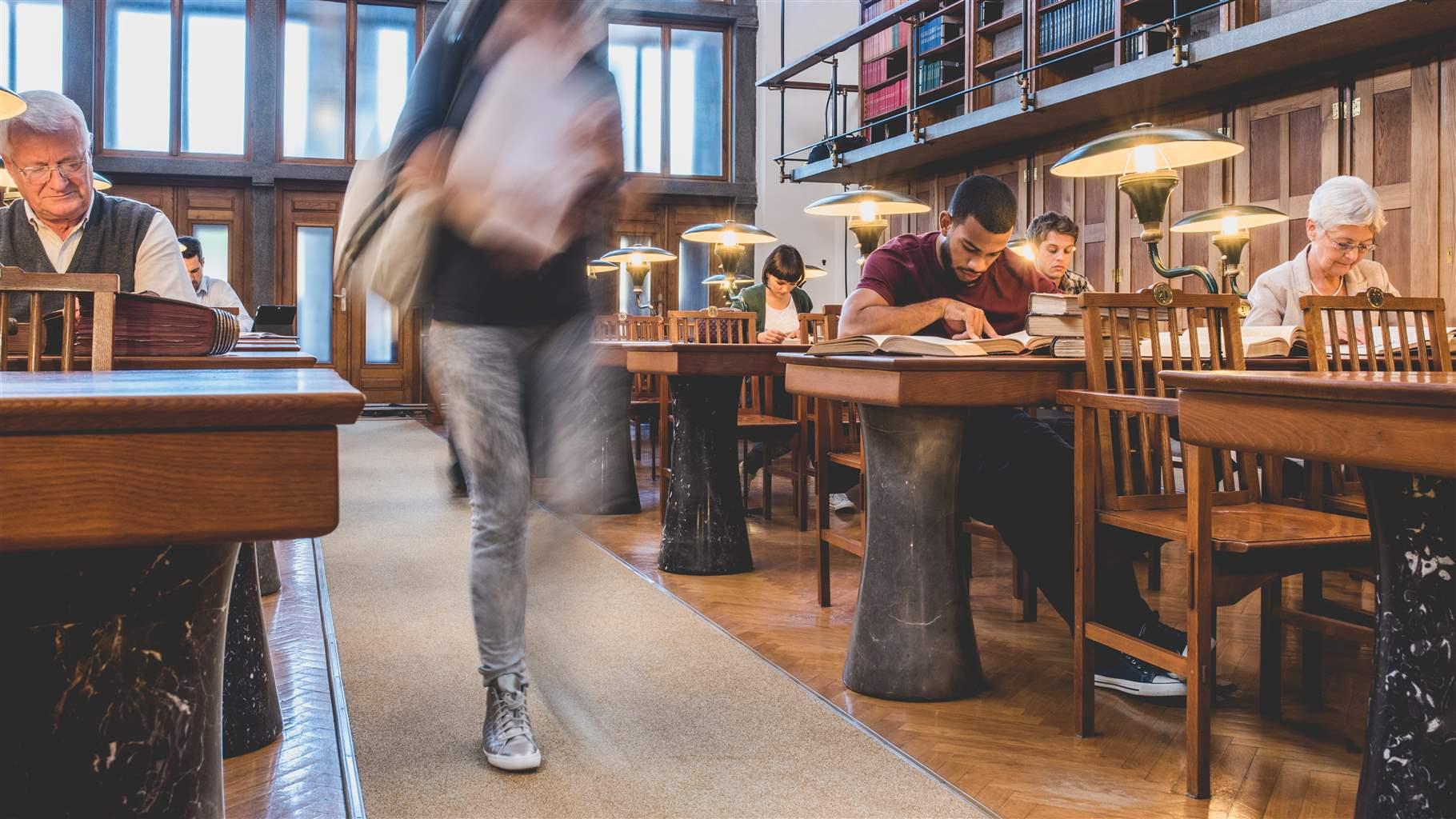 Nearly 6 in 10 U.S. military veterans who have taken out student loans cite living expenses, such as housing and child care, as their main reason for borrowing, according to a first-of-its-kind, nationally representative survey of veterans who have taken out student loans.
The survey—conducted for The Pew Charitable Trusts among veterans who served after Sept. 11, 2001—helps shed light on a key mystery: why so many are taking on student loan debt despite having access to robust Post-9/11 GI Bill benefits, which cover full tuition and fees at public universities and at least partial tuition and fees at private universities. These benefits also include stipends to cover books and supplies, as well as housing allowances.
A separate Pew analysis done earlier this year using U.S. Department of Education data found that just over a quarter of veterans in undergraduate programs took out loans, with a median amount of $8,000 in the 2015-16 academic year.
The questions in the survey were crafted to give a better sense of how veterans use the borrowed money, including a request to rank the expenses covered with student loan dollars. Among the key findings:
58% of those who took out student loans said they borrowed primarily to cover living expenses. The most commonly cited were housing costs (21%) and day-to-day expenses, such as groceries and child care (17%). (See Figure 1 for more detail.)
42% cited educational expenses as the primary cost they borrowed to cover. Most chose tuition and fees (36%), while a small proportion selected books and supplies (6%).
For many, these results may be surprising, in part because the Post-9/11 GI Bill offers a Monthly Housing Allowance (MHA) designed to cover—or significantly defray—the cost of housing while veterans are enrolled in a college or university. But the results lend support to reports that living costs have become "dominant components of the cost of attending college" relative to tuition costs. That's particularly the case for older students, such as veterans, who often have to juggle other financial obligations, including possibly caring for children or other family members.
Pew's recent analysis of federal Education Department data shows that student veterans are twice as likely as the general student population to have dependents of their own, which may increase their living expenses relative to more traditional students.
In the coming months, Pew plans to take a closer look at the extensive data in this unique survey to create a more detailed picture of the scope and scale of veteran student loan debt. Future work will take a deeper dive into the specific factors that may be connected to this borrowing, such as experiences using the Post-9/11 GI Bill's Monthly Housing Allowance, utilization of other financial aid resources, socioeconomic factors, credit earned for military skills and knowledge, and other relevant issues.
This analysis is based on data from an online survey conducted by Penn State's Clearinghouse for Military Family Readiness on behalf of The Pew Charitable Trusts. The nationally representative survey of 3,180 veterans was open to respondents from Nov. 14, 2020 to Jan. 5, 2021. The margin of error with design effect for the total sample is plus or minus 1.9 percentage points at the 95% confidence level.
Phillip Oliff is a director, Scott Brees is an officer, and Richa Bhattarai is an associate with The Pew Charitable Trusts' student loan research project.