New Infrastructure Law Funds Dam and Culvert Removal
Restoring free-flowing rivers will ease fish passage, repair ecosystems, and help local communities
New Infrastructure Law Funds Dam and Culvert Removal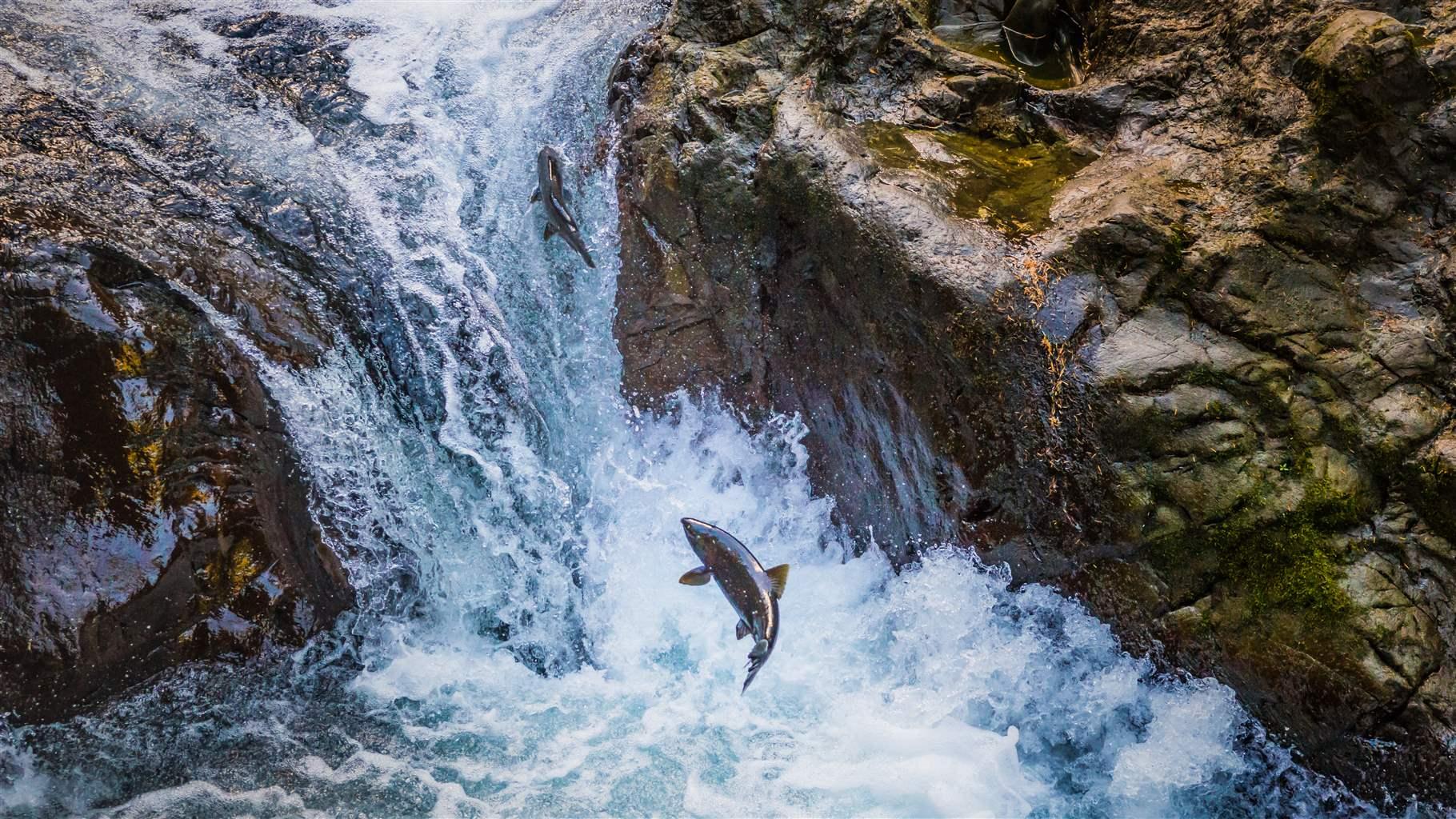 Rivers are the lifeblood of our public lands. Like the arteries that carry oxygen through our bodies, rivers help every part of the landscape thrive. From the carbon-sequestering vegetation in riverine habitat, to the caddis fly and other insects that fish and wildlife feed on, to the salmon, steelhead, and shad that transfer nutrients between ocean and freshwater habitats, rivers are integral to productive ecosystems.
Free-flowing river systems help build resiliency by functioning as sponges, moving excess water into groundwater aquifers, which in turn can help ecosystems—and communities—in times of drought; forming productive deltas that minimize flooding; and nourishing adjacent farmlands, wetlands, and mangrove forests that act as carbon sinks. A 2015 study found that rivers worldwide transport an estimated 200 million tons of carbon to the ocean each year. Further, waterways throughout the U.S. are held sacred by many tribal nations. provide clean drinking water for millions of Americans, and support recreational opportunities that are vital to communities and local businesses.
Unfortunately, America's freshwater resources are under increasing stress. Many lakes, rivers, and wetlands in the U.S. have been severely damaged by human activities and are declining at a much faster rate than are terrestrial ecosystems. As much as one-third of the nation's wetlands have been lost since this country was colonized, and half of all freshwater-dependent species in the Lower 48 states are threatened with extinction. Nationwide, more than 90,000 dams and barriers block free-flowing rivers. Human activity is literally clogging and choking our life-giving waters.
For example, the rampant damming of rivers in Washington state over the past century has caused major harm to nature and people. The Washington Department of Fish and Wildlife estimates there are at least 18,000 to 20,000 barriers in the state impeding fish passage. More than 10% of those—approximately 2,000—are culverts that block fish such as salmon and steelhead along their round-trip migrations between rivers and the ocean.
Although many of these culverts are small—some no more than three feet in diameter—they have an enormous impact on these seagoing fish and are a major factor in the decline of Washington's coastal salmon and steelhead populations. These species are sacred to many coastal tribal nations, and their falling populations have left tribes without an essential nutritional, cultural, and religious resource.
Fortunately, a new federal law will help restore rivers throughout the country while improving fish passage, ecological functions, and overall water quality. The Infrastructure Investment and Jobs Act of 2021, a bipartisan initiative passed by Congress and enacted into law on Nov. 15, establishes the National Culvert Replacement Program, which will provide $1 billion over five years to states, tribal nations, and local governments to repair or remove culverts to ease passage for endangered and threatened fish. The law also allows for an additional $3 billion over five years to be authorized for this work.
In addition, the act provides resources for programs that support the removal of outdated and harmful dams. For example, the National Oceanographic and Atmospheric Administration's Community-based Restoration Program (CRP) will receive $400 million over the next five years that can be used for dam removals across the country, with $60 million of this set aside for tribal governments.
Many deserving river restoration projects will benefit from these programs. In Oregon, the Salmon SuperHwy project—a collaboration of counties, state agencies, and conservationists—has targeted culvert removals that are most important for salmon and steelhead along the state's north coast. These projects will also help reduce flooding on roads, lessening damage and delays that affect commuters and the transportation of goods from coastal farms to markets. In Washington, tribal nations have identified culvert removals and replacements that are vital for the recovery of coastal salmon. And in West Virginia, removal of the Albright Dam on the Cheat River would reconnect over 1,200 miles (about half the width of the United States) of rivers and streams in an area that's rich in biodiversity.
Pew looks forward to working with federal and state officials, wildlife professionals, tribes, and stakeholders on the ground to achieve timely and efficient implementation of these and many other exciting river restoration programs. Success will ultimately make our rivers cleaner, our communities stronger, and our fish and wildlife habitats healthier.
Nicole Cordan oversees The Pew Charitable Trusts' river corridor work, and Jim Bradley is an officer with Pew's U.S. public lands and rivers conservation project.