With Puget Sound Kelp in Steep Decline, Expedition Seeks to Catalyze Recovery of Vital Habitat
Tribes, scientists, and conservationists share their views on the importance of once-vast underwater forests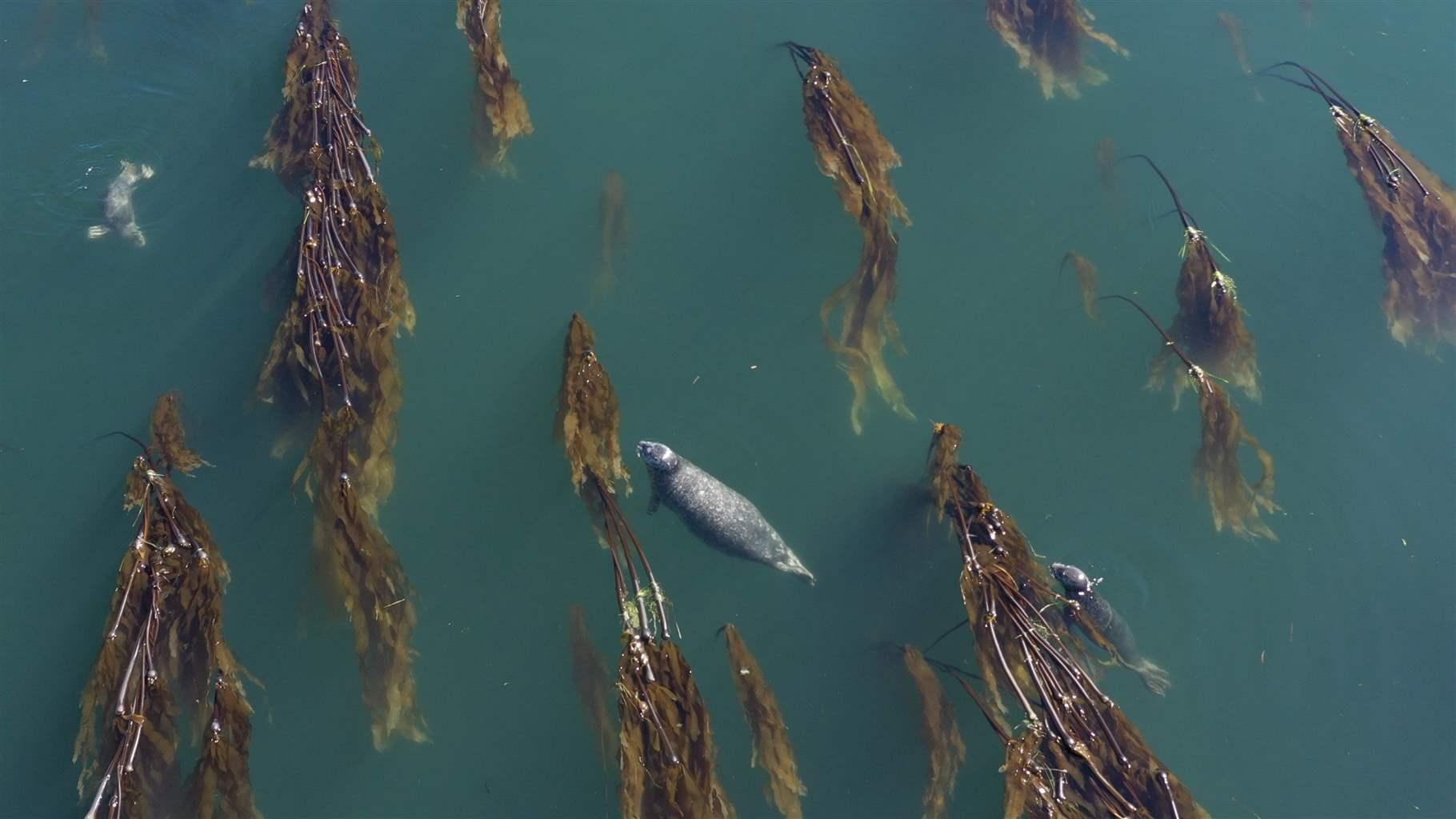 The kelp forests of Puget Sound, in northwest Washington near Seattle, have nurtured Indigenous cultures and coastal communities for centuries. These forests provide food and shelter for crab, salmon, orca, and other marine wildlife; produce oxygen; and capture climate-warming carbon. Pacific Northwest tribes used bull kelp, one of more than 20 species native to the Salish Sea, to make fishing and hunting tools, food storage containers, and other items.
Unfortunately, many of the Pacific Northwest's kelp forests are in steep decline. Researchers believe the causes likely include water pollution, warming oceans, increasing populations of purple urchins—which consume vast amounts of kelp—and competition from invasive seaweed.
In an effort to raise awareness about the dramatic loss of kelp—abundance has dropped 80% from its peak in South Puget Sound alone—and reconnect people to this important underwater ecosystem, the marine conservation nonprofit Puget Sound Restoration Fund brought together nearly 200 people from 40 entities in late July for an eight-day scientific exploration of the region's kelp forests. Participants included representatives from tribes, scientists, and visual journalists who documented the journey. Here, some of those participants share why they believe it's important to protect and restore this essential marine habitat.
"The kelp expedition was a chance to weave together our different perspectives and resources to create something larger than our individual parts—akin to what kelp forests do so beautifully in the marine ecosystem. A kelp forest is much more than the sum of its plants or the area it occupies. In like spirit, our own efforts need to be joined creatively to power kelp conservation and recovery ahead."
—Betsy Peabody, founder and executive director, Puget Sound Restoration Fund
"Kelp forests are a cultural keystone habitat for Samish and other Indigenous populations throughout the Salish Sea. Kelp features in important stories such as the Maiden of Deception Pass. Kelp also is a cultural use material, and the complex habitat within kelp forests supports many first food species. As stewards of Samish traditional territory, we are very concerned about the decline in kelp and are actively working to determine causes and potential restoration strategies with a variety of partners. We must act to make sure that this habitat thrives and continues to support all levels of the food web, from the smallest through humans and orcas. Acting today is the only way to ensure that Samish stories, knowledge, and traditions can be passed on to future generations."
—Todd Woodard, natural resources director, Samish Indian Nation
"Kelp and aquatic plant life have long been a significant cultural resource for the S'Klallam people. In addition to providing highly nutritious sustenance, kelp was historically used numerous ways in daily life. The large blades of bull kelp were used to cover camas, shellfish, and other foodstuffs in cooking pits. The long stalk was also braided into rope used for fishing and other purposes. Today, bull kelp and other seaweeds are commonly harvested throughout the gathering season for subsistence, as well as at community events, to pass along traditional and contemporary knowledge of these foods and preserve them for future community gatherings."
—–Statement provided by the Jamestown S'Klallam Tribe
"Kelp is an important part of the Squaxin culture, for food and habitat for other resources. We are deeply concerned that the kelp beds at Squaxin Island continue to decline, as they are an indicator for the health of the Salish Sea."
—Kris Peters, chairman, Squaxin Island Tribe
"For the first time in my career as a scientist, educator, and activist, I am witnessing the birth of a realization that all parts of the Salish Sea ecosystem are connected and that kelp plays a critical role in providing food, habitat, and economic well-being. I marvel at the fact that it is taking kelp to bring and to weave together traditional ecological knowledge, science, concerned citizens, fishers, government agencies, lawmakers—all of us—to 'help the kelp' in a holistic and thoughtful way."
—Tom Mumford, kelp scientist, University of Washington Friday Harbor Laboratories
"The Washington Department of Fish and Wildlife participated in the Kelp Highway Expedition because healthy kelp forests serve as habitat and food for the species we cherish and are the foundation of fisheries and recreational opportunities on which we depend. They are wild and gorgeous places, part of what makes Washington state Washington state."
—Henry Carson, research scientist, Washington Department of Fish and Wildlife
The expedition will also help promote implementation of the Puget Sound Kelp Conservation and Recovery Plan, a blueprint for restoring the Salish Sea's kelp forests. The plan includes components to reduce stressors on kelp, understand its value to the ecosystem, designate protected areas, and promote awareness among the public and policymakers.
Steve Marx is a senior officer and Brenda Campbell is a principal associate with The Pew Charitable Trusts' conserving marine life in the United States project.