Australia's Fight to Stop Invasive Gamba Grass Is Noble—But Not Enough
To save nature and property, Northern Territory government should fund broad, long-term effort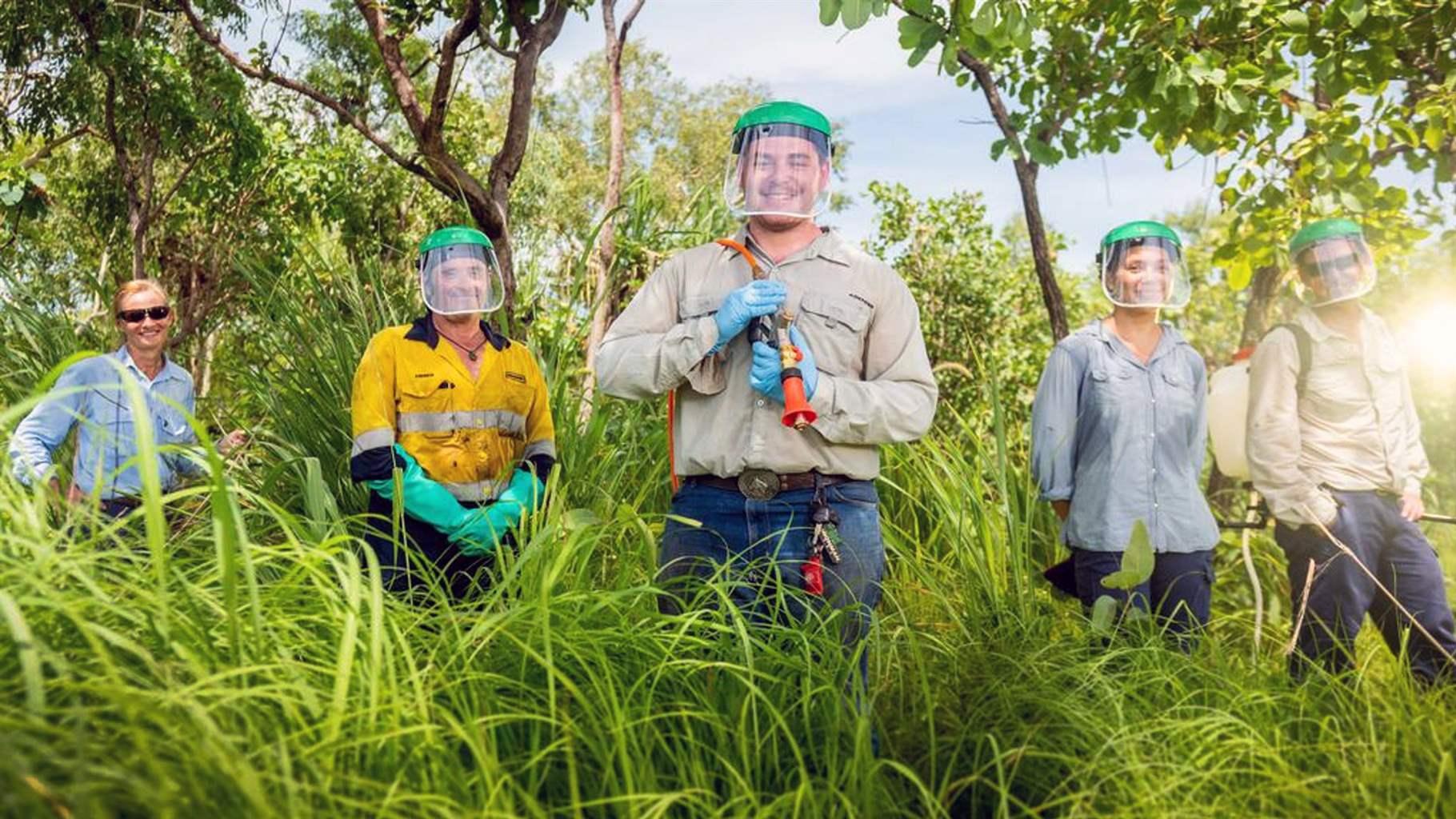 The savanna woodlands of Australia's Northern Territory are home to a variety of native flora and fauna species—many found nowhere else on the planet. The Territory features arid and tropical environments and clear seasonal cycles, with long, hot, dry periods—typically May to October—alternating with torrential flooding in 'the Wet' (November to April). But the Top End region also faces a significant threat: Gamba grass, which is destroying native habitats and fuelling dangerous fires.
Gamba grass, native to African savannas, was introduced to Australia's North in the 1940s as cattle feed, and large-scale planting increased in the early 1980s. The Territory Government initially hailed the grass as a huge success, but soon the highly invasive and fast-spreading plant's dangers came to light, and by 1993 it had been declared a weed of national significance by the Australian Government—a designation reserved for highly destructive plants—and a very high risk to the Northern Territory environment.
Gamba grass destroys and replaces savanna woodlands and has the potential to spread across millions of hectares of Northern Australia. Since its introduction, the plant has led to ecosystem degradation, habitat loss and species decline. Gamba grass displaces native plant species and transforms biodiverse savanna ecosystems as the native grasses, which grow to around 1 metre high, are replaced by monocultures of gamba towering up to 4 metres high.
This replacement also alters fire regimes. Gamba's fuel load—a measure of how much fire the plant can produce—is around 11 tonnes per hectare compared to 3.6 tonnes per hectare for native grasses. Under some conditions, gamba grass' fuel load has been recorded as high as 30 tonnes per hectare. This means that fires fuelled by gamba grass are up to eight times more intense than any native grass fire, increasing the risks to people, livestock, wildlife and property. Further, the landscape changes that gamba grass causes are reducing Indigenous people's access to important cultural resources, including traditional foods and sacred sites.
For all of these reasons, The Pew Charitable Trusts is working with partners to prevent the spread of gamba and secure a sustainable future for people and nature in Outback Australia.
Although gamba grass has received increased attention from the Territory Government, existing infestations of up to 1.5 million hectares in the Darwin, Batchelor and Katherine regions continue to expand. New infestations have been discovered throughout the savanna region from remote Arnhem Land to Groote Eylandt, demonstrating aggressive expansion through multiple pathways of seed dispersal.
Following sustained engagement by Pew and partners through the Gamba Grass Roots alliance, in 2020 the Northern Territory Government released Weed Management Plan: Gamba Grass 2020-2030, outlining a roadmap to tackle the issue.
The plan includes a clear timeline and policy measures to eradicate gamba grass within certain identified areas, new annual reporting requirements—including more performance tracking for government—additional compliance measures for irresponsible landholders and a commitment to better control the invasive species on government-controlled Crown Land.
In 2020, the Territory Government approved a one-year allocation of AU$500,000 towards the operations of a 'Gamba Army'—a dedicated weed eradication program that supported landholders, firefighters, park rangers and community members in removing and managing infestations. The program had additional societal benefits—for example, it employed local people, training them in land management techniques and allowing them to gain new and valuable skills.
However, this initial investment was available for only one year, with the program operating through the control period with no commitment to ongoing funding. Following community pressure, in August 2021 the Northern Territory Government allocated an additional AU$500,000 towards the Gamba Army's operations for an additional year.
The efforts to eradicate gamba grass from the Northern Territory will succeed only if political will results in ongoing funding towards the Gamba Army as a key part of the broader 10-year Gamba Plan. The Northern Territory Government must ensure that Gamba control efforts are boosted during the wet season, when the grass can be removed without fear of spreading seed. An effective response also needs to focus on early intervention efforts such as additional support for landholders and targeted efforts to remove gamba on public lands.
For these efforts to succeed, the scale of investment by the Northern Territory Government must be proportionate to the threat—calculated to be at least an additional AU$2 million per year. Failure to contain the spread of gamba will result in increasing costs for fire control and weed management, accompanied by unacceptable threats to life and property and the loss of natural savanna landscapes across the Top End.
Mitch Hart works on The Pew Charitable Trusts' Outback to oceans Australia project.