Barbados Seeks to Lead in Protecting Coastal Waters and the High Seas
Minister of maritime affairs discusses critical importance of ocean conservation to island nations and economies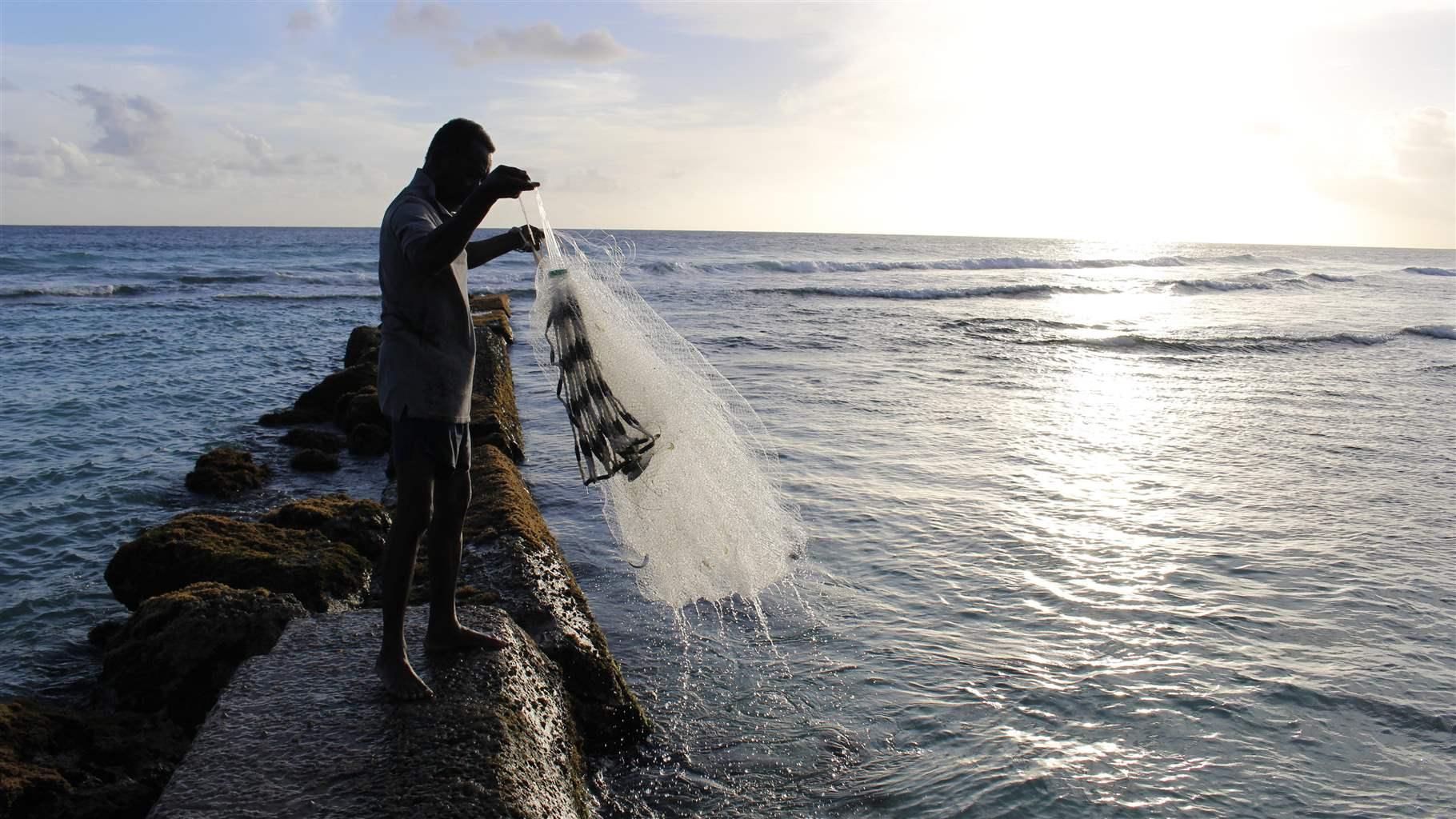 Despite its relatively small size, the Caribbean island nation of Barbados boasts an expansive exclusive economic zone (EEZ)—the waters over which the country has jurisdiction—equivalent to roughly 424 times its territory. The economy of the Caribbean's most easterly nation, independent since 1966, has become increasingly diverse: Its marine resources create jobs from tourism to fisheries and is no longer reliant on sugar. Today, island leaders see marine protections as vital in their efforts to implement a sustainable blue economy model.
Facing a challenging economic environment compounded by the impact of climate change, the newly elected government in late 2018 created the country's first-ever Ministry of Maritime Affairs and the Blue Economy. Headed by Kirk Humphrey, a graduate of the London School of Economics and the John F. Kennedy School of Government who was elected to Parliament in 2018, the Ministry was tasked with creating sustainable economic opportunities in the Barbadian maritime space while protecting the ocean—and the livelihoods that depend on it.
Since his appointment, Minister Humphrey has positioned Barbados as a regional and global leader in ocean protection—from announcing the safeguarding of more than 30% of the EEZ to harnessing support for a high seas agreement in the Caribbean region and beyond. Most recently, Barbados stepped forward to champion the Blue Charter agreed to by 54 Commonwealth countries and joined Seychelles as co-leader of the action group on marine protected areas.
This interview has been edited for clarity and length.
Q: What's your first memory of the ocean?
A: My first memory of the ocean is actually seeing it while on a bus as a very young boy, heading into town with my mother. It was beautiful and blue with a vast expanse of shiny white sand. In Barbados, many children are told "the sea has no back door" by parents who are fearful their children may drown, so many of us were kept away from the sea. It was like a neighbor we could speak to but not have the opportunity to know.
Q: Have those early memories shaped your views—as a leader—in terms of ocean protection and conservation?
A: As I got older, I understood the ocean from fishermen and seamen, or seafarers, many of whom told such gallant stories that it made the ocean very appealing. These memories have influenced me in many ways. I'm firm in my belief that we must get to know the sea better, that we must learn to swim and sail and fish and renegotiate our relationship with the ocean. That's why we've created programmes for these things in my Ministry. I've seen the number of fishermen and seamen reduce over time or lose their value in Barbadian society, so I intend to use the ocean to open opportunities for people to make a decent living and increase the dignity associated with these positions.
Q: With its creation by Prime Minister Mia Mottley in 2018, yours became the first ministry in the Caribbean dedicated to the ocean and blue economy. How does your work align with the country's broader conservation and sustainable development goals?
A: The Ministry is seamlessly aligned with our broader vision of conservation and sustainable development goals. As a small island developing state, Barbados' development has been intrinsically linked to the sea and various ecosystem services that it provides. Tourism represents over 20% of the national gross domestic product and provides employment for a significant proportion of our population. The fisheries sector supports the livelihoods of fishermen and contributes to food security and Barbadian culture.
The blue economy model supports national and global conservation as well as sustainable development goals. The Ministry is an outward manifestation of our absolute commitment to sustainably create opportunities for our citizens, and—along with the fact that Barbados has signed and ratified many of the United Nations' multilateral environmental agreements—represents our continued efforts as a progressive global citizen.
Q: Did you face any unique challenges—or have any unique opportunities—as the first minister of maritime affairs and the blue economy of a Caribbean nation?
A: Climate change remains an existential threat for all of us: It has meant stronger hurricanes in the region and an influx of sargassum seaweed that overwhelms the capacity of many to respond. Our ocean is also at risk from overacidification, increasing temperatures and declining biodiversity—especially coral and fish.
The ocean has a major role to play in our understanding, mitigating and adapting to climate change. And many Caribbean leaders have converged around the idea that management and leadership in the ocean space is essential, so that has resulted in more opportunity regionally.
Many Caribbean nations have ocean space well in excess of our terrestrial space: In Barbados, our EEZ is 424 times the size of our land space. That's 424 times the opportunity. Many of us don't know enough about that ocean space, and therefore the idea of a ministry dedicated to help doing so resonates.
These reasons served to make the timing right to launch a ministry of maritime affairs and blue economy to deal with these issues frontally and to offer a more cohesive approach and systematic management to getting results. The Ministry's creation allows us to look at the emerging sectors in this space, to which Barbados had not been paying enough attention.
Q: Global support for increasing marine protection is gaining momentum, based on scientific evidence that we need to conserve and protect at least 30% of the global ocean by 2030—the effort known as 30 by 30. What is your country's view of this goal?
A: With the support of The Nature Conservancy, Barbados is pursuing development of a marine spatial plan, or MSP, for our entire EEZ. Embedded in the plan is the agreement for establishment of conservation zones. Though the specific percentages still need to be worked out, the aspiration goal of 30% of the EEZ has already been codified into the plan.
In addition, Barbados has recently been designated co-chair, along with the Republic of Seychelles, for the Action Group of the Commonwealth Blue Charter on marine protected areas. This reflects our commitment to managing our ocean space sustainably.
Q: We're at a critical juncture in the negotiations for a legally binding agreement to govern the conservation and sustainable use of marine biodiversity beyond national jurisdiction (BBNJ) and the high seas—that part of the ocean that lies outside any one nation's jurisdiction. Is it urgent to finalize a high seas agreement in order to meet the 30 by 30 target?
The ocean continues to experience pressures caused by climate change, marine plastic pollution, illegal and unregulated fishing, and the like. Given these pressures, it's important that a holistic approach be taken to the governance of the marine environment. The new BBNJ agreement seeks to do this through area-based management tools, including marine protected areas. The agreement will also seek to set global standards for the conduct of environmental impact assessments. More importantly, the draft agreement contains important provisions on capacity-building and the transfer of marine technology that will be important in ensuring that small states have the capacity to engage in marine scientific research, conduct and review environmental impact assessments, participate in strategic environmental assessments and manage marine reserves and marine protected areas.
Q: What are some of the issues of importance to your country and the Caribbean region that still need to be addressed?
A: Recognition for the special circumstances of small island developing states; meaningful capacity-building and transfer of marine technology among nations; adequate, predictable and sustainable financing; making sure the agreement allows for changes and developments in knowledge and technology; setting global standards for the conduct of environmental impact reports; and equitable access for all countries to collect and utilize marine genetic resources.
Additionally, the Caribbean Community or CARICOM (the group of Caribbean countries that negotiate as a bloc at the United Nations rather than individually) has stressed the importance of maintaining the health of the ocean while striking the proper balance between conservation and sustainable use. We see the new agreement as playing a critical role in improving the management of areas beyond national jurisdiction, which will also bring benefits for areas within national jurisdictions.
Q: What lessons about ocean governance has your country learned that could be useful to other countries in the region?
A: I think it's important that we prioritize the ocean and its governance. That doesn't happen by chance, but rather by deliberate commitment and follow-through.
It's also important to work with partners at the local, regional and international levels.
We must not lose focus of the power dynamics that often seem to support the view that the strong do what they will and the weak suffer what they must.
Leadership must be fair and fearless, and brave and balanced, at both the developed- and developing-country level.
We continue to advocate for vulnerability to be part of the conversation. Many Caribbean nations have high levels of GDP or development but are compromised by the fact that we're victims now of the climate, our small geographical and population size, our limited fiscal space and heavy indebtedness.
Despite all of this, Barbados continues to offer leadership that is morally based and principle-driven, as seen by our response in the beginning of the COVID-19 pandemic: Our commitment to people and life at sea saw us repatriate more than 20,000 persons on cruise lines at a time when many others were afraid to come into contact with them.
I think all countries must realize how the ocean connects us all—and be prepared to move forward in partnership.