Amid Opioid Epidemic, Philadelphia's Health Leaders Confront Challenges of Expanding Medication-Based Treatment
Pew-hosted panel highlights barriers, successes, and opportunities to respond to the crisis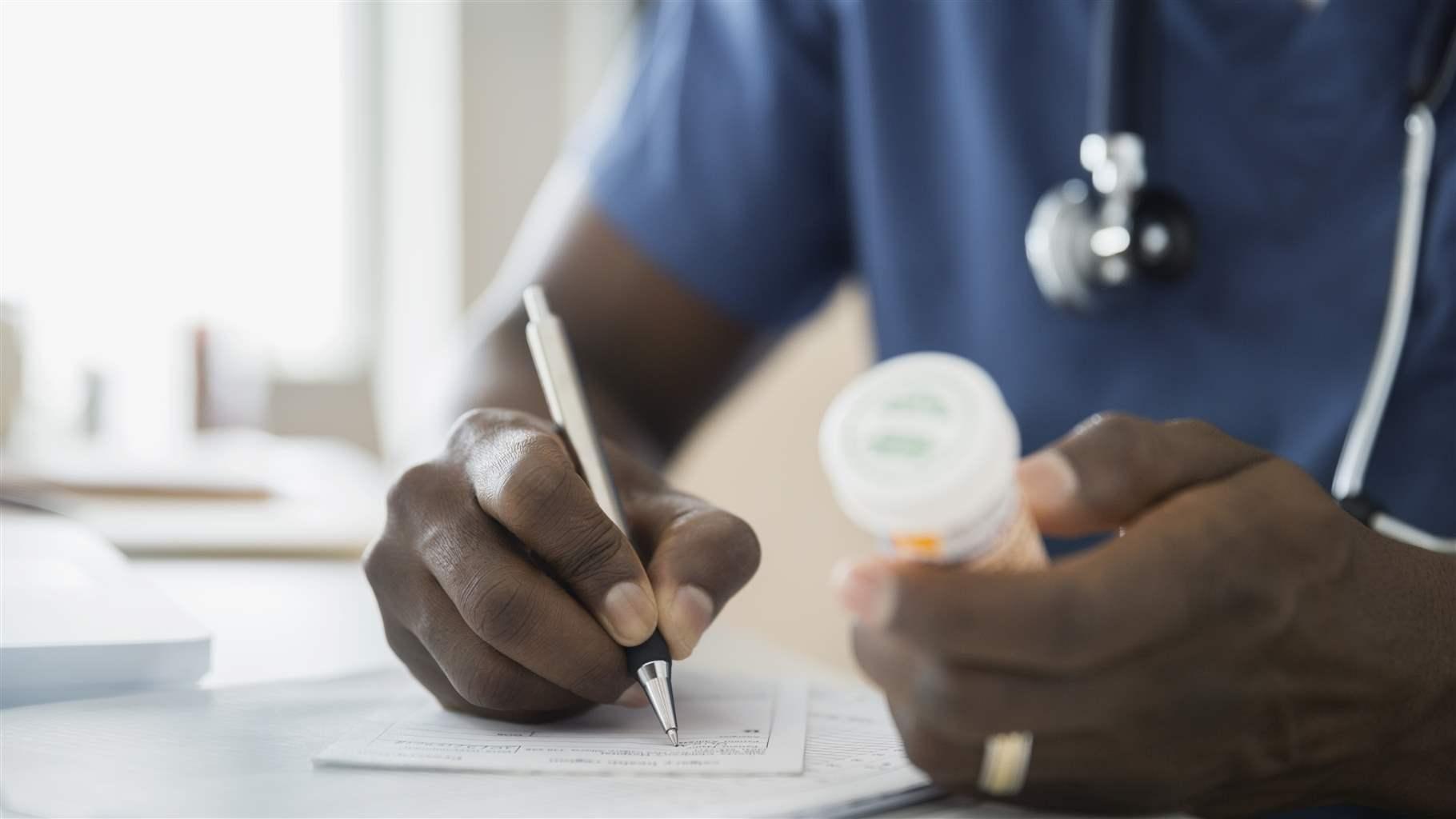 The city of Philadelphia reported that in 2020, 1,214 people died from drug overdoses, with 86% of those deaths involving the use of opioids. This figure represents a 6% increase in deaths from drug overdoses from 2019 and a 9% increase from 2018. Although medications for opioid use disorder (MOUD)—a category of medications that includes three Food and Drug Administration-approved treatments—have been key to responding to the opioid crisis, there are significant obstacles to their widespread use.
Buprenorphine is one of the types of MOUD, and health care practitioners have been required to complete training and apply for a waiver to prescribe it. However, recent changes in federal policy that exempt providers seeking to treat up to 30 patients from the training have created a new pathway to buprenorphine prescribing—and an opportunity to increase access to this often lifesaving treatment.
In light of these changes, The Pew Charitable Trusts' Philadelphia research and policy initiative and the Health Federation of Philadelphia organized a virtual panel discussion in May on the current landscape of buprenorphine access in Philadelphia. Moderated by Ann Ricksecker, the Health Federation's senior director of opioid response, the event brought together three local health system leaders to discuss new opportunities and looming challenges for buprenorphine prescribing. The panelists highlighted several main themes:
Some providers are hesitant to treat opioid use disorder (OUD) due to practical and procedural barriers such as documentation in electronic health records (EHRs), as well as stigma about the disease.
Confronting stigma means recognizing OUD as a disorder like other diseases and recognizing the effectiveness of medications in treating it. This approach must be integrated into the training of residents and medical students.
Philadelphia has major strengths in its ability to coordinate and encourage collaboration among agencies, health systems, and practitioners, and panelists stressed the potential for innovative, cooperative, and meaningful work throughout the city.
Panelists discussed barriers to expanding current levels of buprenorphine prescribing, including the stigma among some providers about treating OUD. "Looking at the hesitancy piece, that's been critical in the translation of getting buprenorphine to patients," said Dr. Rohit Gulati, executive vice president and chief medical officer of the Einstein Healthcare Network. He described how stigma may leave OUD treatment out of routine care, which decreases access to buprenorphine. "If you are treating your patient, you should be able to treat the entire spectrum of diseases, including OUD. This is a disorder like everything else; this is a disease spectrum like everything else and should be treated like everything else. "
Dr. Jeanmarie Perrone, a panelist and professor of emergency medicine at the University of Pennsylvania, pointed out the limitations of abstinence and detoxification compared with medication-based treatment. "This is like pneumonia. We don't say, 'Do you want doxycycline or ampicillin for your pneumonia?' [We say], 'You need an antibiotic for your diseases.' So, you need methadone, or you need buprenorphine, or you need Vivitrol … but we need to be offering medications in a way that says this disease equals these medications."
The panelists tackled practical and procedural barriers to buprenorphine prescribing. Dr. Edmund Pribitkin, executive vice president of Jefferson Health, described "disincentives" to prescribing, including substantial documentation. He pointed out that "it's still relatively challenging in our EHRs to document every visit, every prescribing engagement ... and until we make that much easier in our EHRs, so that the physicians can actually spend the time with the patients rather than with the paperwork, we are not going to see that increase in prescribing that we would really like to see."
The panelists cited successful approaches to support buprenorphine prescribing. Perrone discussed the important role that people in recovery working as certified recovery specialists, otherwise known as peers, can play in emergency departments by helping providers identify patients who could benefit from buprenorphine. The use of peers, she said, has been "as helpful to the patients as it has been to the providers."
The panel closed with a discussion of the capacity that Philadelphia has to respond to the opioid crisis. The panelists reflected on the ability of the city's government and health community to come together around critical and far-reaching issues, such as the COVID-19 pandemic. Pribitkin cited the role of the city health department in bringing together important players in the health system to address opioids. "We really started out on this journey to help with the opioid crisis. The pandemic worsened things, but it did bring us together on a weekly basis with phone calls among all the chief medical officers, and I know that similar phone calls are happening with the chief nursing officers and with the ER leaders across the city, and we are able now to coordinate much better than we ever were before because those channels have been established."
Panelists cited opportunities to capitalize on enhanced communication channels and collaboration born from the pandemic, with Pribitkin pointing to data repositories built for COVID that he could imagine turning into data repositories for OUD. Being able to deliver opioid data "not only to hospitals but to rehab centers, to emergency medicine first responders, and the police," he said, would represent "a real coordinated approach to what is a problem that no one of us can solve. We really need to do this as a community."
Elinor Haider is director and Marcelo Fernandez-Vina is an officer with The Pew Charitable Trusts' Philadelphia research and policy initiative.