North Carolina's Latest 'Oyster Blueprint' Is a Model Within—and Outside—the State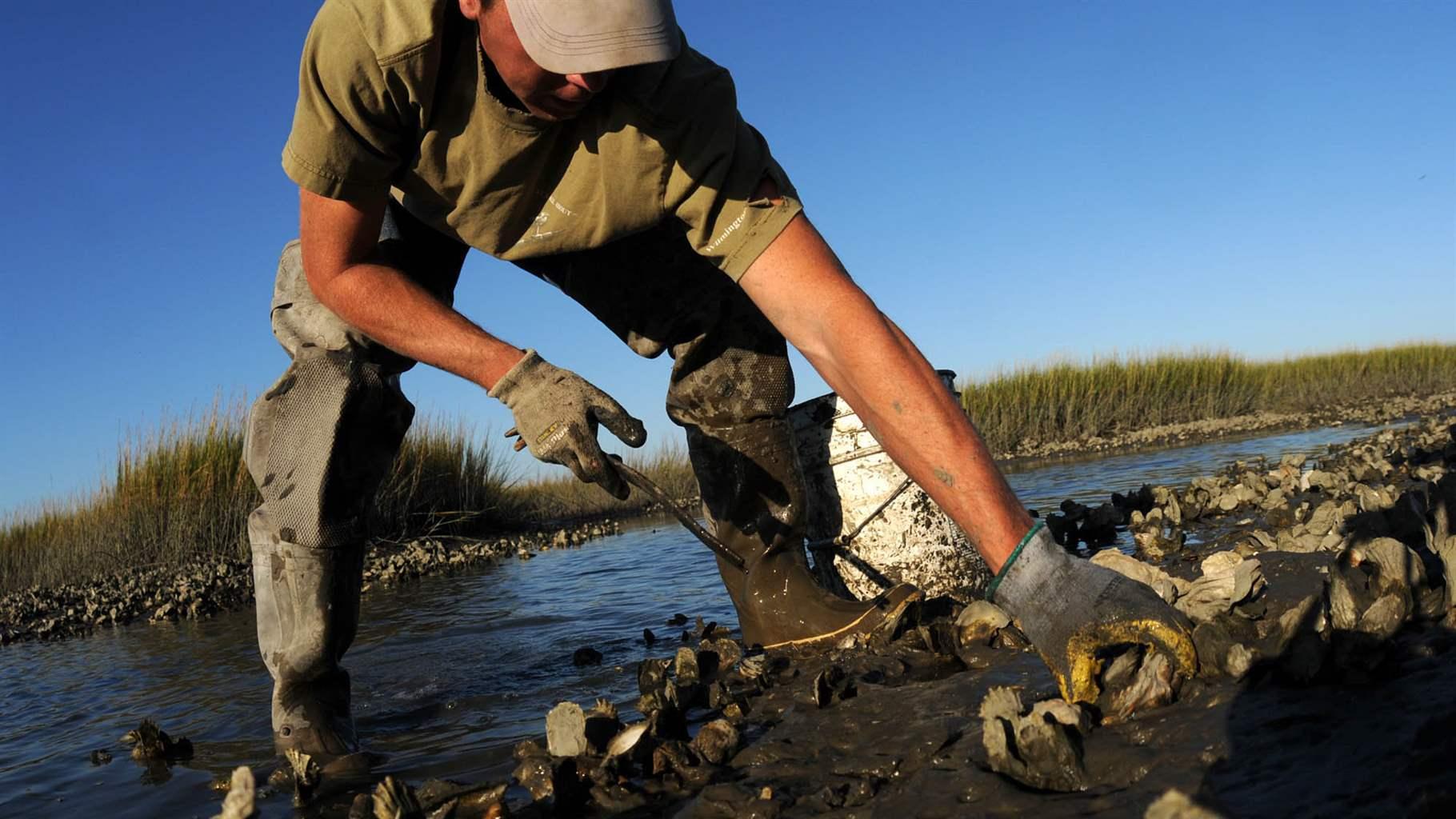 Hurricane season is on the minds of many along the North Carolina coast; the humble oyster, probably, is not.
But, as it turns out, there's a link between hurricanes and oysters. The danger, damage, and disruption from storm surge and flooding often lead coastal residents to think about strengthening and reinforcing their property—and making plans to stay safe. Enter the oyster, part of the natural infrastructure that could increase our resilience to storms.
Many wild oysters in North Carolina are intertidal—meaning that they're exposed to the air at low tide and are underwater at high tide. The same reason you might avoid walking through, or landing a boat in, an oyster bed is why they're so valuable to our coasts: Their tough shells hold tight to strong reefs. Even—maybe especially—when awash in storm waves, oysters help fortify our coastal habitats and the communities that depend on them.
North Carolina is a leader among states when it comes to valuing and protecting oysters, which is reflected in the state's Oyster Blueprint for Action 2021-2025, released this spring. "Oyster Restoration and Protection Plan for North Carolina," as the report is officially titled, is the fourth edition since the blueprint was created in 2003, and progress since then has been significant. For instance, 450 acres of oyster habitat have been restored, providing both environmental benefits and harvest opportunities; the state's shellfish aquaculture industry has grown by a factor of five; and, in the 10 years from 2003 to 2013, funding for oyster-related programs increased tenfold.
Beyond documenting success, the "Oyster Blueprint"—the product of a collaboration among government agencies, academia, and nongovernmental organizations, including The Pew Charitable Trusts—outlines goals for the state to achieve by 2025, including an additional 100 acres of oyster sanctuary in Pamlico Sound, an additional 200 acres of oyster reef to support wild harvest, and the beginning of water quality improvement plans to benefit oysters in the Newport River and Stump Sound. In addition, the report envisions living shorelines—rather that hardened structures such as bulkheads—becoming the primary way in the state to stabilize the banks in estuaries with oysters. These goals have economic as well as storm resilience benefits, because every dollar invested in oyster restoration provides at least $4.05 in benefits, such as increased economic activity through recreational activities and tourism, with jobs in fishing and restoration, and even in local seafood sales.
One of the reasons the "Oyster Blueprint" has led to success in North Carolina is strong bipartisan support from the legislature. As state Representative Pat McElraft (R) said when the report was released, "We've known for some time that oysters can be a big win for our environment and our coastal economy." With continued funding from a variety of public and private sources, the "Oyster Blueprint" can become reality.
In the coming months, as state officials shift their focus to another key project—an update to the North Carolina Department of Environmental Quality's wide-ranging Coastal Habitat Protection Plan—the "Oyster Blueprint" stands as a successful model for how increasing coastal habitat protection can build resiliency in the face of severe weather and climate change.
Leda Cunningham leads The Pew Charitable Trusts' work in North Carolina to protect and restore ocean resources and coastal habitats.