Michigan Offers New Model for Jail Reform
Changes that take effect this year highlight promise of state-local efforts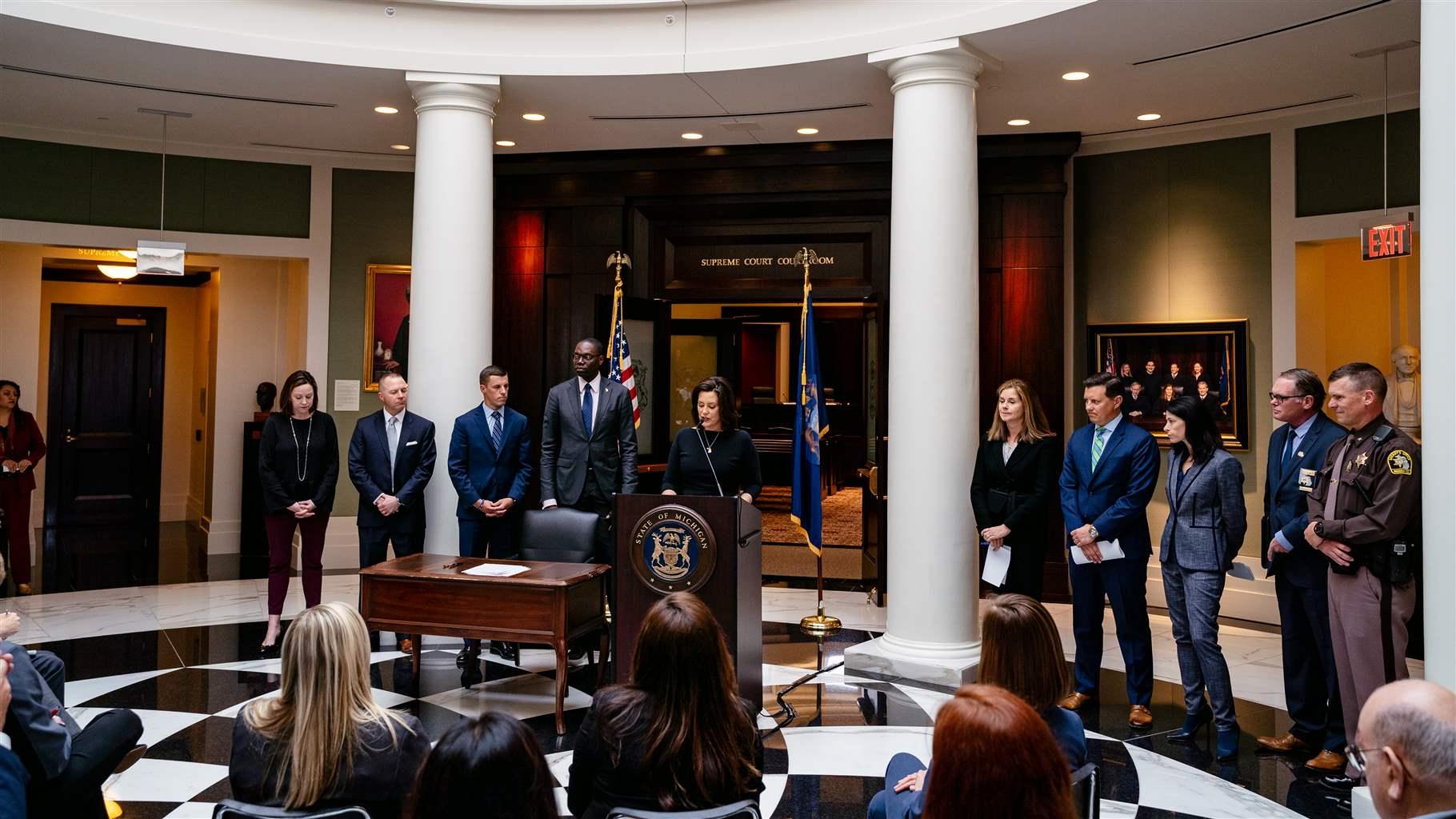 Counties and some cities usually run jail facilities, but state legislators and policymakers play important roles in determining who goes to jail and how long they stay there. Concerned that Michigan's jail population had tripled since the 1970s even though crime was at a 50-year low, state leaders decided in 2019 to examine the problem and address some of its causes.
Working together, state and county leaders launched the bipartisan Michigan Joint Task Force on Jail and Pretrial Incarceration to explore how laws, policies, and budget decisions affect jail populations. The group, which received technical assistance from The Pew Charitable Trusts and the Boston-based Crime and Justice Institute, found that Michigan's criminal justice system used a large share of its jail capacity to penalize low-level offenses—a costly, ineffective way to protect communities.
After conducting Michigan's first comprehensive analysis of jail data, the task force compiled a slate of state policy recommendations. Many of the proposals became the basis of legislative reforms that passed with bipartisan support. Governor Gretchen Whitmer (D) signed the package into law on Jan. 4, 2021.
The reforms, which take effect this year, will:
Eliminate driver's license suspension as a penalty for offenses unrelated to dangerous driving. Between 2016 and 2018, driving without a valid license was the third most common reason people went to jail in Michigan. Ending the use of license suspension as punishment for drug possession, nonpayment of fines, and other unrelated offenses will mean that people charged with a minor nondriving offense can still get to work, pick up their children from school, and make trips to the grocery store.
Decriminalize misdemeanors. More than 60% of Michigan jail admissions are for misdemeanors, according to data from 2016 to 2018. The reforms decriminalize some of the minor offenses that collectively clog up the criminal legal system, despite posing little risk to the public. The law now classifies certain violations related to operating motor vehicles, including license and noise offenses, as civil infractions, which do not involve criminal courts or jails.
Increase the use of arrest alternatives. Failing to appear in court was the No. 1 reason for arrest in Michigan in 2018; courts are now expected to use a summons, rather than issue an arrest warrant, for first-time failure to appear offenses. Those who already have an active warrant for missing a court date can, in most cases, resolve the issue without fear of being immediately arrested when they visit the courthouse. The reforms also give police the discretion to issue tickets for some offenses—including most misdemeanors—that previously could only be handled with an arrest.
Create a presumption of non-jail sentencing for most misdemeanors. The reforms create an expectation in the law that misdemeanor sentences will allow people to continue to work and otherwise contribute to their families and communities. Judges must use jail alternatives, such as fines and community service, as the default option when sentencing all but the most serious misdemeanors. If judges deviate from this mandate and use jail time or probation, they must go on record with reasonable grounds for doing so to facilitate an appeal.
Improve probation. Michigan has the sixth-highest share of people on community supervision in the country; the reforms reduce the maximum probation term for most felonies to three years. Pew research shows that keeping people on probation longer than needed to deliver public safety benefits carries unnecessary costs. The reforms also increase incentives for people on probation to comply with their supervision conditions by establishing an earned discharge policy.
With these changes, Michigan's criminal justice systems have eliminated many of the practices that have sustained high jail populations. And state leaders are planning another round of reforms for the current legislative session. Among the upcoming proposals: safely expanding pretrial release, which would mean fewer people in the state would be held in jail while awaiting trial, and increasing investments in mental health diversion practices. The latter would make it more likely that people experiencing mental health emergencies are connected with treatment, rather than arrested and sent to jail.
Michigan's historic reforms will not only improve the state's criminal justice systems and the lives of residents but also serve as a template for other states where jails are driving increased taxpayer costs. With jail populations growing again after a pandemic-related drop, state leaders should take stock of how their laws have contributed to such growth. They can follow Michigan's lead by enacting policies that direct police, court, and jail resources to public safety threats and that provide alternatives for people who can safely remain in the community.
Jake Horowitz is the director and Terry Schuster is a manager with The Pew Charitable Trusts' public safety performance project.