"We All Want Healthy Forests and Salmon Runs; We All Want Clean Water"
The mayor of a small town describes how the partnership known as the Darrington Collaborative is working to bridge the urban-rural divide, restore rivers, and help the local community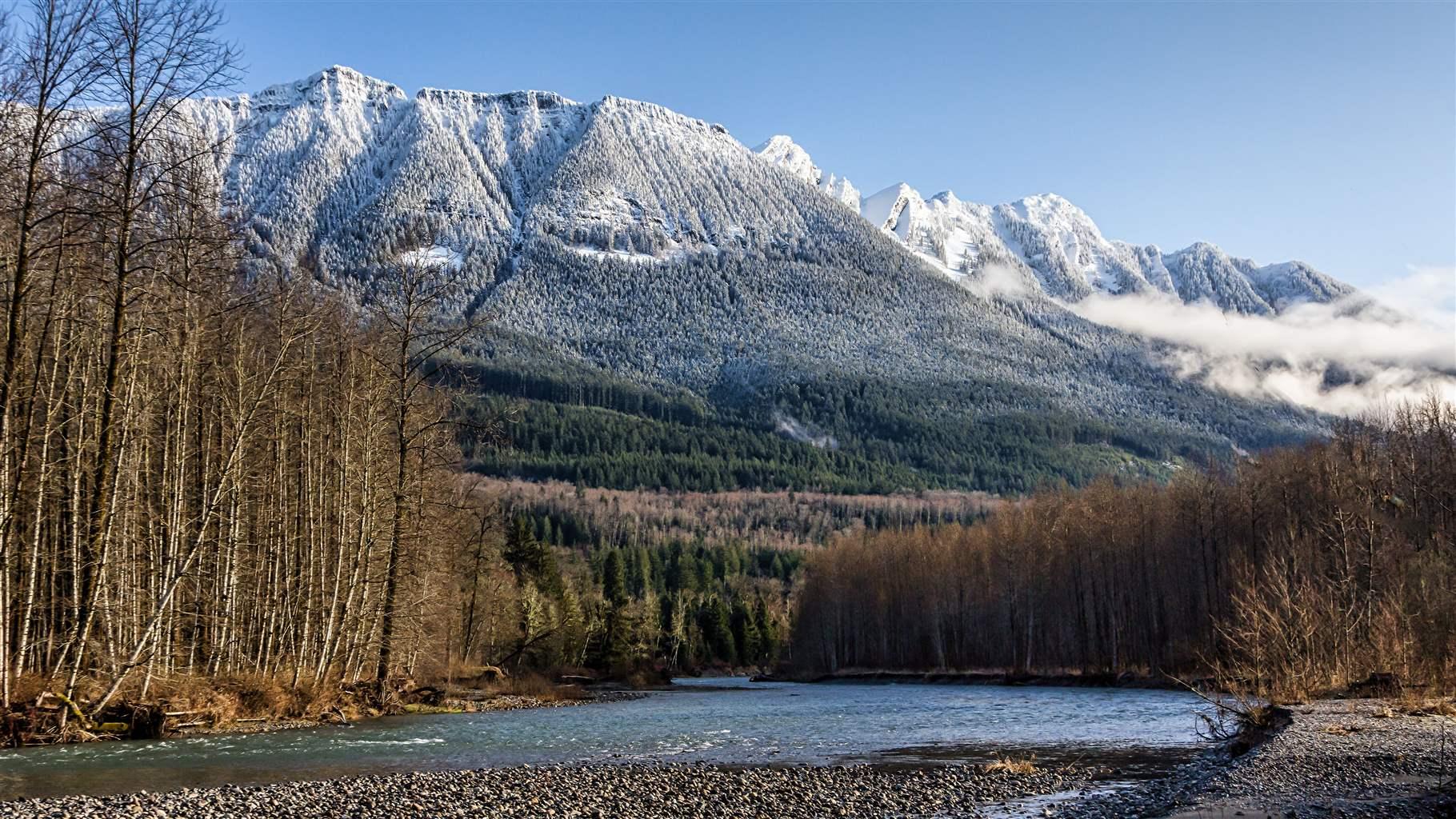 Nestled in the Mount Baker-Snoqualmie National Forest, 75 miles northeast of Seattle, lies the town of Darrington—population 1,400, with another 1,200 nearby residents outside the town limits. In 2014, a massive landslide devastated the neighboring town of Oso, killing 43 and destroying nearly 50 homes and buildings. A year later, U.S. Senator Patty Murray, with the support of Governor Jay Inslee and Representative Suzan DelBene, initiated the Darrington Collaborative—a partnership between the local timber industry, STEM (science, technology, engineering, and math) educators, and conservation leaders, including The Pew Charitable Trusts, to restore critical wildlife habitat, improve the overall health of the national forest, and create jobs. In the years since, the group has increased ecologically sustainable timber harvests, brought over $200,000 back into the local forest, restored critical salmon habitat, and involved local students in outdoor education projects.
This interview with Darrington Mayor Dan Rankin, one of the driving forces behind the collaborative, has been edited for clarity and length.
Q: Mr. Mayor, tell us about the town of Darrington, a place where you were born and raised.
A: Darrington is only 500 feet above sea level, but it's completely surrounded by national forests and encased by mountains on three sides. The town is between two rivers, the Sauk Wild and Scenic River and the North Fork Stillaguamish. Both rivers once had phenomenal salmon and steelhead runs, which are now a fraction of what they once were. One of the goals of the collaborative is to restore habitat for these fish that contribute so much to our local culture, tourism, the outdoor economy, and the Puget Sound region.
Q: How did the collaborative come together?
A: The collaborative started by bringing diverse points of view to our community to create a dialogue around the wise use of natural resources and forest restoration. It was a way for our community to go back to our roots and participate in a meaningful discussion about our environment.
For decades, our community was reliant on timber jobs, but as our local economy moved away from that, there was a cultural shift in our region. There was a loss of opportunity for our young people, whose families had worked in the timber industry. So young people somehow had to be exposed to different ideas and career paths so they could truly contribute to the vitality of our community.
And while outdoor recreation and tourism help boost our local rural economy, our particular community wants and needs to continue to participate in a meaningful way of life that includes logging and the higher-paying jobs in the forest industry.
Q: What were the collaborative's initial goals?
A: We wanted to explain to prospective partners and the broader community what the local timber industry actually is—and that the people working in the woods have a high regard for the environment. We wanted the conservation community to understand that we really do have an intimate respect, knowledge, and love for of our environment and the fragility of the ecosystem that we live and work in.
The collaborative's governance documents state that we want to help Darrington and the surrounding landscape by increasing the number of acres harvested and total harvest volume produced in forest restoration projects under the Northwest Forest Plan, a federal forest plan that governs how forests from Washington to northern California must be managed for both timber production and for ecosystem health. Additionally, our collaborative aims to expand the size and number of local aquatic and salmon habitat restoration projects.
Finally, we're creating new educational and career opportunities for Darrington's youth by integrating the local schools' STEM education initiatives into our collaborative restoration projects, such as water quality monitoring and ensuring the health of local salmon runs.
Q: What are stewardship sales? And how do they work to benefit local timber jobs and aquatic restoration?
A: In a "stewardship sale," the proceeds must be returned to the national forest from which the timber came and used to further restore the habitat of that forest. Potential stewardship sales are identified by a collaborative, like the Darrington Collaborative, and communicated to the U.S. Forest Service. This process ensures that the harvesting of trees in a particular forest is informed by local knowledge, conservation needs, and science. After the timber is sold and harvested, the funds are used for aquatic restoration projects in the forest, including culvert removal for improving fish passage and other improvements to water quality. Stewardship sales contracts often contain criteria that increase the likelihood that these projects are awarded to local contractors, benefiting the local community.
Q: How has the collaborative advanced river and salmon habitat restoration projects in the area?
A: The first project we did, in 2017, was a forest thinning with two purposes. First, the harvest—which was small by most standards—created landscape diversity in an area that had become stagnant and no longer had the capacity to support a healthy ecosystem.
Second, the thinning project area also contributed to the watershed, because the funds generated by the timber sale were focused on aquatic restoration—with the collaborative working alongside local and regional interest groups and tribes. These groups were able to secure stream crossings along more than 7 miles of gravel road, stabilizing runoff along a vital tributary of the Sauk River.
Q: How has the collaborative affected the urban-rural divide in your community?
A: With our collaborative, fostering trust between the urban and rural community members and creating an open dialogue were key. What was really great about our group was that for most of the 10 board members, who represent different constituencies, we liked one another immediately. Trust and mutual respect quickly followed.
The collaborative's members can go back to our respective constituencies and explain that environmentalists aren't the enemy and loggers aren't the enemy. We're bridging the divide by breaking down the stereotypes. We all want healthy forests and salmon runs, we all want clean water, and we all want strong communities. We've been successful forging a path forward to achieve those shared goals and creating a stronger and more resilient social community.
One of my personal goals is to get more folks to recognize the human impacts over the last 150 years on these ecosystems and use education and science to create a social shift that fosters environmental health, economic growth, and stewardship. That way, we can honor the forests and protect them for the people who live, work, and play in them for generations to come.