Technology Can Improve Safety and Security for Observers on Fishing Vessels
Devices with better connection and features boost users' peace of mind at sea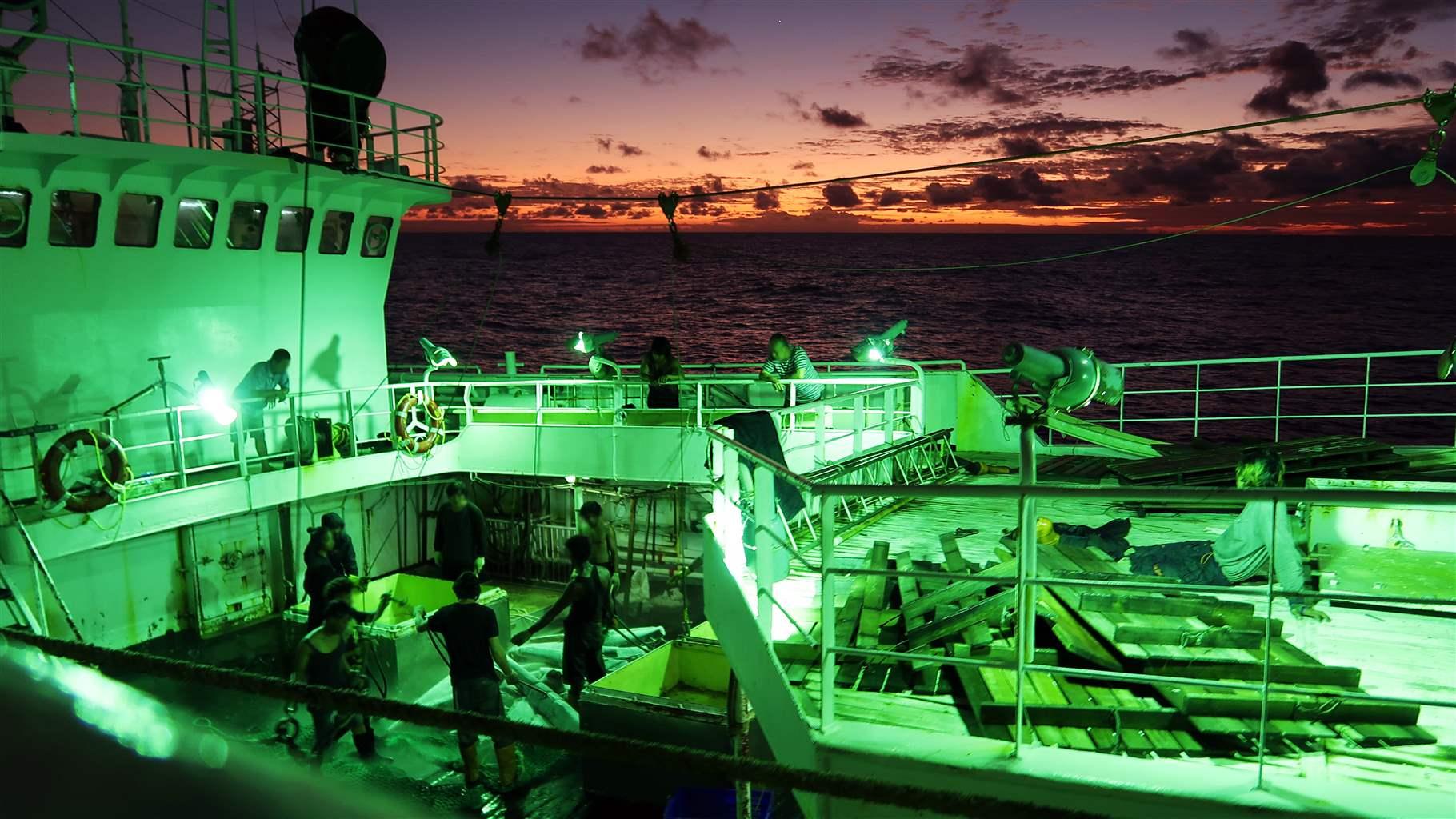 The eastern Pacific Ocean is home to valuable tuna fisheries worth more than $5 billion each year. These stocks are managed by the Inter-American Tropical Tuna Commission (IATTC), which is responsible for ensuring the sustainable management of tunas and other marine species, as well as enforcing rules to end and prevent illegal, unreported, and unregulated (IUU) fishing.
Transshipment is a key part of the seafood supply chain in which catch is transferred from a fishing vessel to a carrier vessel that then takes it to port, but management of transshipment is rife with loopholes, and IUU-caught fish can easily slip through the cracks.
For years, onboard fisheries observers have been the primary source of independent information on at-sea activity, collecting data on catch, transshipment, and more, and reporting rules violations and potential IUU activity to domestic authorities and regional fisheries management organizations (RFMOs) such as IATTC. But serving as an onboard observer is a risky job, and the casualty rate on fishing vessels is notoriously high. Observers can be at sea for months at a time, often without quick access to medical care or assistance if they are in a threatening situation.
Last year, MRAG Americas, a fisheries-focused consultancy, with support from The Pew Charitable Trusts and the Walmart Foundation, deployed a new model of two-way satellite communications devices to several IATTC transshipment observers to improve real-time exchanges of information and, hopefully, help observers feel more secure onboard vessels.
Although observers have had communications devices for years, the new models feature several upgrades, including better satellite connectivity, an integrated app for more efficient messaging, a more durable design, and—significantly—an SOS button with access to a 24-hour emergency line. These devices are lifelines, enabling observers to communicate with RFMO staff, family, and friends, and call for help when needed.
One observer noted that the improved connectivity allowed him to communicate more discreetly, which could reduce conflict with crew when, for example, the observer is reporting a violation. "With the new [device], I could simply point it out of my stateroom window and get connected," that observer told MRAG Americas. With the older devices, observers often had to go outside to the deck of a vessel to reach a satellite, which could draw unwanted attention from crew. Another observer said that the improved SOS feature and connectivity "gave me peace of mind … in the event of an emergency."
With so much required of onboard observers, and the safety and security threats they face at sea, it is critical that they have up-to-date technology and assurances that their concerns will be quickly addressed. Without these individuals, RFMOs and other oversight bodies would know much less about vessel activities or stock health. By providing simple tools to improve their work, fisheries managers and port and flag State authorities can ensure that observers are well-equipped to stay safe and send valuable information back to shore.
Jamie Gibbon is a manager and Esther Wozniak a principal associate on Pew's international fisheries project.