Is Government Property Sufficiently Insured Against Disasters?
New research on state and local practices helps fill data gaps to inform decision-making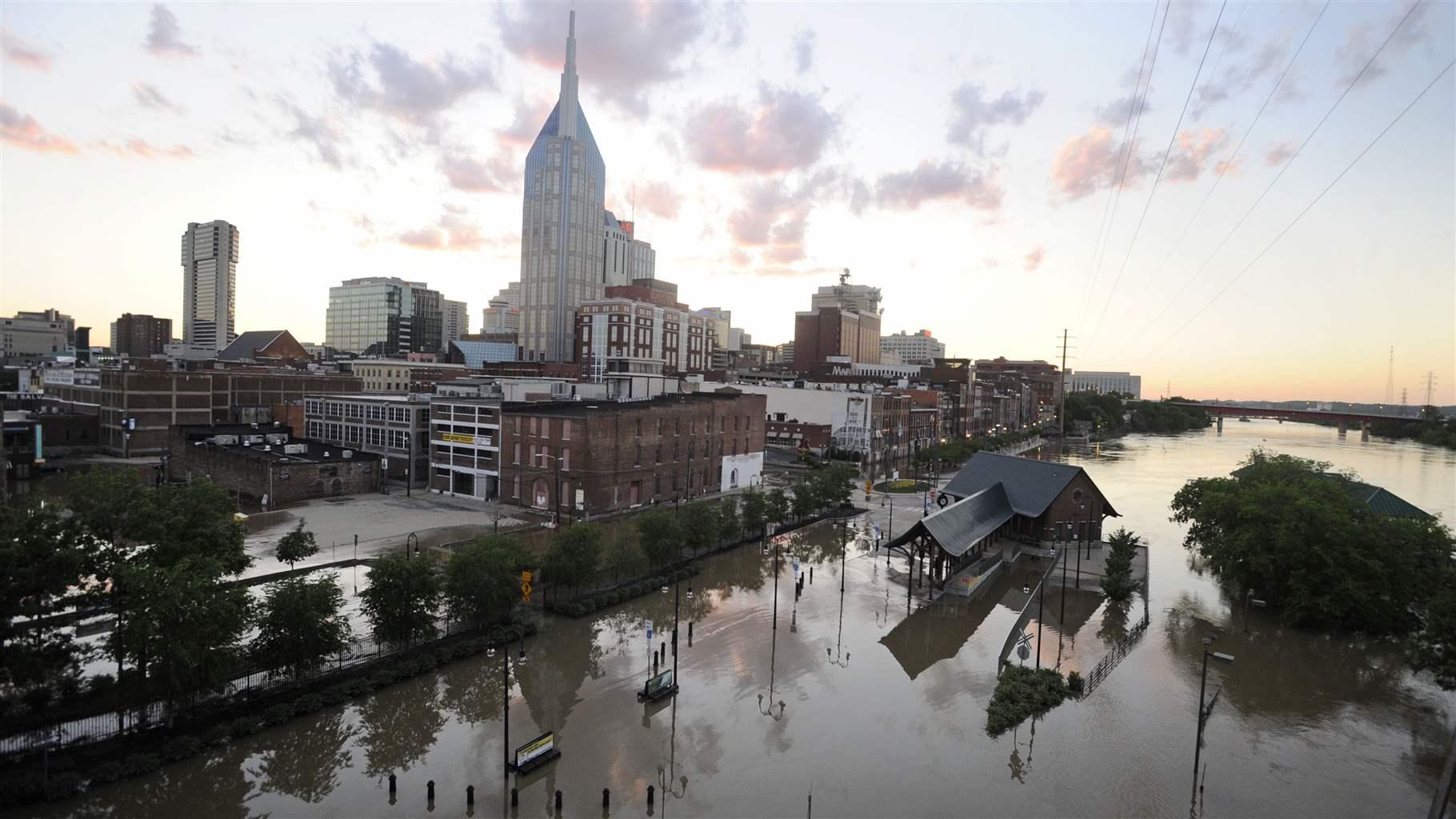 A complex system of federal, state, and local funding provides disaster assistance to communities throughout the nation, and spending on these activities is growing. The federal government spent an estimated $460 billion on disasters between 2005 and 2019, prompting Congress, the Obama and Trump administrations, and watchdog agencies to seek ways to manage the growing price tag. One area of focus has been whether federal relief dollars are being used to repair and replace damaged state and local property that could instead be insured.
To date, that question has been difficult to answer because of inadequate data on state and local governments' use of disaster insurance. Now, however, recent research by The Pew Charitable Trusts and the Homeland Security Operational Analysis Center (HSOAC), a federally funded research and development center operated by the RAND Corp., explores how states and localities use insurance to protect their property and can help all levels of government identify effective ways to manage rising disaster costs.
Research provides insights into insurance practices
Together with Pew's analysis of how state governments pay for disaster costs, the HSOAC study, conducted as part of a project to help the Federal Emergency Management Agency (FEMA) better understand state and local practices for handling disaster-related financial risk, begins to fill data gaps on state and local insurance practices. The two analyses provide initial answers to two key questions: What are the current state and local practices for insuring government-owned buildings, contents, vehicles, and equipment (BCVE), and what role does existing federal policy play in state and local decision-making about how to manage disaster risk?
HSOAC compared state and local governments' insurance coverage with the amount of BCVE repairs paid for with FEMA public assistance grant funds from January 2008 to June 2018 and found that insurance covered only 28% of total repair costs. Jurisdictions typically held policies but were, on average, underinsured, and as a result, many received only small insurance payouts for disaster claims—or none at all. HSOAC identified multiple factors that could lead to this lack of coverage, but in interviews conducted as part of the study, the researchers found no consensus among experts as to the major cause. Most of the interviewees acknowledged that the availability of federal assistance for BCVE lessened state and local investment in insurance and risk reduction, but some suggested that pressure from credit rating agencies or the high cost of policies could play larger roles in insurance decision-making. And though many interviewees agreed that eliminating federal aid would probably increase insurance use, others noted that some jurisdictions would make different decisions, such as seeking other federal and nongovernmental funding sources. In any case, most said that such a proposal would receive significant pushback. HSOAC also found that coverage varied significantly by jurisdiction, depending on the frequency and severity of disasters experienced and jurisdiction size, among other factors.
Pew's analysis looked at how states and the District of Columbia use insurance to cover risks from natural hazards such as hurricanes, floods, and earthquakes. Of the 42 states and D.C. that provided insurance data for the study, 21 and D.C. use a combination of self-insurance—a commitment to pay for damages using state funds—and commercial insurance purchased on the open market. Pew found that states buy coverage from insurance providers for a variety of assets, levels of loss, and hazards and that they self-insure for many reasons, such as high cost or low availability of commercial insurance products.
What comes next?
HSOAC's study also provided a discussion of options, recommended by the interviewed experts, to promote greater investment in BCVE insurance. These included encouraging credit rating agencies to evaluate state and local governments' fiscal preparedness for disasters, which would pressure jurisdictions to obtain more coverage to prove their creditworthiness; improving the way states and localities analyze and disclose the disaster hazards and risks they face; strengthening the insurance requirements for obtaining federal assistance; and eliminating FEMA coverage for BCVE.
However, HSOAC and Pew both emphasize that truly understanding the dynamics of the issue and effectively assessing possible solutions will require further research on current practices—particularly among larger jurisdictions, typically major cities and states, that tend to hold less insurance—and on the types and completeness of data that informs state and local decisions regarding insuring disaster risks. Natural disasters will continue to cause greater damage more often, so further study is critical to managing the nation's exposure.
Colin Foard is a manager and Madalyn Bryant is an associate with The Pew Charitable Trusts' fiscal federalism initiative.